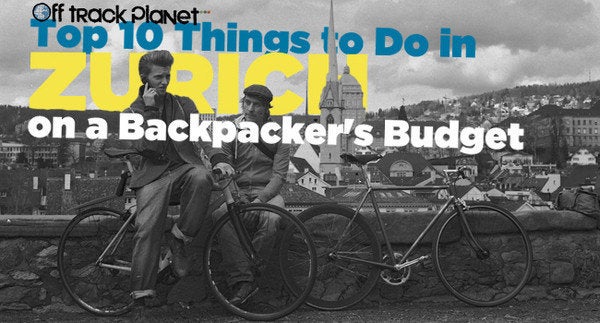 Famous for its super secret Swiss banks and having the world's best quality of life, Zurich's beautiful nature, polished culture and utopian transportation comes with a huge price tag. Don't skip off to somewhere cheaper just yet. OTP's here to help put some of Zurich on sale.
Window Shop
If you're traveling by train, hop off at Hauptbahnhof (central station) and stroll down Bahnhofstrasse. The street opens with statues before the clutter of fashion boutiques. Gucci, Prada and Chanel provide drive-by views of Ferraris, Lamborghinis and Bentleys. If you're gonna window shop, might as well visually splurge. When you check into budget reality, there's an H&M to funnel your fashion frustrations and fresh-water fountains to wash out the dirt from under your nails.
Museum Musts
A great way to fake intellect, museums are affordable (around $10) and give you a legitimate take-home conversation. The Rietberg is filled with awesome works collected from lands outside of Switzerland while The Landesmuseum covers the opposite end, showcasing everything Swiss. For the finer of the arts, check out the Kunstmuseum. After a gruelingly intellectual day of educative enrichment, head to the Zurich Toy Museum to unleash that snotty-faced kid.
Broke Boat
Get a new perspective of the city by steaming straight through it on Lake Zurich. The longest tour lasts four hours round trip to the southeastern most point of the city and runs about $30. To cut down the tourist price, look for a cheapie chugboat ride for about 10 bucks. The bottom end of Bahnhofstrasse has a pier where you can settle all your booking needs.
West Side Clubbin'
The rich love to party and don't care what it costs. As such, nightlife in Zurich gets expensive. If you can't afford to make it rain, Zurich West, the former industrial quarter, is a much cooler scene where you can play out an eventfully forgetful night of boozin'. Indochine has an Asian flair, Supermarket is a new spot fit to rival the trendiest of NYC nightlife and Club Q -- the Queen of nightlife -- is the go-to music spot. You'll empty your wallet trying to keep your glass full wherever you go, so prep a flask of your favorite stuff and keep it close to the chest.
Put It in Park
Soak in some scenic Swiss nature at one of Zurich's parks. Bring your own snacks and fill up a free fountain water beforehand to avoid inflated park prices. Zurichhorn, stretching along the lower side of Lake Zurich, is most famous for its Chinese Gardens. Crazily-cool Swiss artist Bruno Weber will trip you out at his Skulpturenpark, where you can climb his larger-than-life masterpieces. If you wanna stay central (note: this comes with suits talkin' biz on lunch breaks), visit the Old Botanical Gardens in the middle of the city.
Roam the Old Town
Masses of tourists, high prices and an ungodly amount of churches, European old towns are not usually a backpacker favorite. Luckily, Zurich throws something a little more modern into the mix with cool shopping, restaurants, bars and clubs. Get lost as you crawl through cobble stone streets lazily looking for nothing in particular. Save a quick glance for the twin-towered Grossmünster church, Zurich's most famous piece of architecture.
River Shower
Clean off that backpack shoulder strap-induced sweat by going for a freshwater swim. Don't let its landlocked position fool you, Switzerland's lakes and rivers are the perfect way to get wet during stiflingly hot summer months. Letten, north of the River Limmat, allows you to smoke, drink, barbecue and play volleyball in between dips. Take bus 32 to Holzerhurd just on the outskirts of Zurich for a more local experience on Lake Katzen, or dive into Lake Zurich wherever you can: The water's clean enough to double as a shower.
Feed the Hunger
Even trusty McDonald's does you wrong here; the dollar menu is closer to the five dollar menu. Kill the pangs at the two big supermarket chains, Coop and Migros. Stock up on sandwiches, soups, salads and snacks from their take-away section.
OTP Tip:Do the 'due! You may need to put in a few days at the supermarket, rationing your purchases to stretch your budget but you cannot skip out on Swiss fondue. Blow your savings at Café du Midi, where they're super skilled at melting a pot of cheese.
Zoo Within a Zoo
Zurich out-zoos America by a long shot. The Zurich zoo is a tropical oasis set up with a free-flowing environment. At just over $20, you won't mind spending a day there. Included in your admission is entrance to the Masoala Rainforest, which is a ginormous conservatory project to help fund the real Masoala Rainforest National Park in Madagascar. Cuddle a lemur, spank a zebra, try to smuggle a rhesus monkey or just enjoy the wild scenery; whatever it takes to get your money's worth.
OTP Tip: When it's cold (below 50°F), catch a penguin parade, waddling every day at noon.
Sink in the Scenery
Swiss transport is easily the world's best. You'll probably experience it en route to your pre-planned destinations, but take some time off to bum it on your tram, train or bus until the end of its line. From there, transfer to another line. After that, transfer again. Zurich's network is so easy to navigate that it's actually fun and while you're hopping on and off, you'll get a free tour of the whole city.
Zurich is a progressively trendy city that has a lot to offer despite its commercialist core. But believe the rumors: It's expensive here. Save your money for room and transport and explore the city with our broke tips. Return to take on the rest when you're rich and famous.
Related