According to SBA data, "at least 25% of small businesses do not reopen."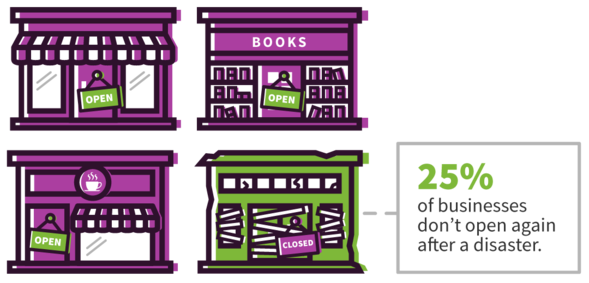 When most folks dream about starting a small business they think it will be apple pie, baseball and walking on easy street. This may happen sometimes, but the reality is that most small businesses face daunting obstacles that leave them scratching their heads and stumbling over next steps.
And with the remnants of hurricane Harvey still causing floods along the Texas gulf coast, many small businesses are wondering how to survive a natural disaster and hoping their dreams of building wealth are not dashed.
Below are 10 tips to immediately consider and implement if you want your small business to survive from hurricane Harvey's floods.
1. Check on your employees because you will need resources to ramp up and to meet customer demands
2. Contact your insurance agent
3. Visit FEMA.gov and follow the instructions
4. Reach out to vendors and suppliers to arrange for shipments and payments
6. Be visible and stay consistent in marketing your products and services
7. Ask, ask, ask for assistance versus saying, "I do not know what to do or who to speak to."
8. Follow up, follow up, follow up helps you make sure no stone is left unturned in getting your business back open
9. Stay focused on your short-term goals like complete building clean-up by xyz date or post on your business Facebook page daily sharing tips or sharing your story of recovery on Instagram
10. Assess your bank accounts, cell phone bills and other accounts to insure you are getting the best deal. Banks offer new types of accounts frequently and there may be one type of account with lower fees and is better structured to meet your business needs. And consider shopping around if your bank is unwilling to match another bank's offerings.
You do not have to leap tall buildings or crawl high skyscrapers like a superhero, but to get your small business up and running after a disaster will take guts, focus and a will like no other. It is possible; and you can do it!
Are you a small business that has survived a natural disaster and have tips to rebuild and thrive? I welcome your input via Facebook or connect with me on Linkedin.
About the author: Helen Callier, President of Bradlink LLC, an SBA award winning small business, is the author of bestselling 'Your Money is in the Follow up', The Why, When, Where, Who, What, and How to Follow up Guide for Small Businesses. Helen is also a recognized advocate for small businesses and speaks nationally to small business audiences on practical tips on how to drive your small business vehicle to success. Helen is a native of Houston, Texas.
REAL LIFE. REAL NEWS. REAL VOICES.
Help us tell more of the stories that matter from voices that too often remain unheard.