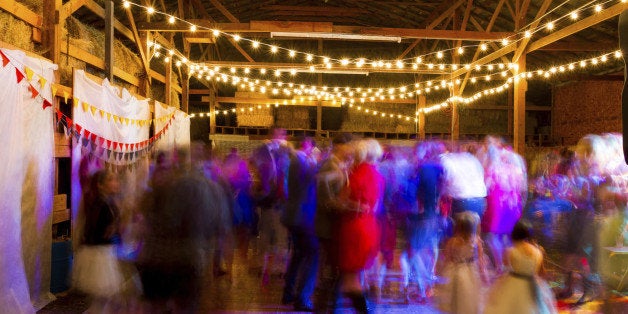 So, you want to get married on a farm? You've seen the pictures: mason jars, random chandeliers hanging from inside of a barn, wagon rides, bistro/market/Christmas lights, lace, lace and more lace. It seems that the trend of hosting your wedding on a farm, complete with a barn for your reception, is not going anywhere anytime soon. I personally love the trend and how it has changed and morphed over the years, but as someone who plans a lot of barn/farm weddings, I always get a little nervous when that is on my client's wish list. If you are dreaming of a big red barn and wedded bliss under the stars, here are 10 things you need to know before selecting your venue.
1. Farms don't always have bathrooms.
Most of the farms you will fall in love with simply do not have the plumbing or septic ability to handle your guest count if it's more than 10-20 people. This will mean you will need to rent bathroom trailers, and spend thousands of dollars doing so. Fear not, these are not the portable bathrooms that you see at tailgates, but rather, luxury trailers that rival five star hotel rooms. That said, you might not have a choice where you can place these, and it will all depend on where the water and electrical hook ups are. Keep in mind though, that no matter how fabulous they are on the inside, your guests are likely to make some comments when they see the trailers roll up to your wedding site. Again, this can be a costly expense to handle.
2. Speaking of cost, wedding of this nature are generally expensive.
Thanks to blogs and websites that showcase these gorgeous locations, and the desire for every couple to want something "different," farm weddings are insanely popular. Looking at pictures, it might seem that this is the more cost efficient way to go, especially when compared to a banquet hall. This could not be farther from the truth. The location might be beautiful, but that's all you get: the location. While it does vary from place to place, don't simply assume that you are also getting the basics including chairs, tables, plates, and so forth. You will most likely have to rent EVERYTHING in order to have the most basic wedding possible. Besides being expensive, you will also have to coordinate delivery and pickup times, as well as set up times. Be prepared for items to be delivered when you're not present, and possibly be set up incorrectly -- which will mean that you will have to fix that problem. To add salt to the wound, you cannot just walk onto the farm and commandeer it for your wedding without paying an "estate fee." Expect to spend anywhere from $4k-$30k to just walk in the door.
3. Wildflowers don't really exist and what you want/are seeing on Pinterest, might be more than you think.
Just like the "natural" make up look takes more time and effort than a full glammed up face, the "oh I just picked these from my garden on the way to my wedding, skipping the whole way" can come with a hefty price tag. Nothing makes a barn wedding even more beautiful than flowers that compliment the space. Typically, couples will lean towards fluffy flowers like dahlias, and peonies, or a bright mixture including stems of heather, alstroemeria and other blooms. The peony couples will find that the flowers they are selecting are expensive. The couples that go with the "wildflower" look, will find that even though their flowers are inexpensive, they will need a large amount of them to complete the look. And although message boards will urge you to purchase you own containers to save money, keep in mind that many florists will refuse to use them (wanting to use their own). If you are able to use your own containers, vases and mason jars, be prepared to spend time looking for what you want and make sure you have the room to store everything before turning them over to the florist.
4. Clap on, clap off: there's no electricity!
Surprise, surprise, not all farms will have the electricity you need. While they might have the electricity to turn on a light switch, they might not be able to power the lights you want to hang, the DJ that wants to play music, the photobooth that you must have, or whatever the caterer needs to use in order to supply food to your party. When visiting different farms, make sure to ask them for all of their electricity information, where it is and if generators will be required. Keep in mind every area of the farm that you will be using for your wedding, and check on the electricity that is available in each spot. You will need to know all of this before booking with any vendor. Not every vendor will be able to bring in a generator, should you need one, and if they can, it will be one of the many hidden costs to contend with.
5. 9:00 p.m. and the party is over.
While it differs from town to town and state to state, many farms are restricted with noise ordinance rules. So while the idea of a bonfire and s'mores until 3:00 a.m. might sound ridiculously appealing, you might not be able to do just that. In fact, many towns will restrict your party and require the end time to be as early as 9:00 pm. There is always an option to host an after-party, but if you're looking to stay in one location for the duration of the evening, ask each farm what time the music has to end, and especially what time people have to be off the property. Side note: the noise rules might change from the date you book until your wedding. Always keep up to date to make sure that no neighbors (the ones that live 9,000 acres away) are complaining about the noise to the town and getting the rules changed before your big day.
6. This can also turn into a destination wedding, sans airplane, for your guests.
I have clients that are married to the idea of the farm wedding, and are willing to travel 2, 3 and sometimes 4 hours away from their home in order to find the "perfect" place. The only problem with that is that now all of the guests will have to travel just as far, if not farther. If you find that your guests are going to need a place to sleep after the festivities end, make sure to select a farm with plenty of hotels nearby. I'm not talking about some random motels and B&Bs on the side of the road, but hotel with names that your guests will recognize and not be afraid to book a stay. Don't turn your destination farm wedding into a horror movie where your guests are forced to stay at The Bates Motel and are checking for psychos in the shower.
7. Speaking of guests: your guest count needs to be low.
I cannot tell you the amount of couples that come to me with 200 person guest counts or even higher. Many of the barns that I work with will hold 150, maybe 175. If you plan on having a larger-than-life party, this might not be the best option for you. With the average guest count sitting close to the 175 mark, many couples are finding that it's too many people for the average red barn. Barns might appear to have a lot of space, but in reality, these barns were never designed to host weddings. Therefore, despite the super high ceilings, the room itself is on the smaller side. Add in tables, chairs, music and a dance floor, and you've now cut down the space even more. If you're eyeing a barn for your Big Day, ask yourself what your guest count is going to be.
8. Rule, restrictions, and other issues.
Since most barns were not created for weddings, the farms they are on weren't either. Some of these farms will be working farms with animals, fruits, vegetables, and yes, actual workers. The barn could be centuries old, and the grounds could be organic. What this all means is that they will have a list of rules that all guests will need to follow. Before you get excited about a cigar roller, wish lanterns, tiki torches, or smokers (for your caterers), ask the venue coordinator what restrictions are in place. Many of the farms will not allow fire and that includes those beautiful sparklers and wish lanterns that are appearing at wedding after wedding. Thinking of lining an aisle with tiki torches? Ask, ask and ask again if that is even allowed. Sometimes (depending on how long the barn has hosted weddings) you may hear "yes" when the answer really will be "no." Always double check!
9. If you fell in love with the barn concept because you found several on Pinterest that have hanging blingy chandeliers, this might not be the path you want to take.
Think of the barn as a blank slate with restrictions. That beautiful red barn you found in a magazine turns out to be on a private property nine states away from you. While it's great to use that as inspiration, don't expect to be able to copy the design. If you're looking to make the barn rustic chic and not so rustic, ask the coordinator what you are allowed to hang and how much you can decorate. You may find out that you will not be permitted to string chandeliers from the beams, nor will you be allowed to put up pipe and drape around the perimeter. If you have a specific image in mind, talk it over with the coordinator to find out what you will be allowed to do. Once you know that information, find out when everything will need to be done, and how much time you have to do it. Lastly, hire people to do this! Do not ask your friends to jump on a ladder to put together the decor. Besides, it is most likely not going to be allowed.
10. Walking, walking, walking.
The idea of a farm is beautiful, and you will want to utilize every part that you can. Ideally, the ceremony will be in one location, the cocktail hour in another, and the reception taking place either in the barn or under a tent. When deciding where everything is going to be, focus on how far your guests are going to have to walk from point a to b to c. Where will they park their cars? Are there wagons that can transport them from spot to spot? Are there hills that they will have to walk up and down? What options are there for those that can't make the walk? These are all really important questions to consider, especially if you're picking a warmer month where your guests might be sweating outside and in desperate need of a horse ride to the next location.
Don't get me wrong, I adore farm and barn weddings, in fact they are my favorite to plan. However, it is so important to know what you are getting into before you start shopping for your barn. There are a lot of things to keep in mind, and hidden costs that you won't have to deal with at a banquet hall. It's always awful when, as a wedding planner, I meet with clients with barn wedding dreams, to have to bring in a heavy dose of reality. However, if you know these 10 important facts before you start searching for your farm, you will be better equipped to get the planning rolling and decide if this type of wedding is perfect for you.
Popular in the Community