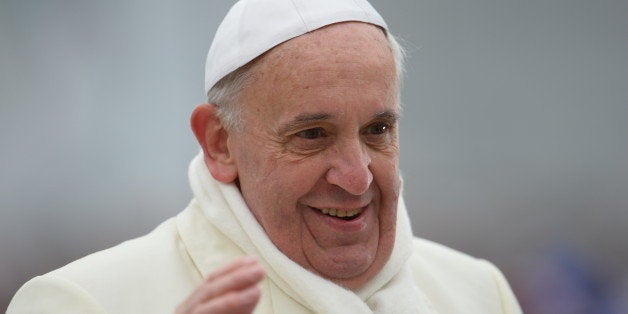 Time Magazine's pick of Pope Francis as "Person of the Year" came as no shock to those paying attention to the way the pontiff connects with the masses and inspires people of any faith to focus on what's important.
The pope chose his name from the famous saint from Assisi, who renounced material wealth -- a message that resonates with many especially during the holidays. There is little doubt that he sees this season as a time to help those who struggle, and to seek deeper relationships with loved ones and strangers. He said as much during his time as cardinal in Argentina, and he has repeated these typical Jesuit themes throughout his first six months as pope.
He delights in meeting children as well as the disabled. He picks up the phone and cold-calls people just to say hello or to tell them to hang in there. He drives a beat-up old car. His remark about gays, "Who am I to judge?" was remarkable. And one of the things I like most about him is that he doesn't seem to take himself too seriously and appears very humble.
What a wonderful role model. He can inspire us to plan a Pope Francis-style Christmas, Hanukkah, Kwanzaa or other holiday. Regardless of one's religious beliefs or traditions, following a Jesuit- or Pope Francis-inspired approach at this time of year not only would be a way to make a difference in the lives of others but would result in happier holidays and less depression afterward. I guarantee it.
Here are the top 10 things we could do to emulate Pope Francis and how he might approach the holidays:

1. Volunteer in the local soup kitchen, and after you ladle soup to those who struggle, sit down and break bread with them -- talk to them. You'll find they are a lot like you in more ways than you know.
2. Be with your loved ones. My family and I don't exchange gifts, but we set a date to go for a long hike. We've had some of the best conversations we've ever had on those treks.
3. Have conversations about the meaning of the holidays, whatever they are in your family. Don't just give presents. Talk about why you give presents. Or maybe you have a unique cultural tradition. For example, in Italy, children write letters about how they have been good and how much they love their parents. They place them under their father's plate at Christmas Eve dinner, and he reads them aloud after the meal. This allows for reflection and moments of gratitude that you may not always express at other times during the year.
4. Talk honestly to your kids about gifts and what they mean. Attaching happiness to material things can lead to insecurity and depression. Gifts should be a message of love.
5. At holiday parties, take time to express your gratitude and love to those around you, including the host. Expressions of love and thankfulness often go a lot further and mean more than a material gift.
6. Regardless of your religious tradition or lake thereof, you can take the time during the holidays to reflect on the end of the year and how you might try to make the next year better for yourself, and especially for others.
7. Practice random acts of kindness. You'll be surprised by how powerful this can be and how pleased you'll be too.
8. Use the end-of-year holidays to take a deep breath and ask yourself, "What really matters to me and why?"
9. Model Pope Francis' example of humility, compassion, and emphasis on those who struggle. You'll be surprised by how good you'll feel if you do so.
10. It's the holidays! Don't lose your sense of wonder. Regardless of our beliefs, life on Earth is miraculous and precious. Embrace it!
Related
Popular in the Community