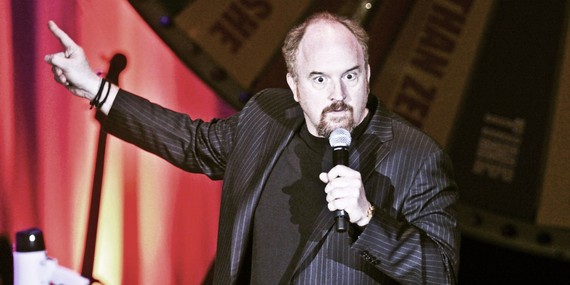 We've all heard how Louis C.K.'s toiled in obscurity for years, only winning renown in his 40s with his wildly acclaimed FX show, Louie. But there are several places he popped up over the years that may surprise you. Yes, that's right: We dug up the Water Cooler Facts, those little tidbits of information you'd happily share over the water cooler tomorrow to impress your colleagues as people are buzzing about the show.
1. He wrote and directed Pootie Tang.
Pootie Tang was actually written and directed by none other than Louis C.K. While it's now considered a cult classic, in 2001, it was a critical and financial bomb. And as Pootie Tang was both Louie's screenwriting and directorial debut, he shouldered the lion's share of the blame. (Over the course of the last decade, the film has earned back its $3 million budget.) Luckily, Louie rebounded in spades. But Lance Crouther, the actor who played Pootie himself, hasn't acted since 2007.
2. He was Conan's first comic.
Prior to writing for Late Night with Conan O'Brien, which he did for several years, Louie was actually the first stand-up to ever perform on the yet-to-be-successful late-night show. The inaugural performance was in 1993, back when Louie was clean-shaven and had a full head of hair.
3. He upended the comedy-special business model
When distributing his 2011 special, Live at the Beacon Theatre, Louie decided to go the unconventional route and sell it exclusively on his website, as a digital download, for a mere $5 bucks. Louie produced and directed it himself, bypassing traditional distribution and forgoing any outside funding in exchange for complete creative control. Louie's method of providing his fans with the most bang for their buck proved to be an immediate success. The download-only special grossed over a million dollars in just 20 days!
Following in Louie's trailblazing footsteps, comedians Aziz Ansari, Bill Burr and Jim Gaffigan followed that same business model months later.
4. His Emmy for Louie wasn't actually his first.
While his fans collectively rejoiced (tweeted) when Louie won a well-deserved writing Emmy in 2012 for his phenomenal FX series, that wasn't actually his first trophy. No, unbeknownst to many, he already owned three writing Emmys, all for HBO's often forgotten The Chris Rock Show.
5. He almost quit comedy.
Mr. C.K. first took to a comedy stage back in 1984, at just 17 years old. He was given, and required to fill, five minutes. Sadly for Louie, and that night's audience, he only had two. It would be two years before Louie tried his hand at comedy again. And thank God he did.
6. You should never ask him to take a photo.
If you ever see Louie out in public, don't ask for a picture. During an appearance on Sirius XM's The Opie & Anthony Show, Louie mentioned how he'll talk to fans, he'll answer questions, he'll be gracious and polite -- but he won't take pictures. He later explained the policy during an interview with David Letterman.
7. He was in Role Models.
Many people don't realize this, but Louie actually had a role in the 2008 hit comedy Role Models. While the film was a star vehicle for Paul Rudd and Seann William Scott, Louie plays a security guard in a tiny scene during the film's first act. The cameo came about due to Louie's friendship with the film's director, David Wain.
8. He made Sundance history.
Back in 2010, Louie's breakthrough stand-up concert film, Hilarious, became the first of its kind to ever play at the Sundance Film Festival. Hilarious would later go on to win a 2011 Grammy for Best Comedy Album.
9. English was not his first language.
Louis C.K. was born in the United States but lived in Mexico for seven years as a child. Even to this day, Louie maintains his Mexican citizenship. And though he's so well known for his voice, English is actually his second language. He exclusively spoke Spanish until he was 7. In a different world, Louie could be performing on Telemundo's Sábado Gigante right now.
10. He's not only writes and directs his show, but once edited it, too.
While it's common knowledge that Louie stars in, writes and directs his FX series, most fail to realize that during the show's first two seasons, Louie also personally edited each episode. And even more surprising, he did so at home, on his own MacBook Pro. Louie chose not to use a seasoned television editor -- and a network-provided edit house -- and instead chose to use rudimentary editing software that anyone could pick up at any Apple store. But when the third season came along, Louie fired himself as editor, and went on to hire Susan E. Morse, best known for editing many of Woody Allen's films.
This article was written by Peter Hoare for AskMen.
Photo credit for lead image: Getty Images
Calling all HuffPost superfans!
Sign up for membership to become a founding member and help shape HuffPost's next chapter