America's most beloved dressing, a nutritionist's nightmare, and pizza aficionados' greatest contention. Who would have guessed that a little buttermilk, mayonnaise, and herbs would evolve into such a staple of the American diet and culinary landscape?
Here are some lesser known tidbits about ranch dressing to ponder the next time you smother your salad in a white blanket and claim you're maintaining your diet.
1. Ranch dressing was created in 1949 by a plumber-turned-cowboy
While working as a contract plumber in Alaska, Steve Henson started cooking for his coworkers and perfecting his buttermilk dressing recipe. Five years later he moved to California with his wife Gayle and bought a ranch. His famous buttermilk dressing soon became a staple at the dinner table of Hidden Valley Ranch and before long the Hensons started selling it to guests and local supermarkets. Over two decades later in 1972, the couple sold their name and recipe to Clorox for $8 million. Not bad for a little buttermilk, mayo, and herbs.
2. The average American consumes salad dressing 38 times a year
Fifteen of those 38 are served up with ranch dressing.Yes, you already knew ranch is popular, but did you know that it is by far the most consumed dressing in the United States? Italian dressing comes in a pathetic second and is eaten six out of 38 times. Not even close.
A friend of Jerrier's in the Pizza Hut innovations department jokingly gifted him a bottle of the creamy white stuff on the pizzeria's opening night. Soon after, Jerrier mounted the bottle on the wall with a sign "Side of Delicious Ranch Dressing $1,000.00." Serious or not, Cane Rosso adamantly doesn't offer Ranch to its diners. That same bottle still sits on the shelf, untouched and unopened for five years. (Editor's note: Immediately after this article was published the bottle was bought by one Mr. Josh Tipton. The money went to an animal rescue center.)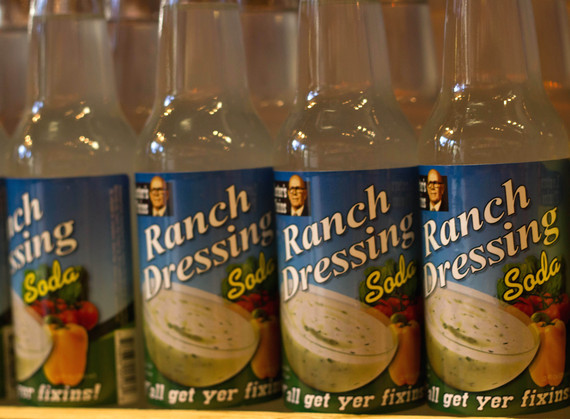 Credit: Flickr/apocaknits
4. Ranch-flavored soda exists
So you've heard of ranch flavored potato chips, taco shells, and even sunflower seeds, but soda? That's right. Grossed out a bit? We are. Our friends over at Lester's Fixins Soda, who have brought us bacon and peanut butter & jelly flavored sodas, have really outdone themselves this time. While it mostly tastes like sugar soda, the smell is so repulsive (think rancid blue cheese) that it's hard to get past.

5. Today's ranch dressing bears little-to-no resemblance to the original
In the time of its creation, ranch had a few basic ingredients: buttermilk, mayonnaise, spices, and herbs. Wholesome and caloric, but sadly perishable. In the quest to perfect a shelf-stable alternative, Clorox and its competitors Kraft, Ken's, and Wish-Bone created soybean and canola oil based alternatives. Other fun ingredients include MSG, disodium inosinate and disodium guanylate, and calcium disodium EDTA among others. Yum, yum.