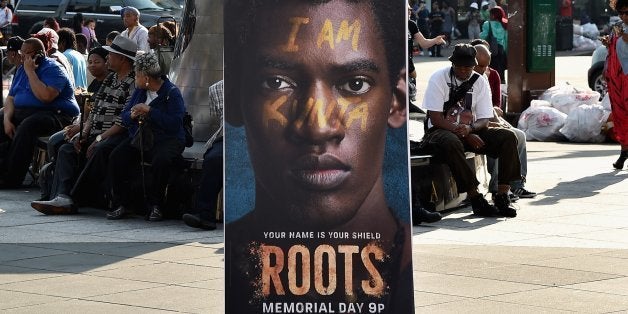 In January 1977, over a hundred million Americans watched the ABC's miniseries Roots, based on Alex Haley's Pulitzer Prize and National Book Award-winning story. Roots became a cultural phenomenon and encouraged more people to engage seriously with the history slavery than anything before or since. A new four-night, eight-hour version of Roots broadcasted on History on Memorial Day. Explore 10 surprising facts about one of the most important representations of slavery and black history of all time.
1. The original title of Roots was Before This Anger.
Alex Haley signed a contract with Doubleday in August 1964 to write Before This Anger, a book about life in his hometown of Henning, Tennessee. Haley intended to contrast race relations in the rural South in the 1920s and 1930s with racial unrest in American cities in the 1960s. Haley planned to finish Before This Anger by the end of 1964, but the project expanded into a story that stretched across multiple continents and generations. Haley changed the working title of his book from Before This Anger to Roots in 1972 and the book was finally published in 1976.
2. Hundreds of thousands of people heard Haley tell his story before they read Roots or watched the television series.
In the decade before he finished Roots, Haley crisscrossed the country speaking at colleges, libraries, historical societies, and corporate meetings. Haley earned five hundred to one thousand dollars for these early lectures, money which he desperately needed to pay for living expenses, research travel, and child support. Alex Haley's story of his search for Roots mesmerized audiences. Author Frank Chin, heard Haley tell his story before three different audiences. Chin described Haley as a "medium" whose voice allowed people to touch the past. "You've aroused a kind of unsuspected madness in all the people I watched listen to you," Chin told Haley.
3. Elia Kazan was the first person who offered to buy the film rights to Roots.
In 1966, prominent stage and film director Elia Kazan optioned The Autobiography of Malcolm X and started working with James Baldwin and Haley on making the book into a film. Haley and Kazan became friends in the process. Hearing Haley describe Before This Anger, Kazan thought this family history had the potential to be a film and he made an offer for the film rights to Haley's yet to be written book. Haley turned down the bid, which would have paid him $2,500 in advance and another $20,000 if the film was made. After the film deal with Kazan fell through, Haley's entertainment lawyer arranged a new deal with Columbia Pictures, which optioned the film rights to Before This Anger for fifty thousand dollars in 1968. After Columbia's option expired in 1974, David Wolper bought the rights to Roots and produced the television miniseries.
4. Haley's editor Murray Fisher played a crucial role in finishing Roots.
Haley was completely overwhelmed by working on Roots. At one point, he expected the book to be published in three volumes spanning over 1800 pages. Murray Fisher, who had edited Haley's celebrity profiles for Playboy, worked with Haley for six years to organize and polish the massive amounts of research material Haley gathered for Roots. Fisher came to play such an important role in developing Roots that Haley gave him ten percent of the book's literary rights and five percent of the motion picture rights.
5. Screenwriters started working on the television miniseries before Haley finished writing Roots.
By the time Haley finished his epic book, television producer Stan Margulies and head screenwriter Bill Blinn had been working for over a year to adapt the story for television. For much of this time they were working to develop storylines, scenes, and characters that Haley had not yet committed to paper. The screenwriters finished drafts of the early episodes while waiting for find out from Haley how the story ended. "I had to write fast to keep up," Haley said. "It was like a steamroller was chasing me."
6. There are no named white characters in the first 50 chapters of Roots
In Haley's book, the white slave catchers and slave ship crew are called "toubob." A white character with a proper name does not appear until Kunta learns the name of "Massa William Waller" at the end of chapter 51, over two hundred pages into the book. Television producers gave white characters much larger roles than in Haley's book. After opening with Kunta Kinte's birth in 1750 the television series jumped ahead fifteen years to scene set in an Annapolis, Maryland port where Captain Thomas Davies (played by Ed Asner) is preparing to sail the Lord Ligonier to the coast of Gambia.
7. Ed Asner was the highest paid actor in Roots
Roots featured one of the largest and most esteemed casts of black actors in television history, including Cicely Tyson, Maya Angelou, Louis Gossett Jr., John Amos, Leslie Uggams, Madge Sinclair, Ben Vereen, and newcomer LeVar Burton. Ed Asner, famous for his role as Lou Grant on the Mary Tyler Moore Show, earned nearly as much as all of these black actors combined. In discussing the casting for Roots, the producers were explicit in stating that for the series had to appeal to white viewers in order to be a commercial success. David Wolper argued that having white "television names" in Roots was the only way to ensure that it would not be pigeon holed as a black show. "If people perceive Roots to be a black history show--nobody is going to watch it," Wolper said. For Wolper and the network, these casting decisions were simple arithmetic. "Remember the television audience is only 10% black and 90% white," Wolper said after Roots' record-breaking run. "So if we do the show for blacks and every black in America watches, it is a disaster--a total disaster."
8. Haley paid $650,000 to settle a plagiarism lawsuit
Like millions of other Americans, white author Harold Courlander watched Roots on ABC. What he saw struck him as very similar to his 1967 novel The African and he filed a lawsuit against Haley. Haley maintained that he had never heard of or read The African, which made it difficult for him to explain how a page from the book ended up in his notes, or how several passages in Roots were strikingly similar to The African. While the judge was preparing his ruling,Haley's team agreed to settle with Courlander for $650,000.
9. Roots reached over 100 million viewers and replaced Gone With the Wind as the most watched television program of all time
After broadcasting for eight consecutive nights in January 1977, Roots held seven of the top ten spots on the list of most viewed television programs of all time. Before Roots, Gone With the Wind, the 1939 historical epic film that NBC broadcast over two nights in 1976, held the all time television rating record. Unlike Gone With the Wind, Roots asked viewers across racial lines to see slavery as a story about black people and black families and to identify with the sorrow, pain, and joy of enslaved people in ways that were unusual in commercial literature and unprecedented in broadcast television.
10. Roots aired in over 50 countries
Television stations in over fifty nations broadcast Roots from 1977 to 1980. In West Germany, Roots provoked some of the first discussions of the Holocaust in German broadcasting. In Nigeria, Roots prompted public discussions on slavery and fueled government demands for reparations a decade later. Broadcasters and political interests in South Africa and Brazil, in contrast, refused to import Roots for fear it would support black freedom struggles in those nations, while US diplomats in each country organized private screenings of the series. Warner Brothers, in selling Roots to global broadcasters, billed the series as "the world's most-watched television drama."
Calling all HuffPost superfans!
Sign up for membership to become a founding member and help shape HuffPost's next chapter