Cindy Sherman's Untitled Film Stills are among the most iconic contemporary artworks.
Characteristically when they're discussed and analyzed, they're considered as a series. (This is also how I have taught and written about them in the past.)
I was wondering recently what might be gleaned from them if they were considered individually. This is the reality of how they're most often exhibited and reproduced now anyways.
As a result, here is an extended look at Untitled Film Still #6, 1977: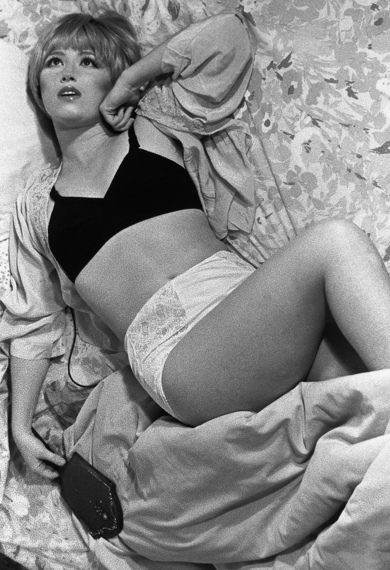 Cindy Sherman, Untitled Film Still #6, 1977. Gelatin silver print. 9 7/16 x 6 1/2 inches. Courtesy Metro Pictures, New York.
#1
Sherman took this picture by herself using a tripod and a shutter release cable -- which she also did with other film stills. I had never noticed this before but in this work she seems to hold the button of the cable in her left hand.
You can see the cable snaking up the bed on her right side. Because she could have easily hidden the cable, its visibility encourages the idea that Sherman was trying to foreground the film stills' artificiality. Since this is a woman controlling the camera, it also questions the predominant idea that the series is just about men looking at women.
#2
Sherman took this photograph in her apartment on John and South Street in Lower Manhattan. (She took all the interior shots until 1979 there.)
#3
The lighting for this work -- like many others in the series -- was basic. Sherman rarely used a flash. Instead she opted for regular light bulbs screwed into a few clip lights.
The composition of this image is highly ambiguous (like all of the film stills) and prompts a lot of great questions. Among them:
-Why is this woman on a bed? Even though she photographs herself, is she presenting her body to someone else or capturing her own preoccupation?
-Since she holds a mirror, face down on the bed, is there something about her appearance that has worried her or is she about to look at herself?
-The image seems to be at night -- see the lights reflected on her lips and in her eyes. As well, her negligée is open and her bed is unmade. Is she preparing to see someone or thinking about an encounter which has just happened?
#5
This work has been called one of the least sinister film stills, since there doesn't seem to be any cause for concern for the woman.
#7
Critics often see the film stills as feminist and reflective of Laura Mulvey's writing on the male gaze in cinema. Yet Sherman has said she wasn't thinking about the male gaze. Among other things, she has said at the time she was wrestling with understanding women in general and also caught between the pull to be "natural" and wanting to dress up and explore her interest in the history of women's fashion.
#8
Sherman chose this image from only a few frames; she has said the first six stills came from only one roll of film. This was due in part to her limited finances, but also because she envisioned the stills as cheap images one might buy for 50 cents on the street. Paradoxically, to make them look cheap, Sherman spent long hours in the darkroom. She developed the film in hotter chemicals to make it grainy and took a lot of time burning and dodging the images. This made them tricky for her future printers to produce.
#9
There are no specific departure points for this image -- since none of the film stills (allegedly) directly reference actual films. Yet Sherman often thought of Brigitte Bardot, Jeanne Moreau, Simone Signoret and other 1950s and 1960s European film stars. She also had a friend who worked at Barnes & Noble at the time who would bring her cheap books on Eastern European film, silent films, Alfred Hitchcock, New Realism, horror movies and film fads. Another departure point for Sherman was soft-core pornography. David Salle did paste-up at a soft-core pornography magazine. He'd take images from his work and show it to Robert Longo, Sherman's boyfriend at the time, and Sherman was around when this happened.
#10
Sherman envisioned the first six images of the film stills as stills from the career of one actress. The main identifier is a blonde wig, which changes little in the six images. Why blonde? Sherman has said this "seemed very actressy." Apart from that, Sherman was experimenting, "playing," to see what worked and what didn't. She said, "I tried to make her look older in some, more of an ingenue in others, and older-trying-hard-to-look-younger in others. I didn't think about what each movie was about."
Calling all HuffPost superfans!
Sign up for membership to become a founding member and help shape HuffPost's next chapter