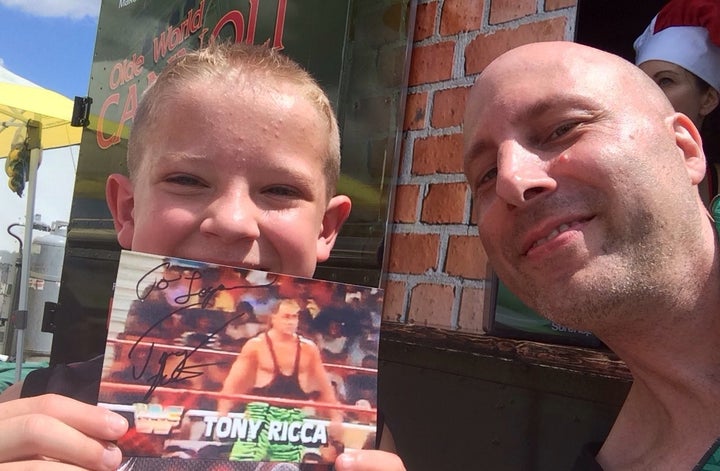 Every diehard wrestling fan loves Tony Ricca. Both a pro wrestler and promoter, Ricca wrestled in the WWE, NWA, WCW and WOW, as well as other organizations alongside some of the biggest names wrestling has ever seen. A champion of the sport and constant innovator, Ricca is well-known as the creator and promotor of Arena Kaged Wrestling, an independent wrestling conference famous for the cage structure in which audience members viewed each match from inside of.
Throughout his long career, Ricca wrestled under multiple monikers (including The Pharoah) and promoted such headlining wrestlers as Disco Inferno, Lou Albano, Daffney and Vito LoGrasso. Those of us who watched in the early 90's will even remember Ricca's time in the WWF, where he made his debut in a Labor Day match against "Hacksaw" Jim Duggan.
Next weekend, Ricca will be inducted into the DePace Sports Museum Hall of Fame. The induction ceremony will celebrate Ricca's 25+ year career in the wrestling industry. In 2018, he will be promoting and wrestling for Showtime Wrestling.
Those of you that have followed Ricca's career since his days on the independent circuit are probably already familiar with the obstacles he overcame, his musical endeavors and his family life. For those of you that haven't however, we've outlined a few interesting facts about Tony Ricca.
Ricca's Earliest Matches Were as Part of a Tag-Team
While training with Larry Sharpe in New Jersey, Ricca made his public wrestling debut as part of "The Hammonton Hitmen." The team was named after his hometown of Hammonton, NJ. The team wrestled as part of a fundraising event for troops serving in the Gulf war, but the team disbanded after Ricca was asked to perform individually as "The Hammonton Hitman."
He Decided on the Moniker "The Pharoah" While Watching a Movie with Friends
After wrestling against "Hacksaw" Jim Duggan and many others, Ricca decided he needed to finally choose a persona. While watching The Ten Commandments on Easter Sunday, Ricca developed the concept of "The Pharaoh", an Egyptian-themed character. As part of his character-development process, Ricca decided that he'd need to learn a moonsault press, or backflip splash, and call it "The Sphinx". The maneuver quickly became his signature and he went on to perform the first extreme top turnbuckle backflip in pro-wrestling.
A Car Accident Nearly Ruined His Chance at Success
In 1993, Ricca was hurt in a car accident that put him out of commission for a few years. At the time of the accident, Ricca was being pursued by WWE referee Dick Woehrle and WWE president Gorilla Monsoon. Both gentleman found "The Pharaoh" to be an exciting character and thought that he was a strong prospect for the WWE. He was scheduled to meet with executives at the WWE headquarters in Stamford, CT, but was unable to attend due to injury.
Ricca Wrestled in the AKW as "Nicky Sauce"
Even some of the biggest fans of Arena Kaged Wrestling are unaware that Ricca wrestled in the AKW while promoting the organization. Because of his masked persona, Ricca was unrecognizable as "Nicky Sauce". "Sauce" was a member of "The Movement", a team within the AKW that removed any wrestler voted out of the organization by fans, who could vote out their least favorite wrestlers online.
He Recorded an Album of Dance Music
An avid fan of music, Ricca has been playing piano, drums and other instruments since he was a child. His album entitled "Club Euro", features a variety of EDM and Club-pop songs. It will be released alongside a number of music videos.
Ricca's Daughter is a Champion Gymnast
Gabriella Ricca, Tony's daughter, was the only 12-year old to earn a 9 or above in each event at the USAIGC/IAIGC Gymnastics World Championships in 2014. The young Ricca won the titles of both Bar Champion and All-Around Champion. The event, which took place in Orlando, Florida was covered in USA Today as well as other mainstream publications.
Many People Know Tony as the Cannoli King of Hammonton, NJ
In addition to working as a bodybuilding coach and publishing e-books on fitness, Ricca currently owns Cannoli World, a handmade cannoli enterprise, in his hometown. In addition, the company operates several food trucks and carts both regionally and nationally. Ricca, who grew up in the bakery his family ran, now brings smiles to people's faces with his own authentic Italian desserts.
Related
Popular in the Community