You know how you have that long list of the top places you want to travel? Well, Amsterdam was never on my list and now I'm kicking myself wondering why it wasn't! I still haven't figured out why, but I sure am glad our paths crossed because I am now in love with it. Love may not be strong enough of a word to describe how much I adore it. I've never seen any place as unique as this amazing Dutch city and I don't say this about many places, but I could honestly see myself living there one day!
If you ever find yourself venturing out to The Netherlands with a stop in Amsterdam, first call me and invite me to come along and then do these 10 things before you do anything else: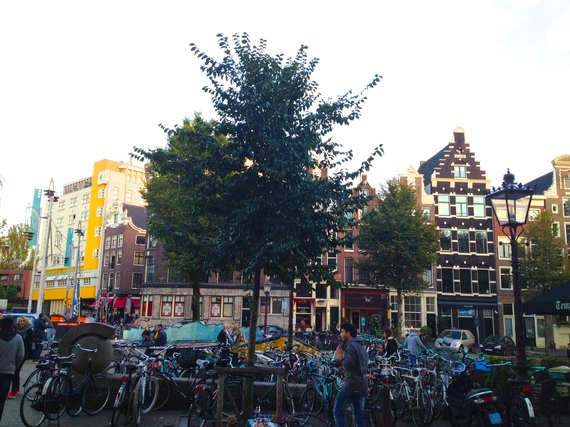 1. Rent a bike and ride everywhere
If you aren't a fitness fanatic or have recently gotten off your routine, Amsterdam will make you fall in love with being active all over again. There are literally hundreds of thousands of bikes on the roads and you'll see swarms of them locked on the rails along the canals, packed tight like sardines. Finding a bike to rent will not be a problem as there are plenty of rental shops around. My friend and I rented our bikes from Mac Bike, one of the popular places to pick up a set of wheels. They have a few locations throughout the city, so just locate the one that's closest to where you are staying and hit the road!
2. Grab a beer and people watch
If you love brew, then you'll love Amsterdam. Although I'm personally not much of a beer drinker, I wanted to experience drinking one in the Dutch city that's home of Heineken International headquarters. I can't recall the café that we stopped at after our visit to the Museum District, but you're sure to stumble upon several options. What I love most about the cafés there is that they have outdoor seating that's facing the streets, which is perfect for people watching.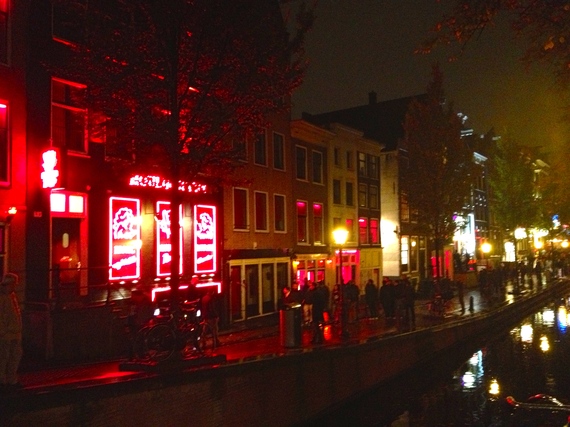 3. See the Red Light District
I'm sure you have heard about the Red Light District and well, everything you heard is probably true. Yes, there are lots of glowing red lights. Yes, there are women standing in windows trying to lure people in. And yes, what you think goes on there, goes on there. But hey, if it's your first time to Amsterdam, go take a look for yourself.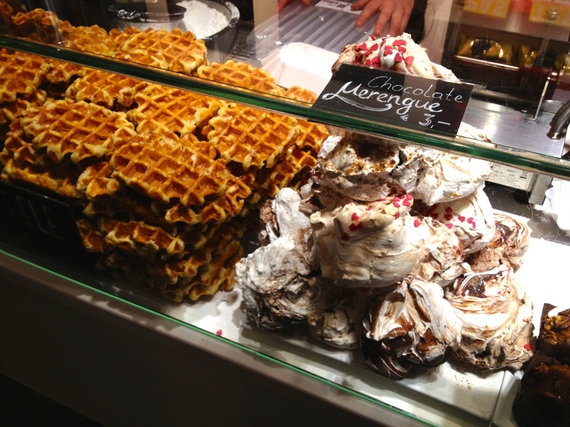 While you're walking around the city, you may occasionally smell the delicious aroma of something sweet. Those are the waffles calling and you must answer! Waffles are extremely popular in Amsterdam and have different variations based off their famous stroopwafel, which is made from two thin layers of grilled waffles that are stuck together using a caramel like syrup. If you like your waffles light, fluffy and topped with goodness, you should definitely go to Delicious Amsterdam. There you can load up on lots of strawberries and nutella!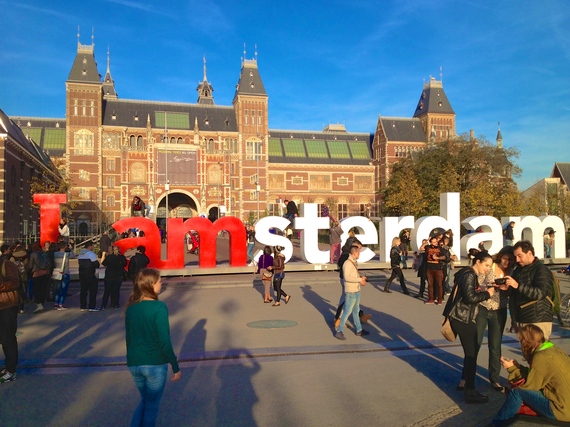 5. Take a photo with the "I Amsterdam" letters
Located by the Rijksmuseum, the "I Amsterdam" letters represent a statement of inclusion for all of the residents of the city no matter who they are or where they come from. You'll find it gets very crowded around this slogan as people are climbing to the top of the letters to get that perfect photo. But you better join in on the photo opp fast. Those letters are travelers in their own right and move around to many locations within Amsterdam.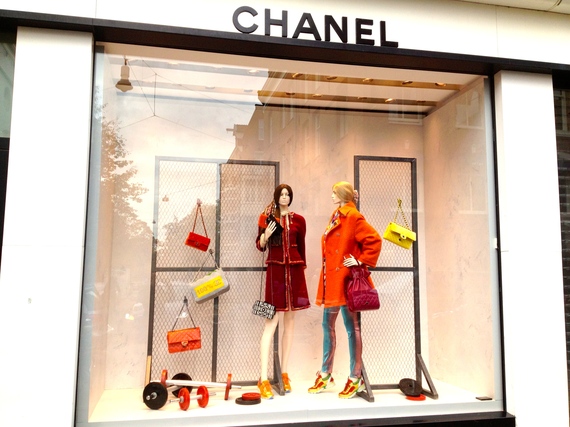 6. Visit the Fashion and Museum District
After you finish snapping your photos with the "I Amsterdam" letters, you'll want to take a stroll through the Museum Quarter to stop at some of the notable museums, which includes the Rijksmuseum, the Van Gogh Museum and the Stedelijk. You will also find lots of high-end, exclusive shopping in this area. Think of the shopping district as the Champs-Élysées of Amsterdam.
If your legs get tired of walking and cycling, take some time to sit and enjoy the scenery at Amsterdam's largest city park, Vondelpark. There's lots of people watching opportunities there as well since the park draws around ten million visitors a year.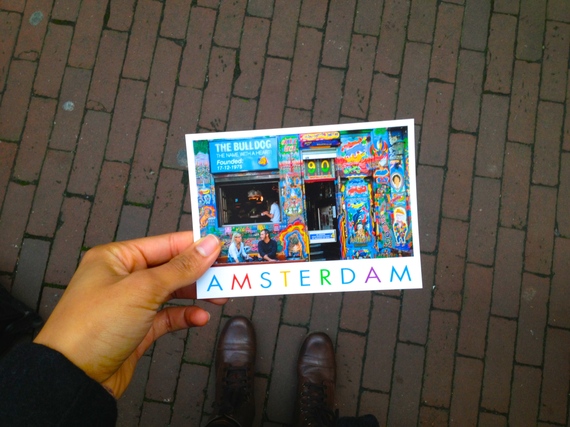 If you are thinking about Starbucks, this may not be the coffee you're looking for. Another popular thing Amsterdam is known for is it's legalization of "soft" drugs such as marijuana, and coffeeshops have been a part of the city since the 1970's. There are about 200 of them dispersed throughout the city. If this is in fact your kind of activity, you may also be interested in the Amsterdam Cannabis Cup. It's an event that allows judges to sample and vote for their favorite marijuana varieties and is also held in Southern California, Denver, San Francisco and Portland.
Before this shopping mall was a place to snag stylish finds, it was a post office where Amsterdammers snagged their mail. Yep, it was the city's main post office. The exterior and interior are beautifully designed and gives it a very luxurious touch. Inside you'll find top-notch shops for both men and women, some health and beauty shops and a few options for dining. Mango was one of my personal favorite stores there.
Located in the historical center of Amsterdam is where you will find Dam Square. There is so much to do and see around this area such as visiting the Royal Palace, the Nieuwe Kerk (New Church) and the National Monument. You'll have many options for shopping and my all time favorite thing to do, watch some people! If you get hungry, check out 't Nieuwe Kafe. It's reasonably priced, overlooks Dam Square and they serve pretty good breakfast and lunch.