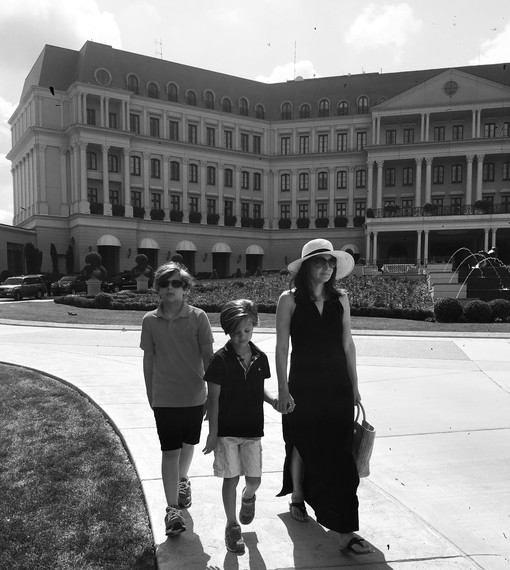 Nestled in Western Pennsylvania's unassuming Laurel Highlands sets a world-class resort and playground. Nemacolin Woodlands Resort is the ultimate all-season family fun vacation get-away and the vision of entrepreneur, Joseph A. Hardy III. From skiing to zip lining to an exotic zoo and casino, Nemacolin truly has it all and will keep your whole family entertained. The words luxury and adventure best describe this diverse but well-done compound. You'll be greeted with Parisian opulence upon arrival and wish to never leave.
Here are ten things that will make you consider Nemacolin Woodlands for your next family vacation.
1. Accommodations Galore
Chateau Lafayette - Inspired by the Ritz Paris, in France, it exudes a European flair that would make Marie Antoinette feel at home. The sparkle of the crystal chandeliers and detailed opulence will captivate your senses. The sun-drenched tea room or the elegant cigar bar is the perfect place to be at 4pm.
The Lodge - This English tudor-style structure was the original hotel and was once a private game reserve. The warm and inviting aesthetic is a nod to English gentry.
Falling Rock - Inspired by the architectural style of Frank Lloyd Wright, this AAA five diamond award winning property boasts 24 hour butler service. Have a bath drawn for you and make a selection from the pillow menu to have the perfect night's sleep.
Town Homes - Ideal for families, these two-bedroom townhouses provide room service and housekeeping. Perfect for glamping!
Luxury Home Rental - Full room service, bell service and a private butler are available to serve should you want your own private residence.
2. Golfers Paradise
Mystic Rock is a challenging golf course designed by renowned golf course architect, Pete Dye. Take advantage of the inclusion of a caddy. They are vital in conquering this top-rated course.
3. Activities, Adrenaline and Adventure
Dual zip-lining, bowling, outdoor obstacle course, mini-golf, paintball, biking, swimming, sporting clays, fishing, dog sledding, skiing, snowboarding, and an off-road driving academy are just a few activities to keep you busy and your heart racing.
4. Eat Your Heart Out
Lautrec - This AAA five diamond restaurant is a treat for all your senses. Choose the 4,7 or 14 course chef's tasting menu or create our own outstanding edible experience.
Aqueous - An upscale steakhouse with an outstanding sunset view overlooking the golf course. Try the in-house dry aged filet for an unforgettable dining moment.
5. Zen There Was Wellness
The Woodlands Spa offers to take you to another world upon entering. The calming atmosphere and expert treatments allow you to leave your stress at the door. Upgrade your wellness game with acupuncture.
6. Bet on Fun
The free on-property shuttle can deliver you to the resort's casino. Odds are good that you'll have some luck having a good time.
7. Lions and Tigers and Bears, Oh My
The kid in you will come out when you tour the menagerie of exotic and wild animals on the property. Don't miss the baby lion!
8. You'll Get Around
The shuttle service is free and takes you anywhere you want to go in the resort.
9. Kids' Camp
Enjoy your fancy dinner while the kids are entertained and safe. The nannies and caregivers are screened and the play space is enclosed. There is a private kids' pool and arcade complete with and old-fashioned ice-cream shop. Paradise found.
10. Jet Set
The resort's air strip allows you to fly in privately should you choose. Wheels up, drop mic.