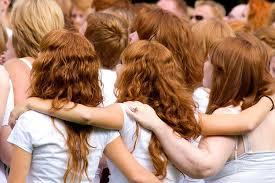 Over five years ago I was at the corporate headquarters of my client learning about their extensive product line. From I there I would return home to a team and train them to communicate the company's mission to the larger market.
Just as is with most great moments in life I was completely preoccupied with learning and being busy when a kindred spirit at the table caught my attention.
While I passed the time in a cramped workroom listening to speakers and studying products, I noticed one of the reps from across the country was mirroring many of the statements I made. We laughed when others didn't and seemed to be marching to a beat other than that of our fellow trainees.
On our way back to the hotel after over ten hours of straight work she signaled as if she was drinking from an imaginary glass of wine. Then she mouthed "Meet in the bar for wrap up!"
We laughed our exhausted heads off until the wee hours and in no time realized how much we had in common, including first and most significantly that we were both from large Irish clans.
With our glasses full we toasted and she said, "To my Irish Sistah!'
We have been friends and invaluable colleagues ever since.
This time of year I love to celebrate this sisterhood and wanted to take the time to share with you what you need to know about the Irish Sistah's you will run into this week.
1) We think freckles are sexy.
2) We know our eyes are beguiling to you.
3) We are thrilled to be underestimated.
4) We love to have people to love.
5) We carry the burden for each other when times are awful.
6) We've taken prayer to a whole new level and from that we yield powerful outcomes.
7) We revel in messing with traditional soda bread recipes.
8) We laugh hard and easily and often.
9) We know what it's like to follow rules and know what it's like to MAKE them!
10) We are tough beyond measure.
Happy St. Patrick's Day to the whole lot of ya!
Jeanne M. Stafford is a professional speaker, communications trainer and is writing a book, Use Your YES Words, Communication Tips Learned from Improv, Asperger's and Politics. Stafford trains her audiences and clients to communicate powerfully using improv techniques. Sign up for her FREE 30 Days of YES and find out how using YES words can empower you to possibility. Follow Jeanne on twitter @jeannestafford and visit her website http://jeannemstafford.com