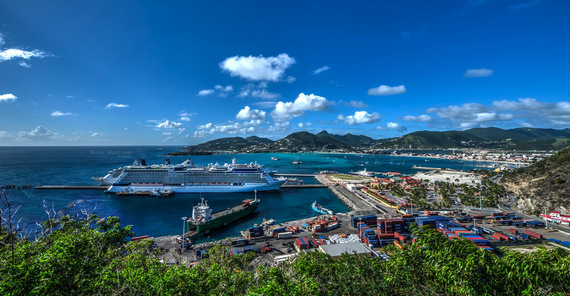 photo credit: Cruise Port via photopin (license)
When I first became a travel agent, I knew I would eventually dedicate part of my business to group travel. While I love solo trips and family vacations, I cannot help but educate people about how group trips really rake in the benefits!
A cruise is one of the easiest and most foolproof ways to plan a trip for a large group. When you book into a group trip, you save cash and gain perks that "regular" vacations just can't access. In this case, there is truly strength in numbers.
Skeptical about cruising? In recent years, cruise lines have poured millions of dollars into revitalized ships, the latest technology, gourmet meal options and more. If you need to entertain a large group for a reunion, a vow renewal or even a fundraiser, a cruise can provide something for everyone.
That said, there are some myths about cruising. Without further ado, here are the Top 10 questions my clients ask me about cruising!
1. Do I need to have a passport? This one is tricky to answer. For a closed loop cruise (one that begins and ends in a United States port), you technically are not legally required to have a passport. In that case, a photo ID and a birth certificate will suffice. HOWEVER, most travel professionals (including this one!) highly recommend that you use a passport anyway.
Here's why: When you travel out of the country, it is critical to have valid, foolproof evidence that you are a United States citizen. A passport is the most surefire way to check this box. If you leave the ship for an excursion and accidentally miss the ship, being stranded without a passport is not a good situation to be in. A valid passport is also useful for medical evacuations and other unknown emergencies that can pop up.
2. Do I need vaccinations? It depends on the cruise itinerary and your destinations, but usually the answer to this is no. While I am not a doctor, I do keep up with the CDC's recommendations on travel health. If you are ever curious about the health requirements and vaccination policy for a country on your itinerary, you can always check the CDC website for their latest information.
3. Which cruise line is right for me or my family? What about this ship vs. that ship? A travel agent with cruise experience has received hundreds of training hours to help answer this question. Family friendly or luxury? Quiet and relaxing or loud and lively? Formal or casual? Scheduled gourmet meals or "freestyle" any time dining?
4. What type of stateroom is best for me?
As with so many questions, the answer is "it depends!" A good travel agent can ask questions that can help guide you towards the right choice:
When you imagine your cruise, do you picture morning coffee or evening cocktails on your private balcony? Or do you prefer a quiet interior room?
Do you want to be near stairs/elevator or further away? Some travelers enjoy the quiet of a long hallway, while other prefer to be closer to the stairs and elevator for proximity and mobility reasons.
Do you want to forward, aft or midship? Each location has its pros and cons. Generally speaking, midship cabins are ideal for someone with concerns about seasickness (see question #5!). However, aft facing cabins can offer amazing views!
Have you checked your cabin in respect to entertainment venues or dining rooms? A cabin directly under one of these may be more noisy than a cabin in another part of the ship.
5. Will I get seasick? Today's cruise ships are equipped with stabilizers that minimize movement onboard. I personally get extremely carsick, yet cruises do not bother me. While every individual is unique, there are some precautions you can take: Traveling with motion sickness medication or wristbands, choosing a midship cabin close to the waterline and eating green apples frequently are all said to help with potential illness from motion. However, most people have no problems at all!
6. Will I need cash onboard? Do I need a credit card? Cruising is one of the most budget-friendly methods of travel because SO much is included! While it varies by cruise line, most cruise fares include your accommodations, your meals (except for speciality or upgraded dining options), basic non-alcoholic beverages like water, iced tea, coffee and lemonade and finally, your onboard entertainment.
When you board the cruise, you'll get a plastic card, like a hotel key card on steroids. This card is linked to your onboard account and is how you do almost everything on board. You'll use it to unlock your room, order drinks, check in for your dining reservations, program your safe (on some ships) and use it for any shopping you do while onboard. The card is connected to your credit card so that charges are paid quickly and seamlessly. Prefer to use cash? Most cruise lines allow guests to deposit cash into the onboard credit account at the beginning of each cruise.
7. What do we pack? I'll cover this in a separate post, but packing lighter is generally easier! While cabin size varies by cruise line and by ship, you can guarantee that you'll have less space than at home. Typically, a hair dryer and basic toiletries (shampoo, body wash, etc) are provided in each cabin.
8. Are cruises safe? What if I'm pregnant? This is a question that requires a common sense answer: Use your head and do what is comfortable for you. NO travel is without some risk. While traveling anywhere, be self aware, don't engage in risky behavior and use the buddy system. I recommend traveling with a small first aid kit (not just because it's smart, but because drugs onboard are pricey!) I also recommend packing copies of your passport and important paperwork and adding them to each suitcase and carry on.
If you are pregnant or planning to be pregnant soon, this is a question for your doctor. While cruise lines are vary, most cruises allow women to travel until the beginning of their third trimester. For example, Carnival accepts passengers until they enter their 24th week of pregnancy.
9. Can we go on a cruise if we are under 21? Again, it depends. Most cruise lines require the primary passenger to be 25 years of age or older. Anyone under 25 needs to travel with their parent or with their spouse, if married. Married passengers under 25 may required to show a marriage certificate. And sorry to burst any bubbles, but the drinking age onboard is generally 21 years old. While some countries outside of the US allow drinking at 18, major cruise lines enforce an Age 21+ policy for alcohol.
10. Will we have an amazing time? YES! The trick is to find the cruise that is right for YOU. As mentioned above, a good travel agent will ask questions about your likes and dislikes to make sure that they find the perfect fit.