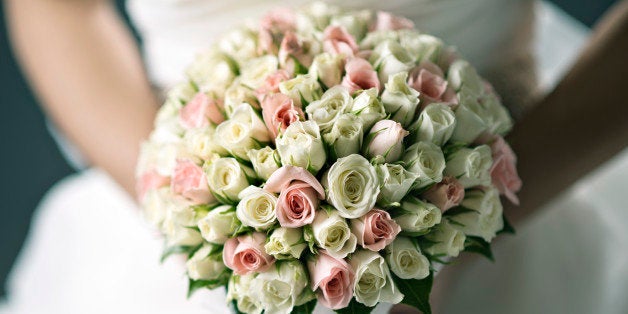 After designing weddings for eight years, I decided to pursue my love of writing over my love of floral design. The result was the Elly in Bloom series. It gave an honest (and often sharp) behind-the-scenes look at what it takes to be "the help" on every bride's perfect day. Here are some of my favorite (real!) lines from hundreds of consultations. And let me just add that for every bridezilla, there were probably 10 delightful brides, something that those in the industry know very well...
1. "I love (enter expensive flower name here), but I have a really small budget."
This is like telling a car salesperson, "I love Mercedes Benz, but I have a used KIA budget... but can I still get a Mercedes Benz?"
2. "My dress is not quite ivory, not quite white, but like a diamond-white, only more like a champagne eggshell, but with cosmic latte pearls, which add kind of this creamy-white to it, but I don't want flowers that are snow-white, I want a ghost linen with hints of..."
There are two shades of white to wedding florists: cream and white. Please pick one.
3. Slides pictures of Tom Cruise's wedding to Katie Holmes across the table. "Can you do something like this for an $800 budget?"
How do I say this in the kindest way... NO.
4. "I love the look of lilacs, but the smell makes my eyes water. Is there any way we can remove the scent but keep the flowers?"
Absolutely. Totally a normal request. Let me grab my vacuum cleaner hose.
5. "I would like to take pictures outside on the surface of the sun (i.e, Colorado, Arizona, California, middle of the summer, hottest day EVER) or in Antarctica (Chicago, Minnesota, mid winter, -102 degrees), will my antique hydrangeas last?"
Nope. But let me guess, you still want them...
6. "I would like an exact replica of Princess Kate's bouquet, but have a very limited budget."
A safe assumption would be that if the Duchess of Cambridge can afford it, us mere mortals cannot. May I interest you in a bouquet rocked by that girl you went to high school with?
7. "Is there going to be someone who will stay at the wedding to watch the flowers?"
They are flowers, not children. Besides, if I want my flowers to become alive and eat people like in Little Shop of Horrors, I will give them the command BEFORE the wedding.
8. "I know you are on your way to my wedding right now, but I was wondering if we could change our theme from Great Gatsby to Vintage Southern, and make all the white flowers a soft green and maybe add some yellow and pink shades? Is it too late? I mean, we are paying you to get what we want."
*Bangs head on steering wheel*
9. "I don't want to pay for something that just dies in a day."
That's okay, I completely understand not wanting to pay for something that will only be used for one special day. You also might have a problem with the following items: venue, wedding food, wedding cake, wedding dress, invitations, favors, alcohol, officiants, musicians, bridesmaid dresses, "Bride" embroidered underwear, 242 umbrellas and 30 tiny bags of personalized M&M's.
10. "So, I've made a few thousand Pinterest boards containing a few hundred pins each for you to look at for inspiration. We'll just start with the 'Wrap Inspiration Board'..."
Related