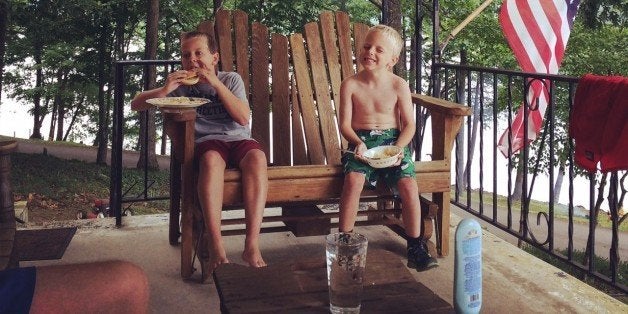 We've been off the school roller coaster for several days now. Time is subtlety slowing down, the sun is setting later, and I am embracing the longer days and much deserved downtime surrounded by my kids. But then again, I've had a few thoughts on these first days of unscheduled bliss...
1. I've done more laundry this week than I do during the school year. STOP with the 10 towels a day, kids. For the love of Downy Un-stoppables, just freakin' STOP. See the TOWEL hook? Use. It.
2. We've done outdoor play and non-screen time this week and I think it was wonderful. Now please take the iPad and go binge watch something until next month.
3. My grocery bill is going to triple over the next eight weeks. Last night at 10:00 p.m., someone asked me what was for "second" dinner. I guess we are spending summer in Spain's time zone.
4. One of the kids hasn't taken shower since last Saturday. This and #1 do not make sense. And don't think I want to know where the towels are really coming from.
5. I have already read one book. Not one I had planned to read, not a bestseller, a book club choice, a must read, or a deep and moving piece of quality literature. Thank you Carl Hiaasen for once again writing characters that make this "one sandwich short of picnic kind of momma" feel normal. And laughing really, really hard. Summer satirical fiction at its best.
6. Waking up at 9:00 a.m. every day is lovely and a blessing but I FEEL LIKE A TOTAL SLOTH. Do I set my alarm next week or continue my post traumatic school year disorder sleep recovery therapy?
7. By the way, Jiffy Pop works as a second dinner. So do burnt marshmallows. And bomb pops.
8. Someone at Milton Bradley really needs to update the board game "The Game of Life." A Victorian house with a library, parlor, servants' quarters, marble fireplace, and wraparound porch for $200,000? For me, the hubs, our three cars, and five sets of boy/girl twins? Show me the way.
9. Ice cream cones make everyone stop talking.
10. Grateful for living without a schedule, a to do list, a deadline, homework assignments, and sports practices. Amen to summer. Bring on the next two months!
Melissa Fenton is a humor writer. Find her in the laundry room, kitchen, or running through a pasture, and also writing about her four sons at 4boysmother and on Facebook.