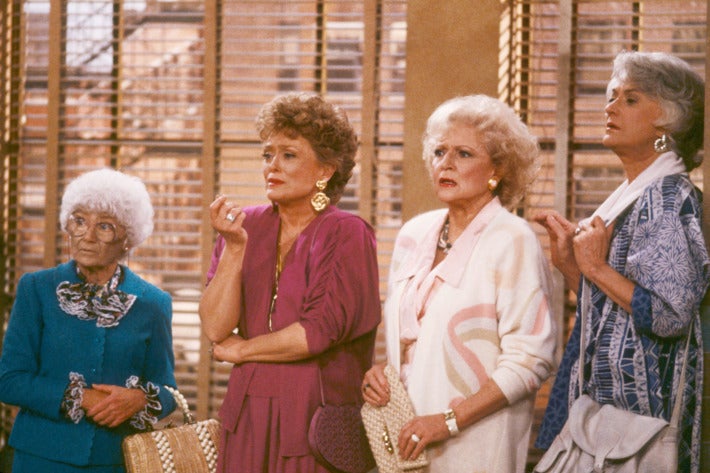 Warning! Gross but harmless generalization dead ahead: Gay men are kings of shade.
When it's time to quickly and brilliantly take anyone or anything down a few pegs, nobody does it quite like we do. It's something we have in common with the ladies of The Golden Girls, and it's likely a large part of why gay men continue to embrace the show as we approach the 26th anniversary of its 1992 series finale. (Sophia and Dorothy, in particular, were queens of shade, and with one of them off-screen, The Golden Palace spin-off was just too damn sunny.)
For seven TV seasons, from 1985 to 1992, Dorothy, Rose, Blanche, and Sophia provided more weekly shade than all the palm trees in Miami, or the pines at Sophia's former nursing home, combined. I may not have caught every clever cut-down when the episodes originally aired, but a billion viewings later, not one gets past me.
Like so many of my fellow gay men, I will always reserve a soft spot in my heart for The Golden Girls, my all-time favorite TV show. But during a recent binge-fest, I noticed something I hadn't pinpointed during earlier marathons. When it came to race, The Golden Girls was sometimes kind of, well, shady.
Considering that the show was set in the melting pot of Miami and ran concurrently with The Cosby Show (1984-1992) on NBC, why didn't anyone think to cast a non-white actress of a certain age in a recurring role? Diahann Carroll would have killed as a comedic nemesis for Rue McClanahan's Blanche Devereaux. She'd already perfected the art of shade during her mid-'80s stint baiting Joan Collins' Alexis Carrington as Dynasty's Dominique Deveraux (no relation!).
Black characters occasionally popped up on The Golden Girls, but if their race wasn't a plot point, like when Dorothy's son announced he was marrying a black woman, the comedy often underscored it, usually via stereotypes.
Now that I think about it, the Golden Girls scenarios that are least likely to make me laugh out loud today probably involve some depiction of race. While there are just as many Asian-centric gags to cringe at (example: Sophia's reaction to Dorothy's Chinese doctor in "Sick and Tired," a low point of the otherwise brilliant two-part season-five opener), the groan-worthy moments that follow all revolve around black comedy.
1. Rose agrees to be Blanche's veedenfrugen (translation: personal slave) for one week in season two, episode 21, to make up for supposedly misplacing her earrings. Blanche is hesitant at first, but she eventually comes to appreciate the arrangement.
Blanche: "Veedenfrugen, a lovely idea. If we'd had them in the old days, we wouldn't have had to fight that disruptive Civil War."
Earth to Blanche: We did have them in the old days, millions of them. "That disruptive Civil War" was all about veedenfrugens.
2. Sophia has an odd way of describing one of the biggest musicians of the '80s in the very next episode.
Dorothy: "Come on, Blanche. What are you looking for?"
Blanche: "I don't know. I just know it's not Jake. But I'm not going to let that discourage me from finding my Mr. Right. And I'm not going to compromise my standards either. I'm simply going to look high and low, far and wide, and never lose heart. For I know one day my prince will come."
Dorothy: "Now what was that supposed to mean?"
Sophia: "I wasn't paying close attention. But from what I could make of it, she's going to sleep with that little black guy, Prince."
3. In season three, episode four, Dorothy, Rose, and Blanche hire Marguerite, a black housekeeper who sounds like she's from somewhere in the Caribbean. A colorful misplaced rock leads them to conclude that Marguerite must be a caster of spells. Yep, that old stereotype about witchy island women. Of course, it depends on which island. Despite Wiccan tradition, surely they never would have suspected an old white woman from the British Isles of engaging in sorcery, which Dorothy sort-of acknowledges in the end.
4. As they're about to fire Marguerite for her poor job performance, Blanche makes a classic-TV revelation/plea to her.
Blanche: "Before we do, I just want you to know, Tootie was my favorite on The Facts of Life!"
Later, upon meeting Marguerite, Sophia is surprised to see the re-hired housekeeper wearing a tiara and sipping champagne.
Sophia: "What is this, the Miss Black America contest?"
Marguerite: "I'm pleased to meet you. Won't you join us?"
Sophia: "Yeah, and pour me some of that champagne. I never know if I'm going to make it to New Year's.... So what are we celebrating? Did The Supremes get back together?"
There are several incidents of light racial humor in this episode, often courtesy of Marguerite. Most of it is fairly meh, but it is chuckle-worthy when Marguerite calls Shelley Long, who had recently left the NBC sitcom Cheers, a "thin, uppity white woman."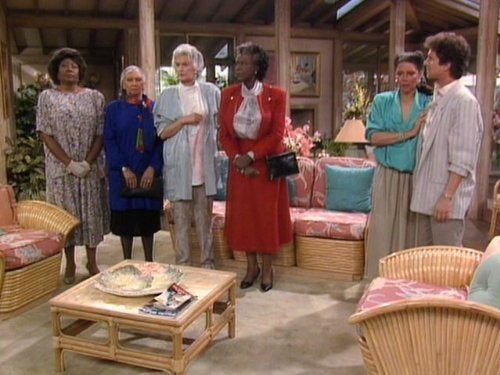 5. In season three, episode 23, Dorothy's son Michael reveals he's engaged to Lorraine, an older black woman who also happens to be pregnant. When Rose and Blanche first meet Lorraine's relatives, they're wearing facial masks that look a lot like blackface. The laugh track kicks in because, you know, blackface is so funny.
6. Naturally, Sophia underscores race when she enters a tense scene with Dorothy, Lorraine's relatives, and Rose and Blanche in "blackface."
Sophia: "What is this, a revival of Raisin in the Sun?"
7. Later, Sophia enters the kitchen, where Dorothy, Rose, and Blanche are having cheesecake with Lorraine's relatives.
Sophia: "What's all the racket? Oh, Martha and the Vandellas are back."
Once the future extended in-laws have found some common ground, Sophia pops the question.
Sophia: "You know, I'm glad you showed up. There's something important we didn't discuss this afternoon, and I'd like to get that cleared up before we talk about anything else.... Is it true what they say about black men in bed?"
Blanche: "Oh, yes, definitely. [Everyone looks at her, shocked and/or appalled.] Oh, yes, definitely, that is something I would like to know about, too."
Really? Would it have been so shocking or appalling for Blanche, of all oversexed people, to have showered her affections on a black man at least once?
8. Despite her unspoken-of experience with black men, Blanche attempts to join the "Daughters of the Old South" in season six, episode 21. It's hard to imagine an episode like this one being green-lit in these times of heightened anti-Confederacy sentiment. Surely we wouldn't get Blanche reminiscing about the good old days when "real Southerners" would "sit around on porch swings, regaling with stories of Abraham and Moses and all the other people who worked on the plantation." Sadly, those old days weren't such good days for the likes of Abraham and Moses.
9. Sophia also broaches the topic of black male sexuality in season three, episode 1, when she talks to Rose about her new friend, a black man with Alzheimer's.
Sophia: "I never went to bed with Alvin. The thought never crossed my mind, which is odd because I've always wondered about... that myth.
Rose: "There's a myth about people named Alvin."
Sophia: "The myth about black men in the bedroom."
Rose: "Is that a Greek myth?"
Bless sweet, clueless Rose for honoring the stupidity of Sophia's comment with more stupidity.
10. Blanche has an interesting reaction to learning that her father, Big Daddy, had an affair with her mammy in "Wham, Bam, Thank You, Mammy" (season six, episode five).
Blanche: "That's impossible! Big Daddy was a Republican!"
Speaking of Mammy, The Golden Girls did get race commentary just right in the series finale with Sophia's version of a Gone with the Wind-era Southern housekeeper. Although Florence's take on The Jeffersons was funnier (see below, at the bottom), if a white character is going to squeeze comedy out of a racial stereotype, she might as well shade the stupidity of the stereotype while she's at it.
Yep, Sophia/Mammy, that sure is a mess of something. Thanks for pointing it out.
Popular in the Community