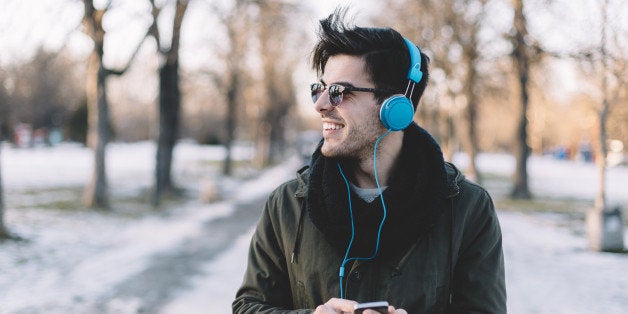 Four years ago, in late November, I tumbled into the worst depression of my life. It took me a long, long time to climb out of that black hole -- but I did. However, every winter since then has been a struggle to keep myself from slipping back down again.
I know that especially in the bisexual community, I'm not the only one. Bisexuals have higher rates of mental disorders -- including depression and anxiety -- than our lesbian, gay and heterosexual counterparts. Additionally, short days, long nights, cold temperatures and holiday stress can all contribute to a depressed mood, even for individuals who aren't struggling with a mental disorder.
That's why I wanted to share some practical tips for bisexuals to beat the winter blues. Note that these come from my personal toolkit. I'm certain other people have different coping strategies, but for what it's worth, here are mine:
If your depression is severely affecting your functioning, seek professional help immediately! You do not need to suffer alone. Ask your primary caregiver or insurer for a list of mental health professionals with experience treating LGBTQ individuals. And if you're dealing with thoughts of self-harm, call 911 or the National Suicide Prevention Lifeline at 1-800-273-8255 immediately!
Get friends or allies on speed dial. Asking for help can be difficult, but it's important. Ask some close friends if you can call them when you're feeling low -- even if you don't discuss your depression or loneliness, sometimes simply having a conversation helps. Try to get at least two people to agree so you don't overburden anybody. If your friends aren't available, there are organizations that can help, for example The Samaritans or ReachOut.com, which offers forums as well as a helpline (1-800-448-3000) for individuals struggling with loneliness and negative feelings.
Care for something other than yourself. Recently, radio host Ann Walker asked me what motivated me to get out of bed every morning during my depression. My answer was immediate: "My Chihuahua." Though I could deal with neglecting myself, I couldn't ever forgive myself if I neglected him. Of course, not everybody wants to or is in the position to take care of a pet. But if you can, the bonding you experience and the affection you receive can become a lifeline.
Seek out the bisexual community. Unfortunately, many bisexuals don't have the support of their families. That's why, as a good friend pointed out, in queer community, we use the term "chosen family" when referring to the people we love and have come to depend on for support and trust. For many of us, that's the bisexual community; those we meet in real life or online. Depending on where you live, there may be a local bisexual advocacy group or community in your area. You can contact the Bisexual Resource Center or BiNetUSA to see if they can put you in contact with a support group or Meetup group nearby. There's also a vibrant, active and growing online bisexual community where you can connect with others 24/7. Both the Bisexual Resource Center and BiNetUSA have Facebook pages where the community can point you in the direction of more specific pages, for example for bisexual people of color, bisexual men, bisexual bloggers and bisexual poets.
Seek out other likeminded people. Look for people with whom you share specific interests. This can be anything from joining a book club or wine tasting group to volunteering or going on an organized, active group vacation. There are many people who feel alone and depressed during the winter, so the chances are high you'll meet others who not only share a common interest, but who are also looking for company and friendships.
Take care of your physical health. Compared to our lesbian, gay and heterosexual counterparts, bisexuals experience higher rates of obesity and cardiovascular disease, amongst other conditions. What's more: your physical health impacts your mental health. So no matter how tired or depressed you feel, it's important to eat right and get moving. Use common sense when choosing your meals, and watch your alcohol intake. If you don't want to go to the gym, bundle up and take a brisk walk every day or invest in some home exercise equipment.
Avoid trigger situations. Triggers can propel you into a downward spiral, so it's critical to avoid them when possible. If you're depressed about being single, you might want to avoid a dinner where everyone else is in a relationship. Or if you're dealing with unresolved emotions about your family, watching a Disney family film with your friend's kids might be too much. Don't worry about letting your friends down: if they really care about you, they'd be more disappointed to see you upset.
Meditate. Practicing meditation can help you calm anxiety and boost your mood -- even if you start with as little as 10 minutes a day. There are a number of great free or low-cost apps you can use. I like Calm (Kindle), a free app that features 10 different nature scenes and sounds and offers the option of guided meditation.
Enjoy bisexual art, literature and entertainment. No matter how many activities you take on or friends you have on speed dial, there are going to be moments that you're on your own. Granted, art is subjective; however, you can often avoid your mind going to the negative while exploring your sense of community by enjoying bisexual art, literature and entertainment. From e-books and online art projects to bi-inclusive TV shows and films, they're often simply a short Kindle, Internet or Netflix search away.
Express yourself. During my depression, I started writing poems to make sense of my emotions and thoughts. Poetry allows me to express myself while at the same time making sense of who I am. And I'm not alone. There are many highly creative bisexuals whose voices in their chosen media are all equally important, both as self-realization and as an ongoing testament to the evolution of our diverse and beautiful community. So pick up a pencil and paper, make a selfie-collage, write a new song; whatever it is, if you feel like expressing yourself, I encourage you to do so.
In addition to these tips, I'd like to leave you with a profound piece of wisdom my wife imparted to me: "The better you know yourself, the better you can take care of yourself." So get to know the real you this holiday, and give the gift of self-care to that person!
Sources:
https://www.afsp.org
http://samaritansusa.org/contact.php
http://us.reachout.com/facts/factsheet/overcoming-loneliness
http://www.biresource.net/
http://www.binetusa.org
http://ubnradio.com/artists/the-ann-walker-show/
Popular in the Community