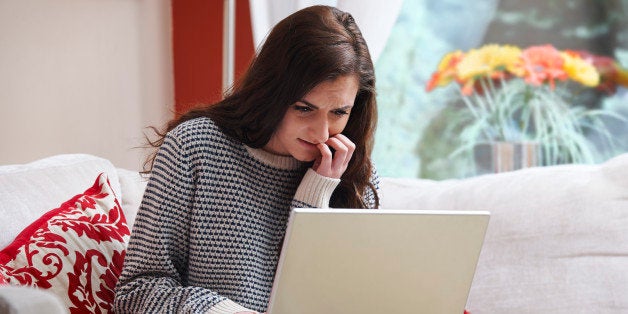 With Thanks to The Bisexual Leadership Roundtable, The Anti-Defamation League, The Daily Dot, and Facebook.
As a citizen of the United States of America, I'm proud of our country for many reasons. One of those reasons that's especially important to me as writer, poet, and LGBTQ activist is the fact that the First Amendment grants our citizens freedom of speech--a critical condition for facilitating discussions that help our society advance.
Recently, however, I had an experience that made me question where we draw the line between freedom of speech and defamation--and what recourse there is for those who believe they've been defamed. Here's what happened:
On September 30th, 2015, The Daily Dot ran my article titled "Why I celebrate my scarlet letter," which was originally published under a different title on the Huffington Post. But when they promoted it on their Facebook page, something horrible happened.
A Facebook user made an extremely hurtful, defamatory comment about me. It was so atrocious that I won't even repeat it here. Suffice it to say, the comment was completely unfounded. Moreover, it was a blatant example of biphobia, as well as stigmatization of people who work or have worked in the adult industry.
Of course, it was likely the product of a cyber bully looking to push some buttons. But that didn't make it any less cruel, not to mention potentially damaging on both professional and psychological levels. So I set out to get the comment removed. America is, after all, the home of the brave, too. And every time someone stands up to a bully, it's a step towards a safer and more tolerant society for us all.
Tip # 1: If you feel physically threatened by an online comment, report it to your local FBI office.

I didn't feel physically threatened, though I certainly felt the comment was intended to incite prejudice against me. I decided to report it to Facebook first.
Tip # 2: Report the incident to the platform in question via its designated channels.
On Facebook, to the right of a comment, there's a small "x" that allows you to hide it. I clicked the "x" and was presented with an option to report the comment, which I did.
Tip # 3: Engage your community.
While I waited for a response, I shared my concerns with the other members of the Bisexual Leadership Roundtable, many of whom were kind enough to also report the issue to Facebook. To our surprise, each of us received what looked like an automated response from Facebook stating the comment didn't violate their Community Standards.
Tip # 4: Determine whether you're using the right terminology.
I'd initially reported the comment to Facebook as harassment, but then I realized the terminology might be incorrect. Upon review of Facebook's Community Standards, I learned they remove hate speech directed at private individuals and public figures. This begged the question: if the comment didn't qualify as harassment, was it hate speech? Or was it defamation?
Some research into hate speech and defamation quickly showed the comment qualified as both. So despite being somewhat discouraged, I knew I had to follow through with the matter, this time using more appropriate terminology.
Tip # 5: Find other channels to communicate your concern.
There's usually more than one way to connect with a company. Over the course of the next week, I contacted Facebook via their private messaging app, as well as through a number of email addresses I found online, requesting they reconsider their earlier decision and remove the comment. I also reached out to The Daily Dot via email and a direct message.
Tip # 6: Stay calm and focused.
As the days passed and the comment remained visible for all to see, I grew more upset and frustrated. But I realized I couldn't let my frustration get in the way of looking at the situation objectively.
Facebook has almost 1.5 billion users worldwide. The Daily Dot has had more than 23 million unique visitors to its website. With thousands of people contacting these companies each day, I knew it could take a while for my request to land on the right person's desk.
Tip # 8: Seek expert advice.
It proved to be a turning point. Norman encouraged me to keep reaching out to both The Daily Dot and Facebook. Together, we came up with the idea to email people in leadership positions about the matter.
Tip # 9: Determine who's in a position to help you, and reach out to him or her in a positive, polite manner.
In a last-ditch effort to be heard, I wrote both to Facebook's General Counsel, as well as Nicholas White, The Daily Dot's Editor in Chief and CEO, once again explaining the situation and requesting they delete the comment.
To my relief, the very next day, Austin Powell, Managing Editor at The Daily Dot, emailed. He informed me that the comment was now hidden to everybody but the original poster; a strategy proven to be more effective than deleting comments or blocking users in this kind of situation.
Minutes later, Matt Silverman, Director of Audience at The Daily Dot, contacted me via a Facebook direct message, apologizing for the delay and explaining that my email had likely been overlooked among the deluge of messages his team receives every day. He also emphasized that this was exactly the kind of comment his team works to remove on a regular basis.
Finally, that same morning, Facebook 's legal department got back to me, saying they'd looked into the matter but by then, it had already been resolved.
Tip # 10: Make note of successful strategies, and share them with others.
Sharing successful strategies with others can be key in combatting online defamation and stigmatization.
For example, Austin Powell advises that if you have a concern about The Daily Dot, you can use their feedback widget on their website. You can also contact authors via their email addresses in their bylines. And their About page lists the full staff along with email addresses. Most publications have a similar system. And Facebook offers an online form to report a violation or infringement of your rights.
Looking back on the experience, there was a point in this process when I was almost ready to give up. I felt as if I were invisible; as if nobody at these large corporations was at all concerned about my rights and wellbeing. But the encouragement of the bisexual community, as well as Norman Abbot's kind support and objective insights, inspired me to keep going. And when I finally received responses, they were as respectful and effective as I could wish for, especially those from The Daily Dot.
In short, the experience taught me an invaluable lesson: with community support and determination to reach people who are in a position to help, we can fight defamation and stigmatization. And that's why I'll forever be grateful to the Bisexual Leadership Roundtable, the Anti-Defamation League, The Daily Dot, and Facebook.
Popular in the Community