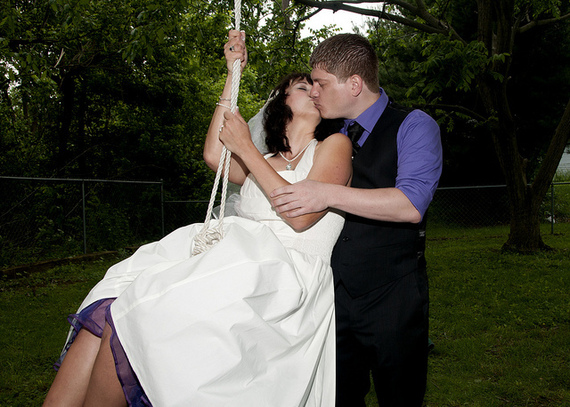 Are you married to the idea of a backyard wedding where you and your guests can be one with nature, surrounded by towering trees, blooming flowers and chirping birds? Sounds romantic and carefree, doesn't it?
Before you decide to head down the grassy aisle, take some time to ponder the labor and logistics; a backyard wedding isn't as carefree as you might think.
"You need to be realistic about what you hope to accomplish by having a backyard wedding," says Rebecca Kopperud, a wedding planner in Alaska. "Is it really what you want? Or are you just placating family members or your new spouse?"
Here are 10 tips that will help you say "I can" if you choose to say "I do" outdoors.
It may be tempting to cut corners, but taking on a DIY wedding and reception could be a time-sucking, embarrassing disaster.
Look into hiring pros to handle some or all of the tasks, such as the reception dinner or buffet. After all, do you really want to be responsible for exchanging vows and dishing up food?
"While caterers may sound expensive, they are professionals that come with peace of mind and staff to bus the tables, take out the trash, restock food and wash the dishes," Kopperud says.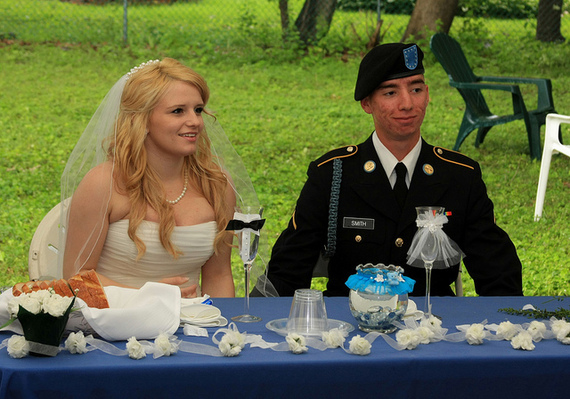 2. Factor in furnishings.
"Unless you already own a party supply company, the added costs of chairs, tables or linens can easily add up. Be sure to include this in your budget planning," says Dorian Smith-Garcia, founder and editor in chief of bridal website The Anti Bridezilla.
While the backyard might be an informal setting compared with a church, that doesn't necessarily mean guests should show up in T-shirts, shorts and flip-flops.
"Backyard casual for some implies apathetic, unconcerned or a nonchalant air," says Greg Jenkins, partner at Bravo Productions, an event-planning company in Long Beach, California.
It's up to the hosts of the wedding -- the couple -- to dictate the dress code for guests, he says. "Casual should be defined by the wedding couple," Jenkins says, "and made very clear to guests."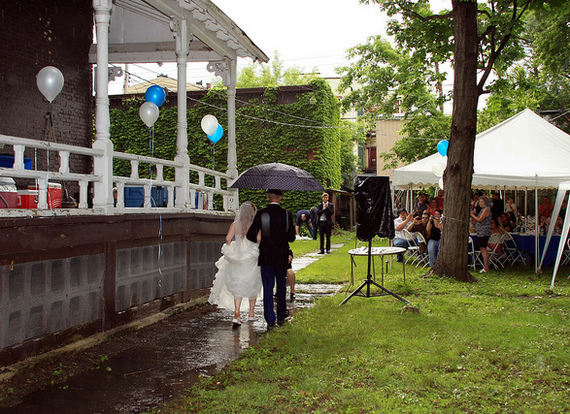 4. Don't overlook the elements.
Assess the sun-to-shade ratio of the backyard venue a few days before the ceremony, etiquette consultant Jodi RR Smith says. Keep awnings or umbrellas on hand so your guests aren't broiling in the sun.
"Whether it's rain or a scorching-hot day, make plans to offer guests a space to avoid the raindrops or beat the heat," Smith says.
Danielle Rothweiler, owner of Rothweiler Event Design in New Jersey, recommends setting up a tent, whether you think you'll need it or not. A tent can shelter guests in case of rainy, hot, cold or windy conditions.
Ahead of the big day, it wouldn't hurt to research historical weather patterns for the date you've chosen for the ceremony, Jenkins says. For instance, what is the average temperature for that day? What about typical rainfall amounts? How windy has it been on that day?
5. Take allergies into account.
Depending on the season, allergies could wreak havoc for attendees, including members of the wedding party, according to Jenkins. If allergies are a major nuisance in the springtime, for instance, then it might be wise to move the wedding to another season or move it indoors.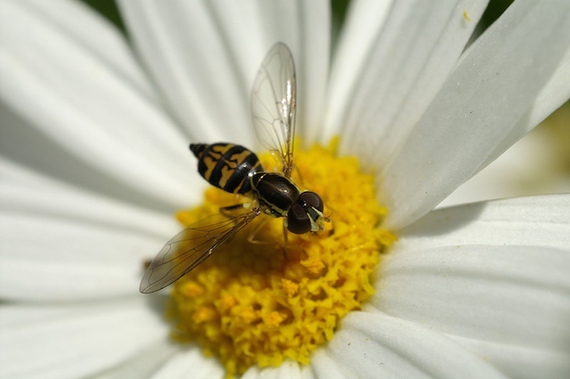 Humans might not be the only guests at your ceremony. Mosquitoes, bees, flies and ants are among the pests that could crash the wedding.
If the ceremony is being held close to sundown, set up stations with spray and lotion repellant so that your guests can ward off bugs, Smith suggests. Jenkins even recommends hiring a pest control company to treat the backyard beforehand.
To make sure your yard is picture-perfect, hire a lawn care or landscaping company to mow the grass, pull the weeds, tend to the flowerbeds and so forth, Smith recommends.
8. Contact the homeowners association.
If the location is governed by a homeowners association, find out whether a backyard wedding would break the HOA's rules.
"Weddings are rather massive events. Before you commit to a backyard wedding, check with the HOA to ensure that you're not violating any regulations. Things from parking to quiet hours to decorations may all be strictly monitored," says Smith-Garcia, the website editor.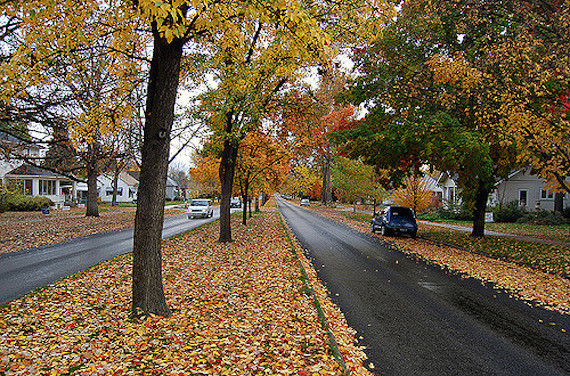 9. Check with the neighbors.
You want to be sure your wedding won't interfere with the neighbors' plans and ultimately hack them off, Jenkins says. Will the ceremony conflict with next-door events such as a birthday party or a big cookout?
Consider what sort of parking is available and weigh whether you need to hire a valet service. Also, keep the timing in mind. If the wedding takes place on a Saturday, neighborhood streets might be crowded with cars belonging to homeowners who have the weekend off, Jenkins says.
John Egan is editor in chief at LawnStarter, an Austin, Texas-based company that helps people find, schedule, pay for and manage lawn care services.
Related