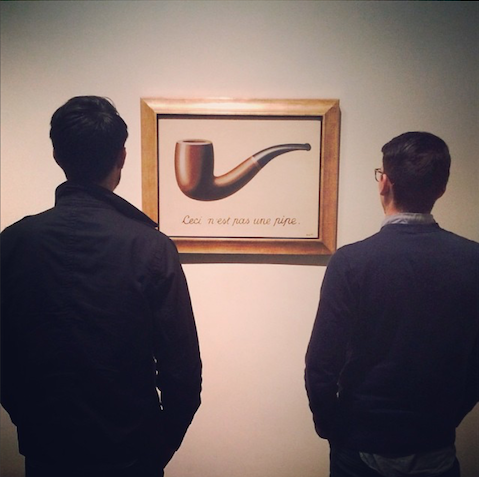 Traveling like a hipster won't hurt you, in fact it will improve your travel experience.
Before getting into the list, I want to say that I do not necessarily see myself as a hipster. I simply have hipster tendencies and am interested in many things that the stereotypical hipster is into also. That being said, brace yourself, because you are about to read the words "local" and "authentic" a lot.
1. Coffee, Coffee and Coffee
There are few things more hipster than locally roasted coffee. Delving into the local culture surrounding the coffee scene can make even the newest traveler more like a seasoned veteran.
Just because you see a Starbucks at the airport when you land does not mean you should grab a pumpkin spiced latte or a non-fat caramel frappuccino to get your coffee fix. Wait until you get into the city and ask a local where the best coffeehouse is. Another good idea is to browse Instagram for coffee accounts from your travel destination. Here are a few of my favorites: @londoncoffeeshops, @caffeinecouture, and @driftmag.
2. Split Your Travel Personality
What I mean by this is to not be 100% tourist but also not 100% fake local. Spend a day visiting the cliché spots, they are cliché for a reason. You should absolutely see Big Ben, get lost in the Louvre, and take a silly picture at the Leaning Tower of Pisa (well, maybe not the silly picture one). But also take a day to experience the city as if you actually lived there. Find that pub where you are the only American, visit a hole-in-the-wall book store that has no books in english. Why not get the best of both worlds?
3. Explore the Creative Class District
Many large cities have their own distinct districts. The posh part, the rough part of town, and so on. A great way to feel the real vibe of a city is to explore it's creative class district. Everywhere has a Brooklyn. Even Brooklyn has a Brooklyn: Williamsburg. London has Shoreditch. Tallinn, Estonia has Kalamaja. These neighborhoods are populated with artisans and creatives alike who are looking to evade high rent prices and thus have revitalized, typically, a down and out part of town into something modern. More importantly for travelers, these startup neighborhoods can be a breath of fresh air compared to the big touristy business that can feel cliché and inauthentic.
4. Don't Eat Only the Stereotypes
Yes, trying out the classic fare is a must. Going to Bavaria and eating schnitzel with potatoes is one thing, but why not take it one step further and seek out the newer establishments that draw inspiration from traditional cuisine and elevate it with modern culinary techniques. Don't get me wrong, the first thing I did when I landed in London a couple years ago was get some fish and chips. But the more memorable, and better tasting, foods I have enjoyed while traveling have been the classics that have been modernized. They create new contemporary dishes that give a nod to their heritage. Channel your inner Portlandia and ask "Is this local?".
5. Visit a Farmer's Market

Budgeting money is one of the most stressful aspects of traveling, especially as a student. Food is one of the most wallet draining aspects of traveling. If you eat out for breakfast, lunch and dinner then you are gonna run out of money quickly. Instead, act like a local and buy some food from a street market and make your own meals a few times to ease your wallet. It is also a fantastic opportunity to talk to locals and maybe practice the language if you are somewhere that English is not the primary language.

6. Fashion Matters
It is important to dress for the city you are visiting. The way you dress can affect the way you experience a city. If you dress like an American, I am not saying this will always happen, but it is possible that they will try to rip you off. The locals might look down on you and not give you great service. Us college tourists can change the ugly American stereotype by dressing like the locals. Maybe you could even buy some clothes from a shop in town to really blend in.

7. Find a Small Local Art Gallery
Similar to the previous tip about cuisine, I do not mean to discourage a trip to the Tate Modern Museum or a day in the Louvre. Hitting up the classic museums is never a bad idea. However, exploring a smaller part of town that caters more to young local artists is a nice change of pace. Supporting local art is important. It can also be a jumping off point for the rest of your day as people you meet there will have insider information about the best lesser known places to eat that you would not hear about elsewhere.

8. Take Home a Unique Souvenir
Buying souvenirs can be one of the most stressful parts of traveling. You want to find something just right for everyone, and yourself, but you have to keep in mind how much space it will take in your luggage. You want to find something meaningful, yet affordable. It might be good idea to take a raincheck on a mini Eiffel Tower and find something that was actually handcrafted by a local designer startup. Strolling around the creative districts is the perfect opportunity to find a small shop with products that feel more genuine. They will mean more to the recipient, the shop owner, and also to you for the shopping experience of finding a unique souvenir.
An unforgettable memory is just waiting to happen. You might see a poster for a local band you have never heard of playing at a venue you definitely have never heard of. Sounds like the perfect entertainment for the night. Should you drop 70 euros on a big name band or find a cheap, maybe even free, gig in a small club where some band from the city you're exploring are playing? I know what my choice would be. Then after, you can brag to your friends about knowing the band when they get popular.
10. This one might hurt, but Ditch the Phone
Hear me out. I am just as guilty as every other millennial out there. I love my phone and I use it for a ton of things while traveling. However, I cannot help but feel self-conscious about how much I use it. Sometimes I think that everything we post or share online is some form of bragging. Look what I am eating, look where I am, look, look, LOOK! Everyone takes pictures of their latte art before actually drinking and tasting the espresso. So, if everyone does it, then is it still hipster? It seems like the hipster thing to do now would be to use our phones less.
I can do interesting and fun things without sharing them immediately on social media. Right? An extremely important part of travel is the disconnect. Using Instagram and Facebook is comfortable, but travel is not always about comfort. Yes, it is important to ourselves, and probably to others as well, when to share our experiences. However, it is also important to know when to simply experience the moment.
The point here is that it is possible, and healthy, to separate your real life from your digital life. You might be surprised about the things you find and the conversations you have.