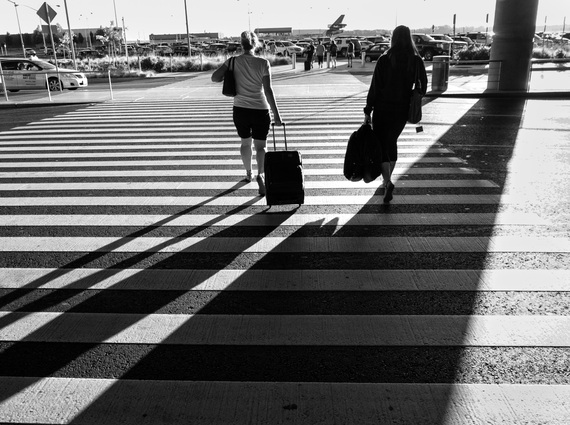 At Vayable, we're huge fans of the benefits of carry-on -- no extra luggage fees, no losing luggage and greater flexibility for last-minute changes in plans. And as carry-on devotees, we've mastered the art of traveling light, without compromising on the essentials that provide us an ideal day-to-day at the destination of our choice. Below, 10 of our (hard-earned, long-lived) absolutely most essential tips to travel light like a pro.
1. Pre-pile. Fact: Last-minute packing is the leading cause of overpacking. To avoid, start getting ready a week before you leave. Devote a small corner of your room to piling up items you'll need: clothes, shoes, shampoo, conditioner. Once the time comes around to pack it up in your duffle or roller, you'll be able to edit your belongings and leave unnecessary or redundant things behind. For items you need to use that week and therefore can't pile (like your charger or favorite outfit), just put it on a post-it and drop it in the pile.

2. Go small or go home. In packing light, lugging your everyday toiletries simply isn't an option (never mind the hassle of having to check them in). Travel-sized toiletries shouldn't mean you can't look your best. Bring your favorite shampoo, conditioners and other products from home with you with these GoToob travel bottles. They're lightweight, durable and cute -- plus, the flexibility makes them easier to pack away in a ziplock bag for going through security. You can even fill a travel-sized perfume bottle atomizer spray to take your favorite perfume with you without worrying about bulk or breakage.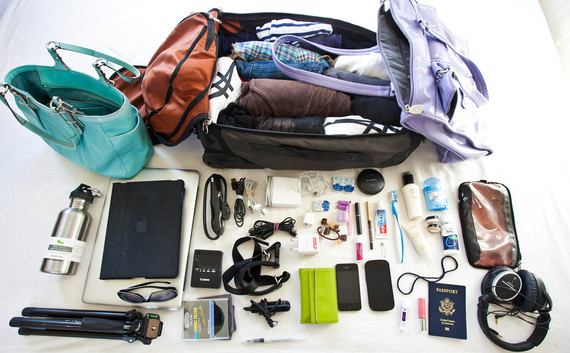 3. Packing cubes. When packing light, organization is key throughout your journey. Muji has great lightweight packing cubes that help you organize your clothing and increase space in your bag. We like to devote a cube to each: shirts, pants/dresses, intimates, socks so the cubes double duty to create more space and also help organize. To create even more room, lay out your shirts flat, one of top of the other, and fold them together as if folding a single shirt.
4. Rule of threes. Over the years we've come to realize you never need more variety than three of something, starting with your shoes. Women simply need a pair of stylish flats or wedges, one pair of pumps or more formal shoes, and sneakers or running shoes so you're sure to stay active. For men, casual kicks like boat shoes or vans, dress shoes and a pair of sneakers/running shoes will do the trip. In summer months, your casual shoes can be sandals or open-toe shoes. For electronics: let's be honest, you don't have time or need for more than three. Pick the ones you need the most: laptop, phone and tablet. There's a law of diminishing returns with all of these items.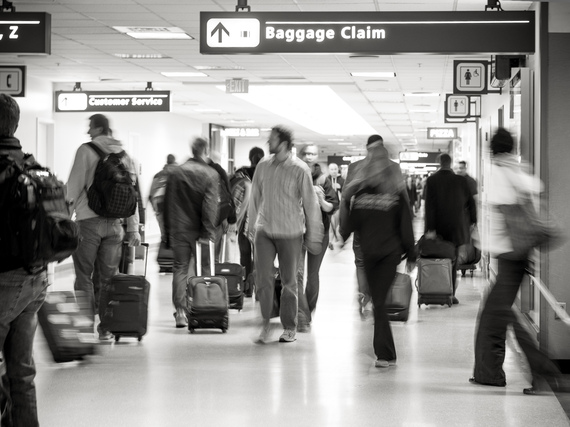 5. Divide and conquer. With one carry-on and one "personal item" allowed, it's important to divide and conquer your belongings between a roller or duffle and a handbag. We recommend a handbag with ample extra room for extra items you may pick up at duty (or on the road). Your handbag should always house your laptop, tablet, chargers, plane reading material, headphones, a pair of clean socks (so you can kick off your shoes without offending your neighbors) and of course, your liquids (we like to switch this over to our roller once we're past security). Keep all toiletries not essential to your flight in your roller.
6. Baggies. Baggies are your best friend. Put all of our cables, batteries and chargers in one, all your pens or supplies in another. We recommend clear, reusable plastic bags because they're light, can hold liquid, and seal tight. You can find these at any travel store or online, or simply use durable ziplock bags.
7. Scarves. Even if you're not much of a scarf person at home, these ubiquitous pieces of fashion will never go out of style and are the perfect travel companion. whether it's to keep you warm on the plane, as a shawl or to insulate you in the cold of winter. They can even double as a sarong, a beach blanket, or a decorative picnic blanket. It's such a versatile item, we've learned to take 'em everywhere.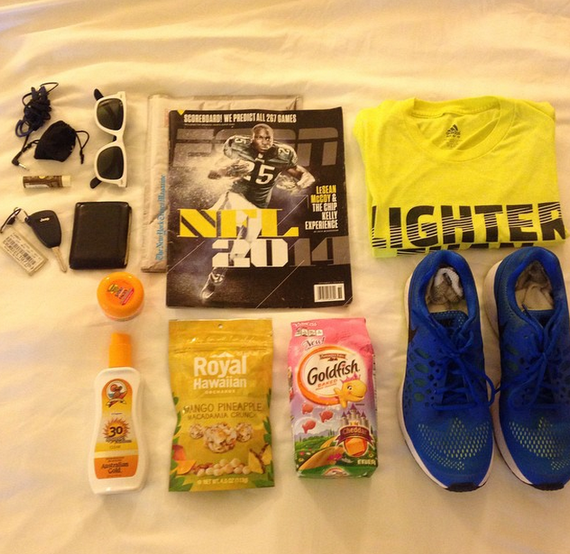 8. Wear layers on the flight. It sounds trite, but it works. Planes tend to be chilly, so the extra fabric can serve dual purpose -- it'll keep you warm, while reducing the volume of your carry-on. This can be especially strategic if your destination requires something bulky, like hiking boots. Wear 'em on the plane so they don't take up precious space in your luggage. Throw on an undershirt and a sweater. If applicable, wear a few extra pieces of jewelry. Trust us, the extra space adds up quickly.
9. Pack a travel-size bottle of laundry detergent. Hotels will often offer same-day laundry service -- but at a cost that could buy you several five-star meals in a cities nicest restaurant. Save the time, money, and baggage space by packing a bottle of extra-strength liquid detergent. Wash small, non-delicates (shirts, socks, underwear) in the bathroom sink and let them dry overnight in the bathroom. It's an essential travel hack. You'll be grateful not to have to lug around the redundant weight of a half dozen pairs of socks.
10. Get matchy-matchy. Pick a color palette and stick with it. If you're only packing a minimum amount of clothing, you're sure to squeeze the most outfits out of it if everything goes with everything else. We recommend going with darker shades -- not only do they all go well with each other, but they hide stains and wrinkles more easily. (Good for when you spill that post-flight cup of coffee all over your tired self.)
Related