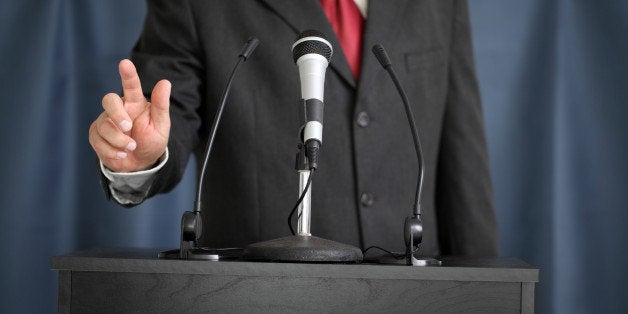 Whether you regularly give presentations or are getting ready to share one for the first time, there's one universal law: a successful speech takes planning, careful scripting and practice. The good news is with the right preparation, most of us have the ability to present in a way that will inform, entertain and inspire others. Here are 10 do's and don'ts for your next speaking engagement:
Do start strong. You can be almost certain the person introducing you is going to read your bio word for word. It's an awkward moment to hear a stranger read your introduction, mispronouncing your name and botching the name of your company. Send your introduction in advance in the hope that the person introducing you will review and practice. Keep it brief and compelling, with emphasis on your strengths and credibility.
Don't mess with your mic. The first thing speakers tend to do when they reach the podium is tap or blow into their microphone. Arrive in enough time to test the technology and check out hot spots. Refrain from asking "Can you hear me in the back?", or "Sorry, I've never used a lapel microphone before - am I too loud?" An initial apology or technology problem sets the tone for the speech.
Do get their attention. Start off with a captivating question, anecdote or personal story that leads into your presentation. People don't get inspired by lists of numbers and facts, but by relating to stories that illustrate the points you will be covering during the speech.
Don't read word for word. Compelling speakers don't stare at a script, reciting word for word. One way to avoid doing this is to use a bulleted outline that will prompt your memory and keep you on track. If you miss a bullet or get off topic, don't fret, no one will know but you. Be familiar enough with your speech that you can speak from memory with a minimal amount of assistance from your notes.
Do practice. Run through your speech in front of trusted friends, family, or colleagues. Ask for feedback on your content, tone of voice, facial expressions, and body language. Time yourself to make sure your speech doesn't finish early or run late. Even seasoned speakers know the value of rehearsal.
Don't underestimate your appearance. Unless you are addressing a meeting of corporate shareholders, a suit and tie may be too conservative. Dress to be professional yet comfortable, which, in turn will help put you (and your audience) at ease. While your clothing shouldn't be over the top, select attire that is current and modern with a bit of your unique style.
Do use humor. You don't have to do a stand-up comedy routine, but infusing a small amount of humor into your speech helps engage your audience, strengthen your connection and leave them with a good feeling about what you're sharing.
Don't let your PowerPoint slides be the main focus. If you use slides, make sure they complement your words. An overloaded screen full of graphs, charts and text is not only distracting, but B-O-R-I-N-G. Even if you email your slides in advance, play it safe by bringing a backup jump drive.
Do make it personal. Draw on your own experiences to give the audience a relatable picture. Personal stories of success are nice, but not quite as compelling as one good failure. Offering honest mistakes you've made and the valuable lessons learned are a genuine way to connect and deliver relevant information.
Do know when to stop talking. Some speakers don't know how to end, rambling on and on about the same point. Other speakers don't get comfortable until the end and want to make up for valuable lost time. Craft a memorable closing that neatly ties your presentation together and issues a call to action. Remember to let your audience know how they can connect with you. Include your website, email and social media platforms on a slide and give the audience a moment to take note. Stay after the presentation to answer questions and build relationships.