"'Tis The Season For Giving!"
It is that time of year―Thanksgiving to New Year's ― where generosity is the in thing. #GivingTuesday is just a couple days off, then there are galas and fundraisers. There are people ringing bells outside stores, and don't forget the random acts of kindness you planned to do (way back in July) in addition to all of the required gifting for our friends and family.
I fully believe that generosity is one of the best traits we can develop if we want to be world changers, and serendipitously, it also brings us joy. That is why I give ordinary, busy people a place to start making a difference with little asks specifically to exercise and grow their generosity (for example this week our World Changers United challenge is to donate a blanket to a refugee family in Jordan or aid a family holed-up in their house in the war-zone of Mosul).
It is true that constantly being asked to give is exhausting, and I have a post or two coming about that as well. But because developing generosity is essential if we want to be world changers and as #GivingTuesday is just around the corner, what we need to empower us today is knowing when it is actually good to give.
Yep, that's right. Giving is good, but there are many opportunities to give that are not good to give to.
Some non-profits use money poorly.
Many organizations are ill-equipped.
Often, projects hurt more than they help.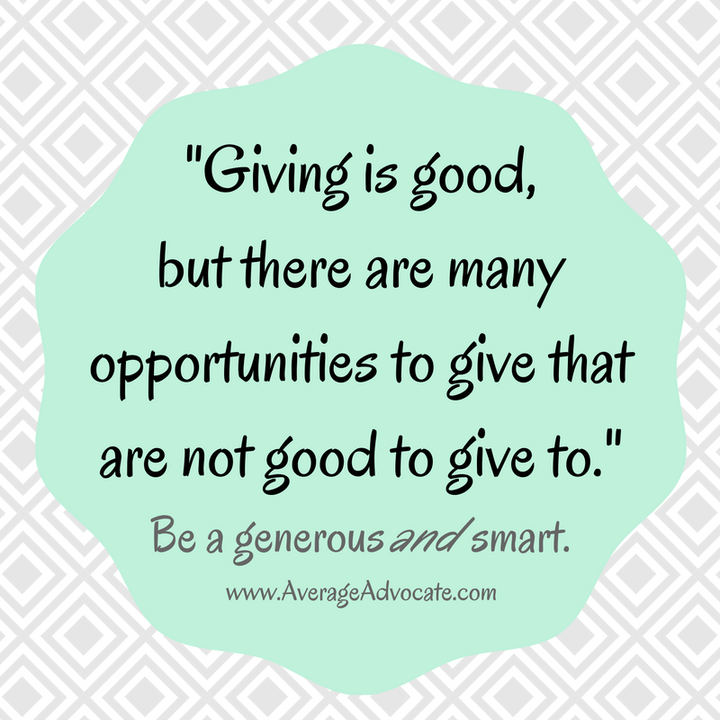 Be Generous and Smart
I was first introduced to smart generosity in college. I had to read a very boring book analyzing the impact on aid in Haiti. I studied example after example of how the projects my fellow American's started had failed, usually either because they didn't understand the context where they were working or they were focused on relief aid (free stuff) without ever empowering people to provide for themselves.
Yes, Haiti might be the poorest country in the Western Hemisphere, but we played a part in that.
Now don't get me wrong, there is a need for relief aid, especially in the middle of a crisis or when people are unable to care for themselves. But our goal as donors is to always be searching for innovative ways to bring sustainable growth, which helps recovery and development, rather than create a long-term dependency on handouts.
Examine Your Opportunities To Be Generous
So what can we do? How can we know if our helping is hurting?
Mostly, we just need to intentionally use our brains in conjunction with the pleas prompting us to give.
For example, last week I reposted a response about whether a yearly tradition I do with my kids (Operation Christmas Child) is good or bad aid. Great questions were asked, and I am glad they were! It reminded me that I can't just slack off and not pay attention to these things! I decided that the pros outweigh the cons in this project, but I had first had to look at it from every angle (and not everyone will probably agree with my conclusion).
This is what I encourage you do to—study what you are considering giving to from all sides, as if you are determining whether you are in possession of a cubic zirconia or a real diamond. Examine your opportunity.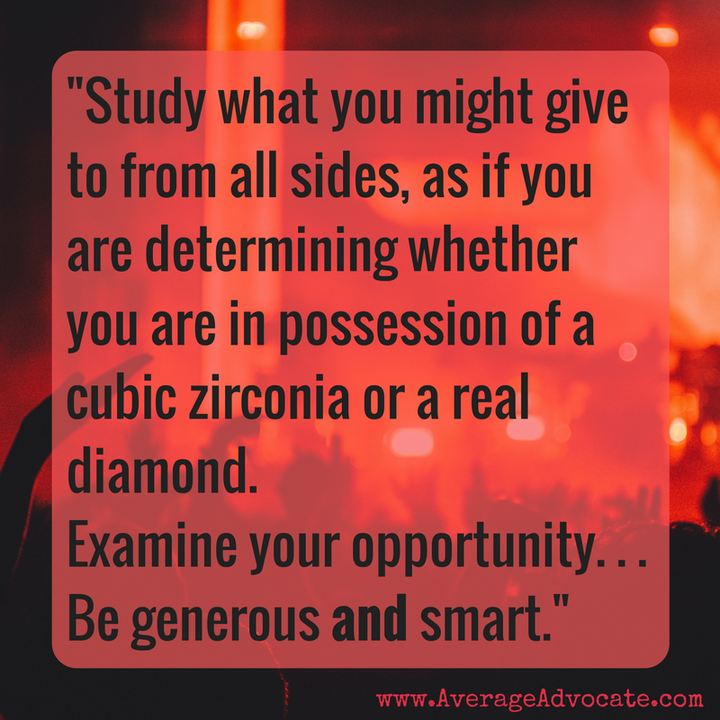 Ten Tips To Help You Become Generous and Smart
I've had to learn how to become a better judge about what I give to. Below are some of the tools, resources and pieces of wisdom passed on to me that have helped myself and others I know learn how to evaluate what types of programs are more worthy to receive our generosity. So without further ado, here are ten tips to help you become generous and smart:
1. Pay attention to how the organization uses their money. You can look them up on Charity Navigator or Guide Star (these are charities that evaluate other charities' financials).
2. Use GiveWell to look up the effectiveness of an organization's use of funds.When the org or project isn't evaluated by an outside source use these ten tips and ask these ten questions. Bookmark them!
4. By choosing an active role, like volunteering your time for a few hours, you can get an inside look at what you might be giving to before you donate your money.
5. Be generous to small non-profits, project and start-ups too! Why? Even though these are usually not evaluated by an outside source, they typically really need support, are closer to their vision, and sometimes they can be much more effective. Please still take the time to evaluate them, but this can often usually be done easily in a simple conversation with those bookmarked tips above!
6. Watch the new documentary, Poverty, Inc. and consider its implications.
7. Cause-based giving can be a better approach than organizational loyalty, as organizations change. You want to be sure your end-game and your beliefs continue to aligns with the vision of the project/organization. (Read here why my family uses a cause-based framework.)
9. Always ask if there is a way to give to the same need that also helps people get back on their feet. For example, instead of just buying Christmas presents for child, is there a language class or job training program that you can help fund that the child's parents are hoping to attend? Instead of just giving to an organization that digs clean water wells, can you fund an organization that digs wells and helps repair them through the locals they employ?
10. When put on the spot to give, have a mental script prepared to be able to decline gently. For example, say that your family's standard is to always research an organization before you buy from it or donate to it, and promise to look them up online when you get home.
I really hope these tips will empower you just as they have helped me feel more confident about what I give to. This #GivingTuesday and holiday season you can be generous and smart!
I love hearing about what people find worthy to give to and celebrating that with them. Comment below about something you've given to this year that makes you excited or tell us about it on World Changers United!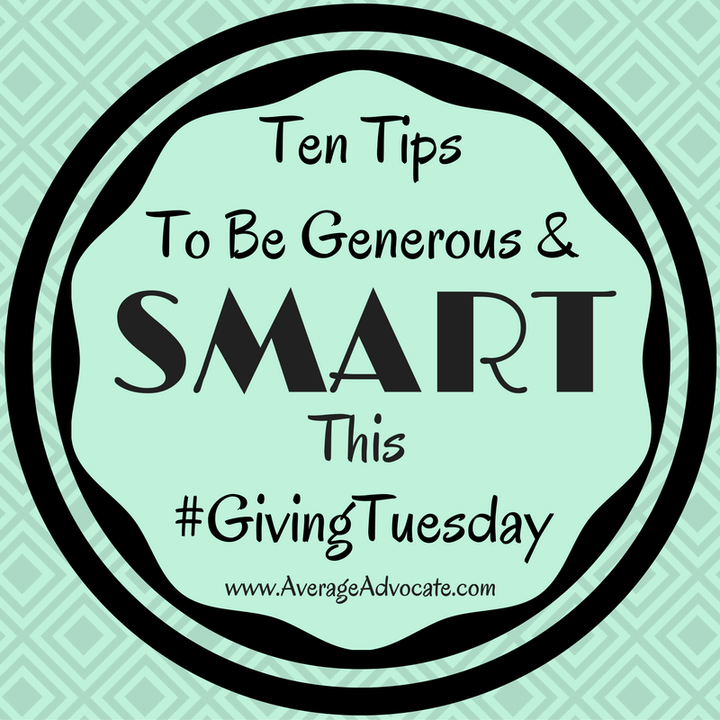 ______________________________________________________