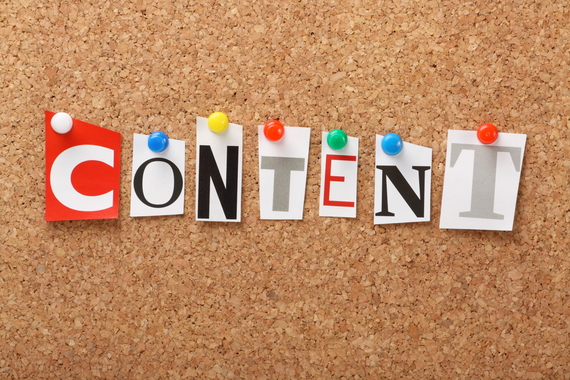 Image Source
Your blog archives probably have a lot of popular and helpful content that your readers might enjoy revisiting. Your PowerPoint presentations are very informative and useful; it would be a shame to leave them sitting on your hard drive. Your webinars required a lot of time to prepare; you should get more fuel out of them.
You can get a lot of benefits from recycling existing content. Repurposing content revives old favorites and it also saves you the time it requires to create new content.
Here are 10 tips that will help you quickly and easily repurpose existing content.
#1. Turn your PowerPoint presentations into blog posts
You recently presented a great social media presentation at a national chamber of commerce conference. You developed informative content and you don't want to waste it. Turn that presentation into a blog post.
Upload your presentation to your blog and create a post that summarizes the content presented in your presentation. Remember to optimize your blog title and content for search engines so your blog receives targeted search traffic.
#2. Promote your blog content in your newsletters
Your email subscribers might not see all the content you post on your website because they probably don't visit your website every day. You might consider sending your subscribers a digest of all the recent content you have posted on your blog through a daily or weekly newsletter. You don't need to send the full text of each blog post, the title should be enough.
#3. Turn industry expert interviews into an e-book
If you regularly post interviews with industry experts on your blog, this content can be easily repurposed into an e-book. This process is fairly simple. Copy and paste your interviews into a Word document and then save that document as a PDF file. You might want to create an e-book cover using a free tool like Canva, Gimp, or Pixlr.
#4. Turn old blog posts into a how-to guide
If you write a lot of how-to content related to marketing, you can turn this content into a book. Make sure your guide focuses on a specific theme. Pay special attention to your guide's layout; use easy to read fonts, use high-quality photos, and highlight important points you want readers to remember.

#5. Turn your customers' questions into an FAQ page
Ellory Wells, Managing Partner at DwizzyWid Media, says "if you find yourself answering the same question over and over again, the chances are, that type of information would turn into a good blog post." If you don't have time to write blog content, for now, you can create an FAQ page. Mortgage companies, lawyers and other companies that have a difficult time figuring out what kind of web content they can create can easily use this strategy.

#6. Turn your webinars into video tutorials
Once you have completed a webinar, download the video archives for later use. Webinars make great video tutorials that you can post on your website. You can also share your webinar content on video sharing websites like YouTube and Vimeo.
#7. Transcribe your video content
You might consider transcribing your videos so that your blog visitors would have the option of watching your videos or simply reading the transcripts. New South Mortgage has several examples of videos that were transcribed. These videos are also industry expert interviews.

#8. Turn popular Quora questions into blog posts
Do you often have a hard time figuring out what you want to write about? Or, maybe you struggle with figuring out what your readers want to know more about? Quora is a useful resource where you can go and find blog topic ideas. Popular Quora questions can inspire new blog posts for you. Since these questions are popular on Quora, it's quite possible a blog post related to these questions can generate a lot of traffic for your website.
#9. Turn your blog posts into a podcast
Make it easy for your readers to enjoy your content on-the-go. Turn your blog posts into a podcast. Make your podcast available on websites like iTunes, Podbean, Soundcloud, and BlogTalk Radio. Once your blog is converted into a podcast, your readers can listen to your content during the drive to work, at the gym, or while they work.

#10. Update old blog posts
You probably wrote a really good blog post that was really popular several years ago. Some of the information is still relevant, but some of it is just outdated. Dust off that old blog post and do a rewrite. Link to the old post in the new one and mention that you are doing an update. Your readers will appreciate the effort you made to revisit important content and keep it updated.
Conclusion
Repurposing content can help reach an entirely new audience message and boost your search engine optimization efforts. PowerPoint presentations, webinars, and video content can be turned into new content that can be shared across multiple marketing channels. Repurposed content saves you time and money and it helps you deliver a consistent brand message.