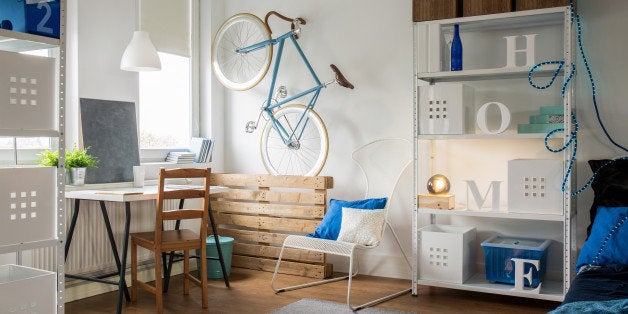 Some of us, especially those living on the island of Manhattan, are cursed (or blessed?) with not-so-spacious apartments and a dedicated 300-500 square feet to ourselves -- and maybe a significant other or pet. Oftentimes our homes have rooms that serve dual purposes, such as living/ sleeping spaces with lofted beds. It can be incredibly hard to figure out how to fit all of your things into the home without it feeling over-cluttered. Follow these 10, simple tricks to make any small space feel spacious and homey, and just remember that no matter how small your room is, you still have four walls to make use of!
Use mirrors and reflective surfaces.
Take advantage of reflections and allowing light to bounce off of multiple surfaces. Mirrors help maximize the natural light in your space, and you can use mirrored surfaces on accent furniture (such as coffee tables and end tables) or place wall mirrors in the corners around the entryway.
Pay attention to vertical space.
Items such as hanging shelves or floating pieces can draw eyes up, which makes one feel like a space is larger than it really is. Take advantage of this trick if your apartment has high ceilings!
Don't stick to only small furniture. Be mindful of scale, as you don't have to shy away from sectionals -- just make sure to measure appropriately or use a designer (such as one from Havenly!) to help pick out which large furniture looks best in your unique space.
This clears out the room that is traditionally used for a cumbersome media console, and gives your space an air of sleekness.
Use wallpaper to your advantage in hallways or in an entryway.
Two-toned wallpaper can distract from the length of the hallway and emphasizes an illusion of width.
Avoid bulky pieces of furniture.
It's best to stick to streamlined pieces that are proportional to each other.
Invest in a paper shredder!
Make it a habit to shred any paper items that make it into your house as soon as you deem that they're not important. Backlog of mail/ fliers can be an easy way to declutter your space and make room for more important items.
Maximize your closet space.

Purchase extra closet rods to hang below the rod that is already installed for another level of hanging space. Use the inside of doors in bathrooms or cabinets to install hooks, or wire shelving, to store your essentials.
Invest in furniture that can be easily folded up or hidden.
For example, nesting tables are a great furniture piece that can be utilized when you have guests over and need extra table space, but can be easily put away when they're gone.
Remember, you don't need every single surface in your home to be covered with flowers or other decorative pieces, but allow some space between your items to cut down on the cluttered feel.
Related