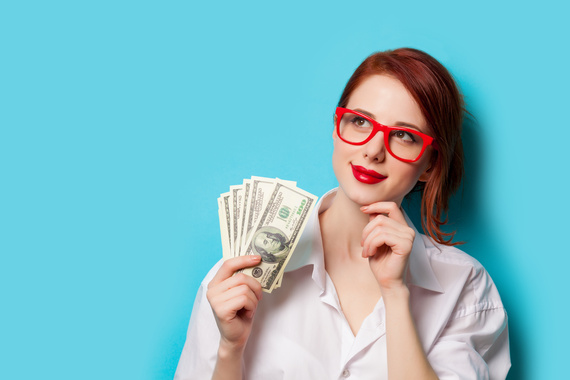 Being resourceful in business will allow the female entrepreneur on a budget to thrive despite the financial limitations. With an abundance of tools on the market that allow businesses to be able to run on a budget, money does not have to be the reason that you refuse to chase your dreams.
The smartest leaders know how to use what they have to their advantage. Being a resourceful female entrepreneur includes being up to date on tools that help to simplify business for you. It means knowing which tools work best for you and your company, and are affordable, even more important than that they understand how to grow their business while saving money.
Knowing the importance of getting a bang for your buck does not make you cheap, it makes you intelligent, especially as it applies to business. The more money you save, the more you have to allocate to other essential areas of your business, or to store away for a rainy day. Especially in the early days of your business, where business will be inconsistent as you work to establish a respectable brand.
Below are some of our favorite tools for the resourceful female entrepreneur on a budget:
Business Management and Productivity
Due is a favorite of the blog team, thanks to a design focused platform that allows you to create awesome templates and a work space that is clean with a pop of bright colors. We love the bright, innovative design that Due.com offers for those interested in providing professional invoicing and using business management tools that help to keep you financially organized as you grow.
On our list of Invoicing Tools For The Budgeting Savvy Entrepreneur due is a tool that every entrepreneur interested in creating a professional image, by providing unique, branded, invoices and estimates should consider.
Start with a 7 day free trial, explore Due.com using the tour, and sign up for one of their affordable packages.
Design Focused Experienced
Easy Time Tracking
Multiple Invoicing Templates
Business and Management Tools
Virtual businesses are not only innovative, if built on a great foundation, with a unique and exciting vision, but are an exciting way to redefine team work within an organization. Having a virtual business challenges you to find a unique approach to leadership, and team building, one that requires new tools to get started.
Wrike is a web-based project management software that allows team members to collaborate in real time. Use the Wrike app to stay in touch with your team members on the go at all times.
Asana is a great tool for not only business but blog management. Similar to Wrike, Asana combine project management with team managment, allowing you to stay connected at all time. Organize your work by project, allow team members to share their notes, customize your workflow and more.
Asana is great for blogging as well, allowing you to create a fantastic blog calendar, organize topics, brainstorm, and everything that makes us love blogging that much more.
Combining project management, team management, time tracking, and online invoicing, Paymo is the virtual pro's dream come true. We love tools that simplify team management for virtual business owners and Paymo is one that is worth giving a try.
For a low monthly fee (less than $5 for project management and less than $15 for a combination that includes invoicing) you will be able to manage your work, team members, and clients.
Unlimited Clients
Project Templates
Time Tracking
Invoicing
Estimates
Unlimited Reports
Save time and money on acquisition by creating an excellent landing page. We have loved the response that we have gotten with our fully customizable, Get Response landing page. Gain new followers, promote your books or videos with an easy to make landing page with Get Response.
The tool includes built-in forms, a responsive design, an image editor, and starts at $15 per month for up to 1,000 subscribers.
Boost engagement, page views, and revenues in minutes by trying TrenDemon. Boost conversion rates dramatically using personalized real time recommendations and call to actions. Getting started is easy, simply add your website URL, and login information. You will then be given a code, or for those who prefer the simple route, use the WordPress plugin (Free)
TrenDemon will then analyze your website, identifying which sources, pages, and paths on your site are more effective.
Are you new to business blogging and in need of some help creating a routine and managing your blog and social media, or are you a pro who has simply grown overwhelmed thanks to growth both on and off the blog? Co-schedule is the perfect tool for you.
This life saving tool, that allows any blogger and business owner to create balance and stay organized as well as productive will change the way you blog.
Create your blog and social media content at the same time.
Get up to 75% more traffic than you used to with customized social media sharing schedule.
Blog more efficiently with an editorial calendar.
Boost Traffic from your old posts.
Marketing
AutoSend
Allow AutoSend to redefine customer engagement for your brand, by allowing you to reach every customer who performs an action directly. AutoSend allows you to automatically send a personalized, targeted email to your individual customers based on what they are doing on your website.
Create a referral program to boost your growth through word of mouth. 85% of small businesses get customers through word of mouth, align yourself in order to be able to take advantage of the benefits of building a referral program.
Allow your followers and customers to start referring new customers to your business by taking a few minutes to fill in your business information with the help of Referral Snip.
Social media management with a focus on B2B marketing allows OkToPost to stand apart from it's competitors, like Hootsuite, and other platforms. You can manage content and the business value of your social media marketing and campaigns on one platform.
Integrate with salesforce.com and Marketo, and other third party integrations that are available with OkToPost.
Nancy is the founder of Afro-Chic Mompreneur, where she inspires Female Entrepreneurs and encourages the support of female owned businesses by sharing their stories. She also helps female Entrepreneurs launch and manage their businesses. Her clients include Leisl Schrader of Remix Design and Kajal London of Kajallondon.
REAL LIFE. REAL NEWS. REAL VOICES.
Help us tell more of the stories that matter from voices that too often remain unheard.