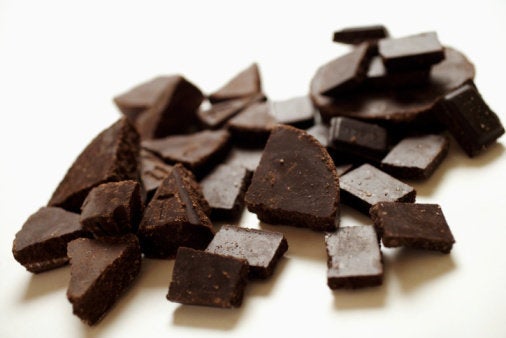 Last year, an Italian survey conducted by the Catholic University in Campobasso found that 6.7 grams of dark chocolate per day (about half a bar per week) was the ideal amount for a protective effect against inflammation and subsequent cardiovascular disease. As if I needed another reason to eat dark chocolate.
So with Valentine's Day just around the corner, I decided to finally bite the bullet and create that dark-chocolate-tasting party I have been threatening to host for years. To assist me in my quest to find the best dark chocolate choices for Valentine's Day, I enlisted 15 of my chocolate-chowhound friends to sample 42 brands of high-end dark chocolate generously contributed by chocolate companies far and wide.

We gathered together this past Saturday night and, with a couple of bottles of red wine, we took one for the team and ate enough dark chocolate to reduce the inflammation in our systems and protect out hearts for at least five years.
Here, then, are the top choices for the dark chocolate treats certain to make your Valentine stand up and applaud.
Dr. Dave's Mega-O: Without a doubt, these small, square truffles (in mint, mocha and ginger flavors) were the surprise of the night. The packaging -- which everyone agreed was funky -- does not do justice to these intensely flavor-infused treats. "All were wonderfully true to taste," said one guest. "The fresh mint leaf truffle. I never tasted anything like it!" And if the taste is not enough to entice you, each one contains 200 milligrams of vegetarian DHA omega-3. Eat, enjoy and be healthy. www.o3foods.com $12 per box of seven.

Theo Chocolate Bars: One of only a handful of bean-to-bar chocolate makers in the States, the Jane Goodall dark chocolate bar was ranked by the group as one of the highest quality all-around bars tasted that night. And just to inspire the socially conscious among us, they also happen to be certified Fair Trade and organic. Of the Spicy Chile bar, one guest said, "The spice erupts like a volcano as the chocolate lava rolls down the sides or your tongue." Another called the 70 percent dark chocolate bar "smooth, sexy and full of melty goodness. Like warm butter." www.theochocolate.com $5 per bar.

Mademoiselle de'Margaux: None of us were quite sure what to expect when we opened the powder-blue box, with French writing declaring, "Le Raisin Fruit entire au chocolat" on the outside. But once unwrapped, a box of 16 elegant, whole grapes, each individually coated in dark chocolate, soaked and surrounded by rum, was our reward. "These had the most dynamic mouth feel and were fun," said one of the tasters. Dean and Deluca SoHo market 212-226-6800 or www.amazon.com $24.50 for a box of 16.
Xocolatl de David: A favorite among the tasters for both the quality of the chocolate and the simple elegance of the packaging, this bar was an all-around hit. Flavors tasted included: Piment d' Espelette and Orangette Bar. "The Piment starts earthy and warm," says one guest, "and finishes with a strong salty overtone." Tasters also commented on how experimental and refined the bars were. As one guest said, "These are wonderfully complex, strong and assertive in nature." www.xocolatldedavid.com $9 per bar.
Vosges Haut Chocolat Exotic Truffles: Voted by many in our choosy group as the best quality of all the truffles, they were also highly rated for being prettily presented in an elegant deep-purple box. With fives across the board (one meaning "yuck" and five "to die for"), they scored high in taste, smell, appearance, mouth feel and inventiveness. Flavors such as Wild Tuscan Fennel Pollen with Floral Anise and Ginger plus Fresh Wasabi with Black Sesame Seeds made them some of the more interesting dark chocolates of the evening. "If I were buying for true foodies, I would choose the Vosges," said one guest. www.vosgeschocolate.com $26 per box of nine.
Oliver Kita Fine Confections: These handcrafted artisan chocolates were rated by many guests as some of the prettiest of the bunch. The unusual flavors, such as Passionfruit/Lychee and Marzipan Grand Marnier, make for an elegant and inventive box of dark chocolates to give as a gift or serve at a dinner party. One guest called the Salted Carmel "big and buttery," while another taster said of the lot "These are dark, earthy and robust." www.oliverkita.com $40 per box of 16.

Alter Eco Dark Chocolate Quinoa Crunch: If, like most people, you envision quinoa as a healthy grain designed to go with a nice veggie stir fry -- but not in a bar of dark chocolate -- think again. One of our tasters called this Fair Trade chocolate bar "Masculine, textured and luscious." With an average rating of 4.5 for inventiveness and taste, this was one of the highest rated overall brands. As a bonus, it's gluten, soy and GMO free. Go forth, buy one and crunch your way to happiness. www.altereco-usa.com $4.39 per bar.

Dean & Deluca Origin Collection: Created by Fritz Knipschildt, using single-bean cocoas from around the world, the dark truffles in this collection were highly rated among the tasters for their creamy texture, intense flavors and rustic appearance. The Italian Sambuca, Italian Truffle Oil and Mocha Gianduja drew declarations of "totally amazing" and "excellent flavors where the chocolate is the backup, not the star." www.deandeluca.com $34 for a box of nine.

Gail Ambrosius: With a 5 for taste across the board, these exotic dark chocolates, such as Sweet Curry with Saffron and Shitake Mushroom, made our tasters' mouths water. "The Lemongrass with Ginger starts earthy and ends warm and soft on the mouth," happily exclaimed one guest. While not as pretty as some of the other truffles sampled, these gems hold their own in terms of rich taste and meltability. www.gailambrosius.com $25 for a box of 12.

Divine 70 percent Dark Chocolate with Raspberries: The happy black, red and gold packaging surrounding this bar offers a hint of the perky chocolate to come. "The raspberries are fresh tasting and upfront," wrote one guest. While another said, "The aroma promises, and the taste packs the punch. They are coordinated like a symphony." Abundant with raspberries in every bite, this Fair Trade chocolate bar was judged as a great all-around chocolate experience by the group. www.divinechocolateusa.com
Having sated ourselves on all makes, varieties and cocoa percentages of dark chocolate, the group sat back and passionately discussed our revelations. While debate at times was as heated as the chili in some of the chocolates, I think one guest summed it up when she said, "I never thought you could have too much chocolate -- now I know you can." Well, until the next time anyway. Happy Valentine's Day.
Related