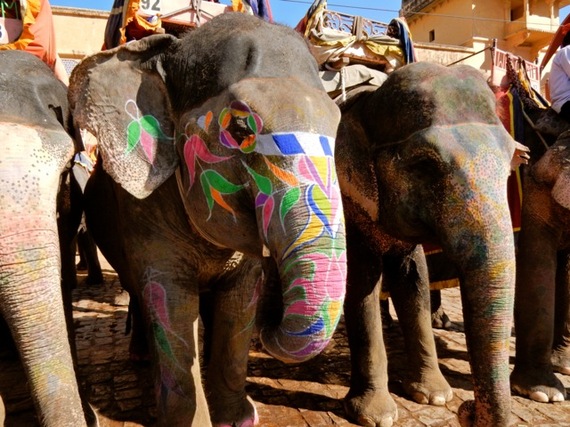 The "Pink City" of Jaipur, one push-pin point on the "Golden Triangle" (along with Delhi and Agra), has so much to recommend it, it's worth more than one cursory day trip.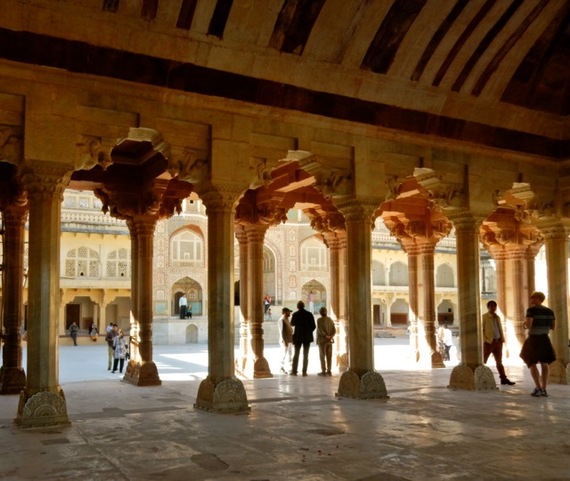 Here, you find some of the most stunningly restored mirror ceramic-work in the world, a 300 year old "astrological" playground that will blow you away, a former Government Palace now a world-class hotel, and custom clothing and linens better those made in Hong Kong or Vietnam.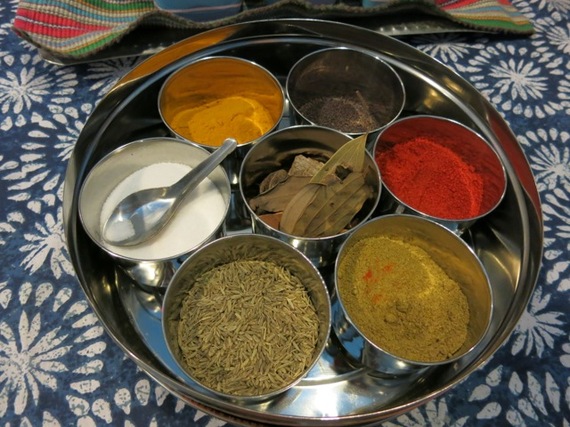 Ride an elephant to a hilltop fort, learn the basics of Indian cuisine, and more on the following Jaipur "Can't Miss" list: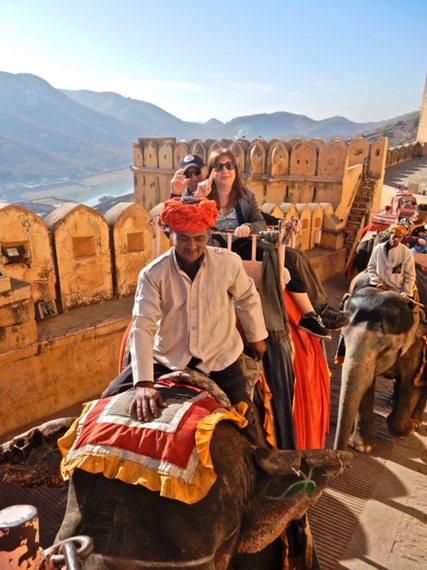 1. Ride to the top of Amer Fort atop an elephant, like the Raj's used to do it. OK, so it's touristy and you'll get lunged at by photographers hawking those pictures taken of you on the ride up, but, hey, where else are you going to do this? (And, how did these hustlers find you, anyway, among all of those hundreds of people? Impressive). Once up top, take time to tour the Palace within the walls of the fort for its magnificently adorned rooms. (See below).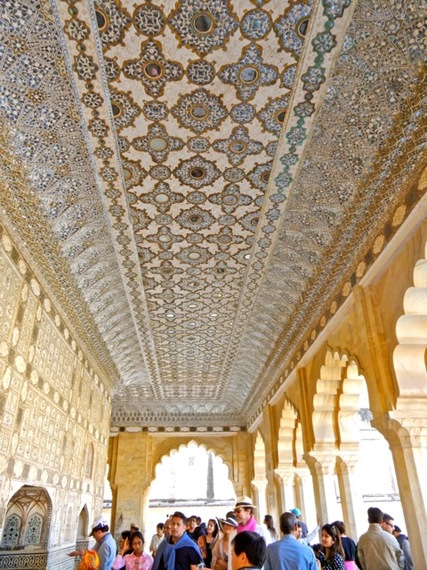 2. Ogle the bejeweled walls of the Amer Fort Palace in the Hall of Mirrors (Sheesh Mahal), tiny convex mirrors and colored glass compositions that form a breathtaking kaleidoscope. The Palace complex itself consists of four courtyards, each with its own use and history. But the mirrored series of rooms are by far the most captivating - and one can only imagine what it was like to see tens of thousands of tiny reflective surfaces aglitter in candlelight. Historians have compared it to being inside a dazzling jewel box.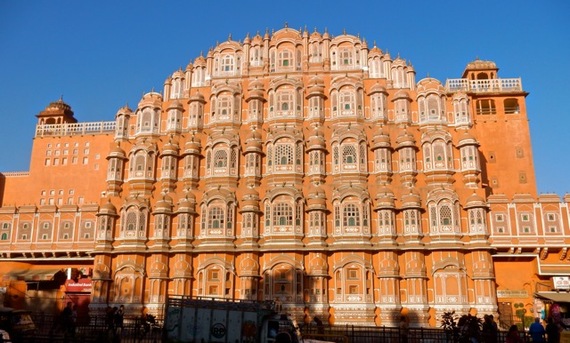 3. Take a picture of the pink Wind Palace (Hawa Mahal) - quite possibly the most photographed and iconic structure in Jaipur. It is essentially a multi-tiered latticed screen wall, built in 1799 to hide the faces of the female Royals who could look upon the street processions below while protecting their modesty.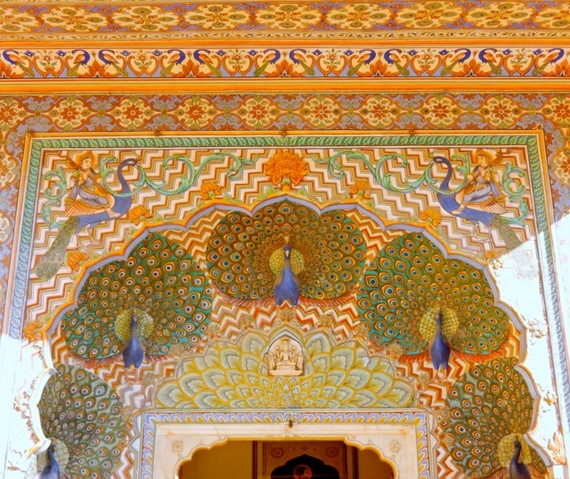 4. Tour the City Palace, Jaipur. One of the more "modern" palaces, this series of buildings and courtyards was built in 1729 for the Maharaja of Jaipur, and is a delight to tour - if just for the ornately designed doors and archways alone. Be sure to look for the courtyard sporting fantastic peacock renderings - they look like the real thing, but if you can imagine, even more colorful.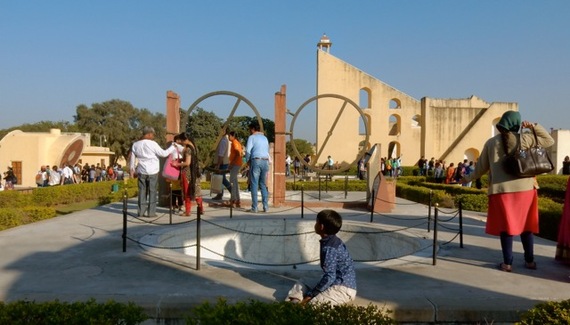 5. Wander among the soaring sundials at Jantar Mantar - an outdoor observatory park. This collection of 19 astronomical instruments, some the size of two-story buildings and spread out over a couple of acres, could pass for a popular playground in the USA. The various architectural structures built in masonry, stone and brass are just aching to be climbed (but you can't). Built in 1734, it is an engineering and scientific wonder - and a prime example of Ptolemaic positional astronomy, the theory shared by most of the world's scientists of the day.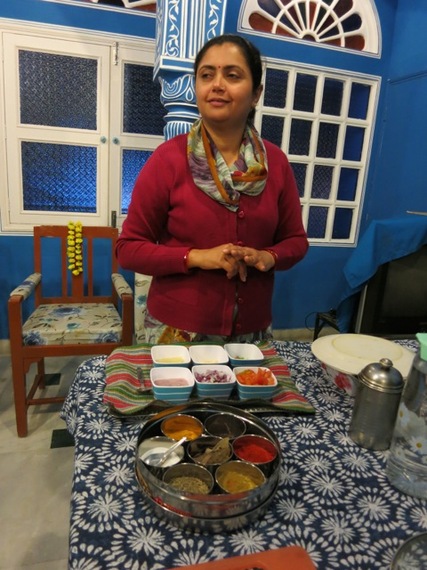 6. Learn about the cuisine of Northern India by helping to prepare it yourself with Divya Singh. It might take awhile to find her home - as it's in a back ally amidst the craziness of Old Jaipur Bazaar. (Divya sends an employee out to fetch her customers when they get lost). And it may seem as if you're heading to a less than stellar abode, but do not despair. As soon as you walk in the door, the mayhem outside melts away.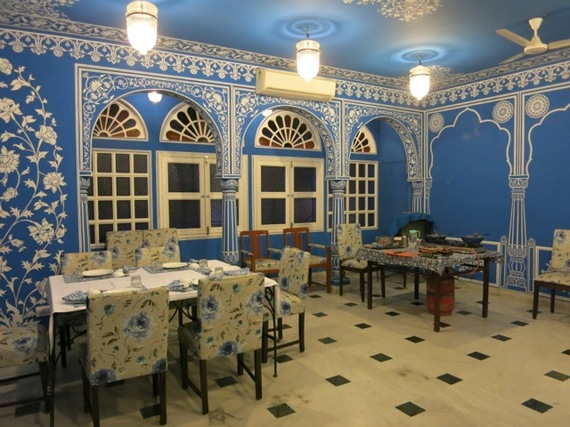 Divya begins her cooking class, over tea, with a cultural exchange of ideas in her lovely living room. Then it's time to move up to the instruction and dining area - another eye-catching surprise. Divya enlists your help to prepare and then eat a meal in a newly stenciled large blue room. It's a wonderful way to learn about Indian cooking methods with a gracious host. The meal itself is delicious. For now, contact Divya Singh at divyakalwara@yahoo.com to book a cooking class. (Divya also runs a B&B - www.havelikalwara.com ; pretty pleasant rooms with shared bath cost just $20-$26 per night).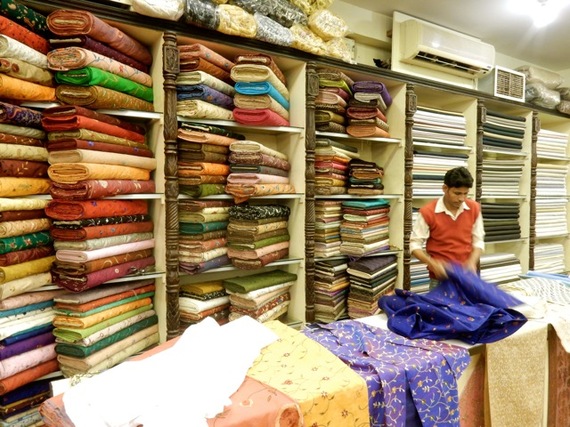 7. Purchase a wardrobe of well-made bespoke clothing for less than you'd expect - from a personally scoped out reputable shop, Indigo Carpets and Textiles (Gujar Ghati, Near Air Force, Amer Road). Tailors can measure you up and have shirts (cotton, silk and/or linen), suits and pants delivered to your hotel by evening. The quality and service is exceptional.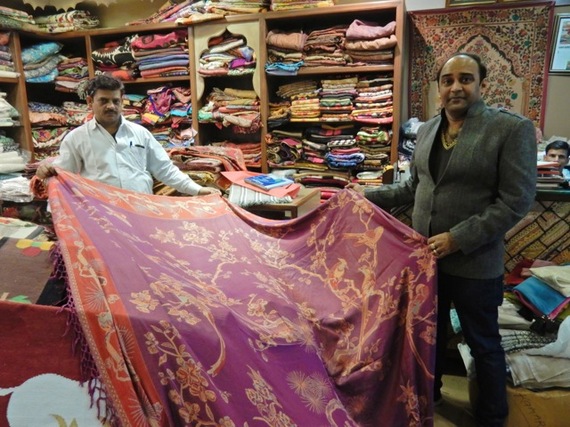 8. Purchase embroidered goods and antique and new tribal textiles at Saurashtra Impex (7-8, Inside Jorawar Singh Gate). Prices are excellent (we purchased two hand-made Queen bedcovers, one woven silk, for less than $450) and include fast shipping.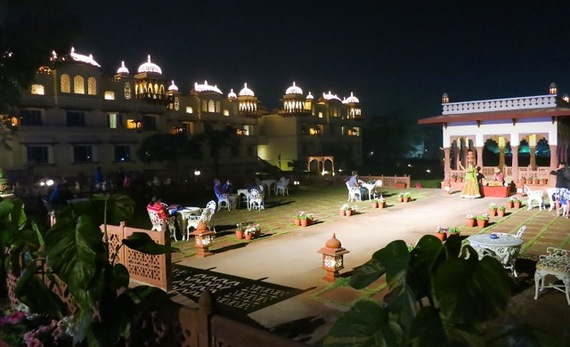 9. Stay at the Jai Mahal Palace, Jaipur - a Taj Hotel property formerly the residence of three Prime Ministers. Built in 1745, the Jai Mahal Palace is "a breathtaking piece of Rajasthan's heritage, a great example of Indo-Saracenic architecture set amidst 18 acres of landscaped Mughal gardens" - newly renovated and open to discerning travelers. The ornate manned gate of Jai Mahal promises serenity within, and as you commence up the drive, you might see a horse and carriage at the ready to take guests (who arrange for it beforehand) from the gatehouse to the front portico. This is how the Maharajas and Maharanis would have arrived when this was a royal residence. A sari-clad woman places a bindi on your forehead as you walk through the door, and then invites you to relax in a colorful seating area while you check in. Blood pressure goes down, serenity takes over. Rooms are regal in deep reds, stenciled ceilings and carved wood. Each evening, guests are invited to a complimentary cultural performance, which includes regional dancing and puppet shows. With destination restaurants on site (see Cinnamon, below), a stay here is a feast for all the senses.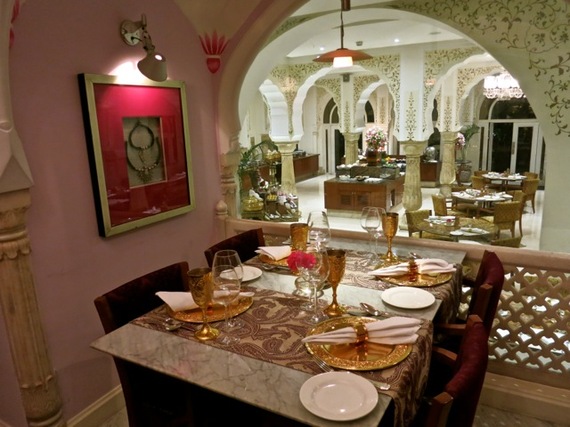 10. Have dinner at Cinnamon - in a lovely, cozy lilac-hued space within the Jai Mahal Palace Hotel, Jaipur. Indian cuisine chef, Rajesh Ojha tweaks traditional specialties and the result is a spectacular meal both familiar and new, served with style, plated beautifully and spiced to your preference. Curries, kabobs, and breads in particular shine here. We couldn't get enough of the flakey-chewy multi-layered paratha and the perfect mouthwatering garlic naan. My advice is to let the chef choose the meal (around your dietary requirements). You will not be disappointed.