El Cangrejo is the best place to base yourself in Panama City for a real taste of all this cosmopolitan center has to offer. Other Panama City neighborhoods can be more affordable (the area around Via Tocumen, for example), more luxury (Punta Pacifica), more historic (Casco Viejo), and more scenic (certainly if your ideal view is of the water, as El Cangrejo is not oceanfront). But no other neighborhood in the Panamanian capital has as much personality.
It'd be fair to describe all Panama City as multicultural, but nowhere else is the diversity more apparent than in El Cangrejo. This region at the heart of this city is dense with restaurant options from Italian, French, Swiss, Colombian, and Cuban to Lebanese, Chinese, Mexican, Argentine, Panamanian of course, and on and on. Alongside and in between are small, family-owned businesses where the proprietors, again, hail from across the globe. Enjoying it all is an eclectic expat community, North American, Latin American, European, and Asian, that mingles everywhere and always with their neighbor Panamanians. The expats and travelers in El Cangrejo aren't segregated or separated but fully integrated.
El Cangrejo is also Panama City's rowdiest, bawdiest zone. It could be called the city's Red Light District, though no discrete red lights are required to signal the locations of brothels or other sex-industry businesses. Prostitution is legal in Panama, and El Cangrejo is where the trade is largely focused in the country's capital. This may bother you or be just what you're in the market for. In the case of the latter, know that the Veneto Hotel and surrounding streets are a good place to hang out. If the case of the former, the Veneto and environs might be a good area to avoid.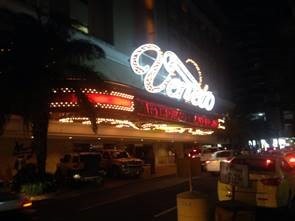 Don't misunderstand. The sex trade is present in El Cangrejo but not omnipresent or overpowering. In what I would describe as the most interesting and certainly the most walkable neighborhood of Panama City, you have a diverse choice of ways to spend your time. El Cangrejo is dense with nightclubs, pubs, concerts, casinos, cafes, theaters, and restaurants, plus two Spanish-language schools, Spanish Panama and the Bristol Academy, making this an ideal place to base yourself for a few weeks of Spanish immersion study.
El Cangrejo, which translates in English as "the crab" (the neighborhood's streets spread out in a way that is reminiscent of a crab and its claws), was founded in the 1950s by the local Jewish community. At the time, it was the most modern and exclusive neighborhood in Panama City. In time, the Jewish population mostly relocated (to the Punta Pacifica and Costa del Este neighborhoods), and El Cangrejo evolved to become more diverse. The founders' impact in the neighborhood is evident still, though, in the many memorials to Albert Einstein (an ethnic Jew) in and around the area, including a giant statue of Einstein's head and a plaza and a clinic named after him.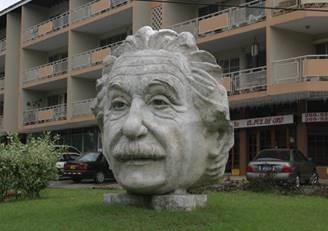 The other best-known landmark in the neighborhood is the Iglesia del Carmen, an impressive neo-Gothic Catholic cathedral built in the first half of the 1950s. Given its proximity to the city's more carnal pleasures (or perhaps in part thanks to), the church is surprisingly well attended. Sunday morning masses are standing room only. Even if you're not up for attending mass, this architectural work of art is worth seeing.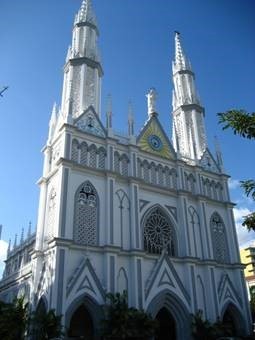 Here are eight other places to put on your El Cangrejo must-see list:
#1: The provocative "Women On All Fours" statue in front of the Riande Granada Urban Hotel, which, along with Einstein's head and the Iglesia del Carmen church, is one of the main navigating landmarks in the neighborhood.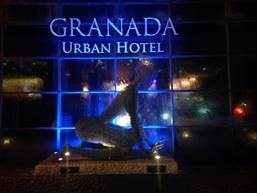 #2: New York Bagel Cafe, across the street from the statue of Einstein's head, which is packed on the weekends with locals and expats alike. Free Wi-Fi makes this a convenient place to check emails or to Skype friends or family. The large community bulletin board inside is full of advertisements and posters for rooms for rent, cars for sale, English and Spanish tutors, lost and found items, upcoming live music and theater performances, job openings, guided tours of the country's natural wonders, and just about anything else one can think of. An added bonus is the bottomless coffee, uncommon in this part of the world.
#3: Beirut restaurant for Lebanese fare and, during the dinner service, traditional belly dancing performed live table to table, the dancers enticing patrons to get up and join them in their rhythmic routines. You can cap off your evening at Beirut with a relaxing hookah on the patio.
#4: The Veneto Hotel and Casino, a center for Panama City fast life. Roll the dice in the casino, test your bluffing abilities in the poker room, try the all-you-can-eat sushi buffet on Monday nights ($20), or order a $2 beer and watch the mating calls of the ladies of the night and their prospective suitors.
#5: If you want to try your luck but prefer to avoid the persistent solicitations from prostitutes that are part of the scene at the Veneto, try the Hotel El Panama just around the corner. The roulette wheel here spins just the same as in any other casino (that is, not in your favor). On the other hand, there are many fewer pretty ladies about to distract you from your gambling.
#6: Via Argentina, home to a mix of bars and pubs, including La Rana Dorada, a popular brew pub with its own microbrews on tap offered at half-price during weekday happy hours from noon until 6 p.m. Across the street from La Rana is Live, a karaoke bar, and nearby is El Pavo Real with live rock-band performances every weekend.
#7: Calle Uruguay, a five-minute walk south of El Cangrejo proper and lined with restaurants, pubs, and other nightspots. The Londoner is a popular pub with free pool tables and English-style fish and chips, and Alta Bar offers a good martini with a view from the rooftop terrace and a good dance venue on the main floor below.
#8: For G-rated fun, go to Andres Bello Park, which hosts festivals and fairs, including a recent children's festival, complete with food vendors, handcrafts for sale, and dancing performances on stage. The park is great for a leisurely stroll or a workout using the free outdoor equipment. Pickup basketball and soccer games are common and attract spectators on evenings and weekends.
Popular in the Community