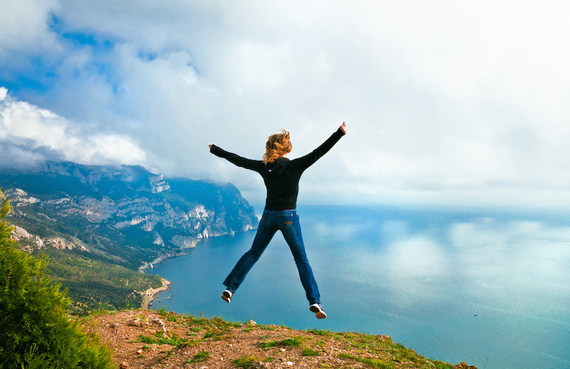 Whether you're planning a trip or just feel like fantasizing, there's nothing like an inspirational travel blog to get your imagination going. On that note, the members of travel website Trippy.com share the 10 travel blogs they just can't live without.

Did we miss your favorite travel blog? Click here to tell us which travel blogs you follow!
You might want to check with your HR department before reading this blog because it's going to make you want to take a leave of absence starting tomorrow morning. The imagery is so powerful you start to think you can actually smell the places she's talking about. We love a blog that gives us the travel chills a little and trust us, this one does! Recommended by Trippy.com member Kim Dayman from Canada.
If Sofia Coppola had a travel blog this would be it. It's like your coolest friend telling you where to go, what to buy and how to eat. We love it for its minimalist style and "we-want-what-she-has" feeling. Recommended by Trippy.com member Andrea Affinati from Milan, Italy.
Travel with just a dash of lifestyle advice thrown in, this blog is a great combo of information and whimsy (it's where you go to find out how to spend summer in Berlin and what kind of tattoo you get to commemorate the trip). We were especially impressed that her "secret spots" really are secret. Recommended by Trippy.com member Valerie Stimac from Seattle, Washington.
In 2008, when blogger and Trippy member Jodi Ettenberg quit her job as an attorney to travel the world, she planned to be back at work by 2009. Proving that life is what happens while you're making other plans, she is still traveling and has no plans to stop. The result has been an amazingly comprehensive blog that should be of special interest to those with celiac disease. Suffering from the condition herself, Ettenberg provides invaluable gluten-free city guides. Recommended by Trippy.com member Caroline Eubanks from Atlanta, Georgia.
How can you not want to read a blog with posts like "How I Almost Got Banned From Vietnam" and "My Night with Vanilla Ice"? There seems to be almost nothing this blogger won't do (or situation she hasn't accidentally gotten into) and it's that kind of adventurousness plus a great sense of humor that makes this blog so much fun. Solo female travelers take note: her post on explaining her "boyfriend" to nosey foreigners is an absolute must-read. Recommended by Trippy.com member Polly Beam from Washington D.C.
Spencer Spellman may have come up with the greatest "30 at age 30" travel goal ever: "Go to the airport without a ticket and book the first flight to a new destination." Even better, that goal is now crossed off after he arrived at the airport with a carry on and booked a ticket to Hawaii. It's this kind of adventurous, imaginative spirit that wins this blogger and Trippy member a place on our list. Recommended by Trippy.com member Valerie Axworthy from Los Angeles, California.
She may have come from Ohio but she's certainly seen the world. This gutsy millennial will seemingly try any travel challenge put in front of her: from bungee jumping in New Zealand to swimming with manatees in Florida the world is clearly this woman's oyster and it's a lot of fun to go along on the ride. Recommended by Trippy.com member Polly Beam from Washington D.C.
Embodying the ultimate "lemons to lemonade" ethos this blog is written by a married couple who sold everything they owned to travel the world after a series of crushing events changed their lives forever. Proving that travel is the ultimate therapy, this site is as inspirational as it is gorgeous. Recommended by Trippy.com member Oksana Simakina from Brisbane, Australia.
This English teacher's blog is funny, informative, irreverent and very inspiring. Her hilarious article on hate comments is reason enough to check it out. Recommended by Trippy.com member Carissa Pickering from Sydney, Australia.
Diving lovers and aspiring photographers in particular need to check out this super-stylish travel blog before their next diving trip. Both the writing and the format are crisp, economical and incredibly useful. This one's going to be on our go-to list for a long time! Recommended by Trippy.com member Polly Beam from Washington D.C.