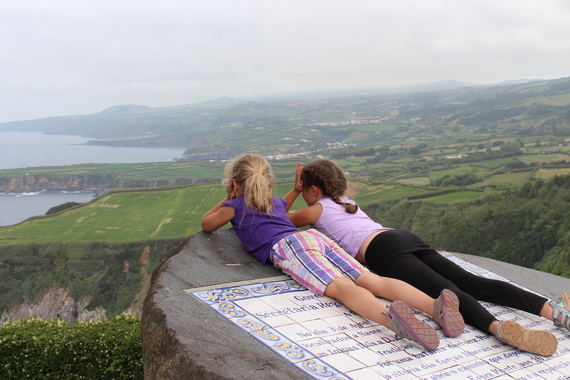 Vacations can be stressful, especially if you are traveling with kids. I am always looking for items that will make travel easier. There are certain things I kick myself for forgetting because I consider them an essential for a trip. Here are my 10 travel lifesavers:
1. Travel tripod: I am not a selfie stick person, yet. I'm avoiding it because I'm afraid I'll become addicted to it and become one of those people on vacation that film themselves walking down the street. I actually only like to use my tripod when we are alone and no one can see us. It's more reliable than balancing my camera on a rock wall.
2. A fold-up tote bag: My mother-in-law brought one to Greece and it was a brilliant idea. We brought that tote with us everywhere from the beach to the museum. It was perfect to carry cold water bottles and snacks when we went to attractions and also for towels and sunscreen for a quick trip to the beach.
3. Baby wipes: I can never have enough of these while on vacation. I start using them on the plane and they never leave my side. They are great when kids need to wash their hands or to wipe down tables when you're out. I get so grossed out by the amount of things you touch while on vacation!
4. Power strip with USB charger: My family always has the need to charge our electronics at the same time. However, in a hotel room there may not always be enough outlets. If you have a power strip you can charge them all in one place. We are also notorious for forgetting chargers in hotel rooms so when it's time to pack up, all the cords are in one place and none get left behind.
5. Mesh laundry bags: I hate having clothes heaped in a pile in a hotel room. Putting dirty clothes in a mesh bag separates it from your clean clothes and keeps your room a bit neater. It can also be used to bring toys to the beach since the sand will shake out before you get back to your room.
6. Travel sunscreen: I feel so guilty because on vacation I continuously forget to put sunscreen on my children before we leave the hotel. I only remember after we are out of reach from stores and the sun is beating down on us. (It never fails.) I now carry a travel sunscreen in my bag at all times.
7. Underwater camera: You would not believe how many cameras I have ruined by taking them to the beach. Don't ask my husband -- it's a sore subject. I now carry an underwater camera whenever I am going to be near water. They're great for the beach, pool, kayak, or boat. They are small so they can easily slip into a beach bag or purse.
8. Messenger bag: I like having my hands free when I'm at attractions so I like a bag that can be worn over one shoulder. I also think it is a safer way to carry your possessions since you can position it in front of you. My messenger bag has to be big since I always turn into the Sherpa of the family and end up lugging around all our stuff.
9. Headphone splitter: No matter how many movies I put on my girls' electronics it is inevitable they will want to watch the same one. A splitter will prevent whining (well, at least about the movie.) because they can watch it at the same time.
10. Outlet adapters: After ruining my straightening iron in Sardinia by using the wrong outlet adapter, I spent the entire week with my hair in a bun. I now research the appropriate adapter for that country and always bring one, even if the hotel says they provide one.
What are your most important travel essentials?