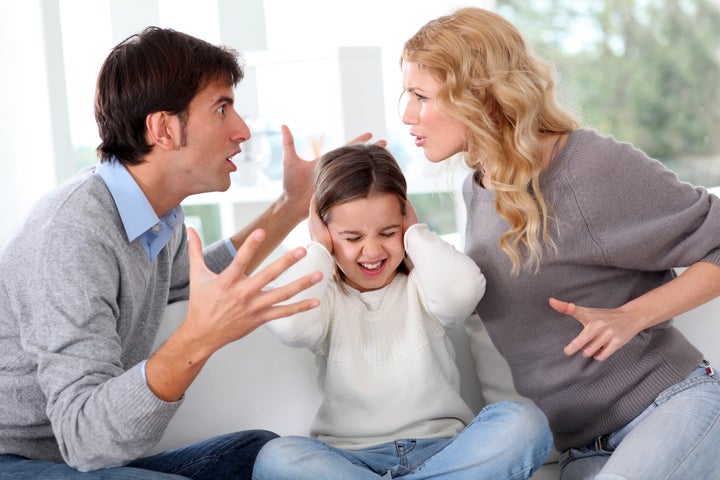 Siblings make for a perfect prism through which to view family; they share a common history, yet evolve different personalities and perspectives.
Recently I had the chance to spend 20 hours in a car with my favorite big sister.* In between chugging Dr. Peppers, snatching cat naps and consuming Peachie-O's with abandon, our conversation invariably turned to family, relationships and our parents' divorce. Memories and many miles of open road led to the creation of this list: the 10 tried-and-true ways to emotionally damage your kids through divorce.
1. Take a family vacation amidst the throes of divorce, preferably to a faraway destination before either child can drive. This is a good way to test their independence and coping skills while you're busy yelling at your soon-to-be-ex spouse for the duration of the trip. It also helps your kids make friends when strangers express concern over their sobs on the ski lift. Don't forget to take lots of forced pictures.
2. Allow your children to meet their soon-to-be stepparent exactly one time before the wedding. It's not like they're going to live with them 90 percent of the time or anything. It's your choice who you marry, after all. Related, be sure to include your new spouse in the children's discipline immediately.
3. Refuse any and all culpability. This divorce is not your fault, ergo, it must be your spouses'. Act accordingly.
4. Require your kids to report to you about child support checks. This isn't about your meal ticket; it's about following the judge's orders. Besides, they likely spent the weekend fa-la-la-ing and rolling around in money with your ex-spouse. The least your kid can do is bring back the check.
5. Bash your ex-spouse, even years after the divorce is final. Keep the message clear: Their other parent is a complete and total, unrepentant lying sack of sh*t with zero redeeming qualities. Repeat ad nauseum.
6. Communicate about the divorce to everyone your child knows. Include teachers, coaches, the tennis team, your friends, their friends, their friends' parents and the deli counter guy. This will ensure your children feel thoroughly supported in the community. People will talk anyway, so it's best they hear "The Truth" from you.
7. Threaten suicide-- in front of your kids. This works best when followed by additional rash acts like driving too fast while screaming, standing on the balcony railing at midnight, or telling your kids goodbye and not returning home for hours.
8. Use guilt, manipulation and anger to communicate how much time your kids should spend with you during the holidays. Do this every year, preferably in public places. You are the parent and they should respect your requests. Period.
9. Recreate a family history that conveniently excludes any problems existing prior to the divorce. If they challenge your version of history, stand your ground. They were just kids.
10. Put your child on the stand to testify at your divorce. No divisiveness could possibly result from this.
Next up for these siblings: matching tattoos of this Doctor Who quote, "We have fought monsters together, and we have won."
* I only have one big sister.