Whether you're looking for a luxurious yet affordable island accommodation, the adventure of a lifetime, or a private and romantic getaway, there are plenty of destinations that will meet and even exceed your expectations.
The old standbys like Hawaii are great, and have become established for a reason, but there are many possibilities beyond the obvious, in this vast and beautiful world we live in.
Here are 10 unforgettable honeymoon destinations for you to explore.
1. Meeru Island, Maldives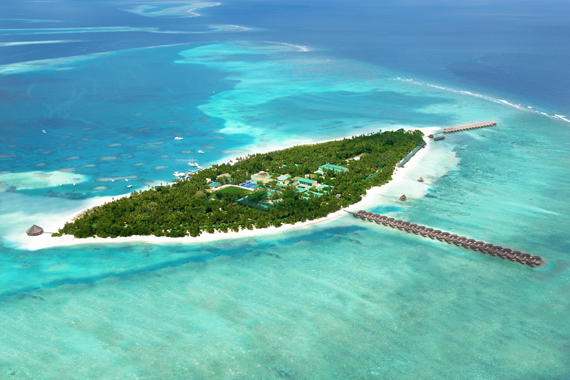 Photo: Meeru Island Resort & Spa
The picturesque Maldives - a tropical nation in the Indian Ocean - strikes the perfect balance between luxury and affordability. Its white beaches, coral reefs and blue lagoons make it a truly wonderful getaway.
Your honeymoon is sure to be a memorable experience in this relaxing and breathtaking tropical paradise.
Stay at the Meeru Island Resort & Spa from just $247 per night. Snorkelling with turtles at Kagi Reef, watching dolphins play on the sunset punch cruise or standup paddleboarding round the island are just some of the things you can do on Meeru Island. You can even cook your own meal at your table on a volcanic rock!
2. Uganda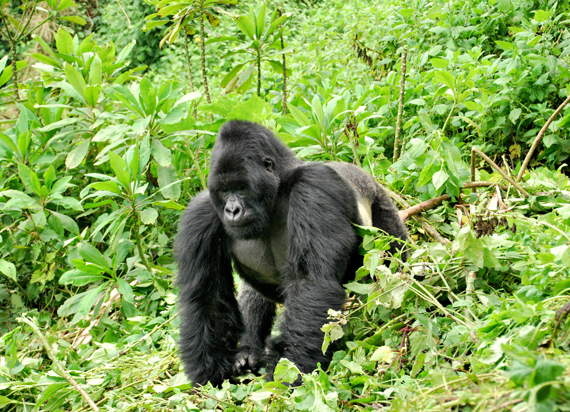 Photo: Mahogany Springs
There are many reasons to go to Uganda, Africa: the friendly natives, the greenery, the wildlife, the beautiful waterscape, and more.
Year-round gorilla trekking is a highlight for most visitors to Uganda and it is an honor to see this majestic creatures in the wild.
If you're looking for a private, safe and luxurious honeymoon, the Mahogany Springs Safari Lodge in the landlocked Uganda is worth a look. Room rates start at $240 per night.
3. Bali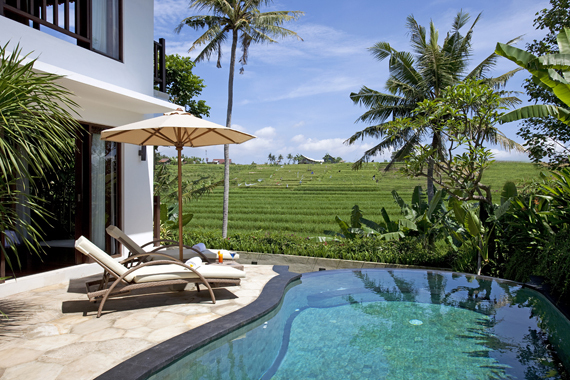 Photo: The Luxe Nomad
The town of Ubud is at the cultural center of Bali, known for its scenery - landscapes, temples and shrines - as well as for traditional dance and crafts.
If you're looking to unwind, you'll also find access to many spas that specialize in stretching, acupressure, reflexology, and so on, depending on what you're looking for. Return home refreshed and relaxed.
Find a beautiful villa in Bali with The Luxe Nomad - rates start at about $100 per night.
4. Finland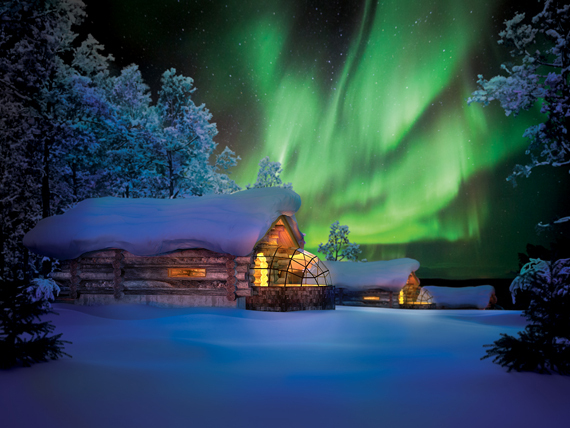 Photo: Kakslauttanen
Everyone should experience the Northern Lights at least once in their lifetime, and Finland offers one of the most amazing lightshows on the planet, typically on a clear night between September and March in northern Finland.
Whenever you choose to go, there will be no shortage of things to do, from husky and reindeer safaris in the winter, to mountain biking and fishing in the summer.
At the Kakslauttanen Arctic Resort, you'll have the choice between igloos, cabins, suites, chambers and even houses to watch the Northern Lights from, with rates starting at about $611.
5. Botswana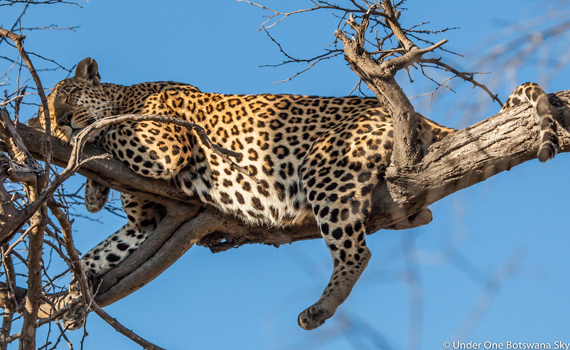 Photo: Under One Botswana Sky
Botswana, Africa is full of adventure, sights to see, and wonderful people to interact with.
The most breathtaking safari adventure is waiting for you in Botswana. Untouched wilderness gives you access to amazing sights, from lions stalking their prey to beautiful bird life.
Under One Botswana Sky offers six lodges and camps to choose from, at various price points giving access to four major safari destinations. You won't find a more wildlife-rich experience than in Botswana.
6. Sri Lanka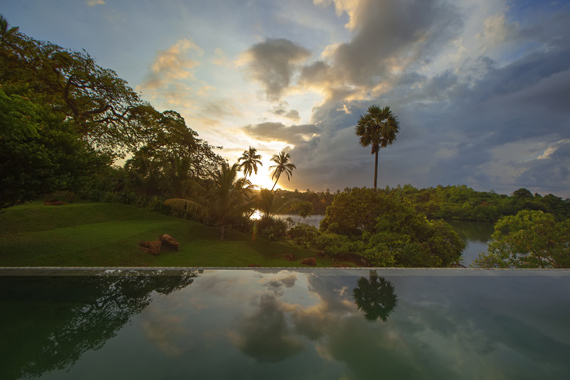 Photo: Tri
Sri Lanka is the perfect intersection of diversity, cultural heritage, wildlife, adventure, and food.
Galle has plenty to offer: hiking and bike tours, beaches, scuba and snorkeling, amazing architecture, and more.
Rooms at Tri Lanka start at $270 and go up from there. From water tower rooms to family and lake villas, there are different ways to enjoy the Southern Asian experience. The hotel itself is simply breathtaking, and also prides itself in being green. Truly a unique destination.
7. Bora Bora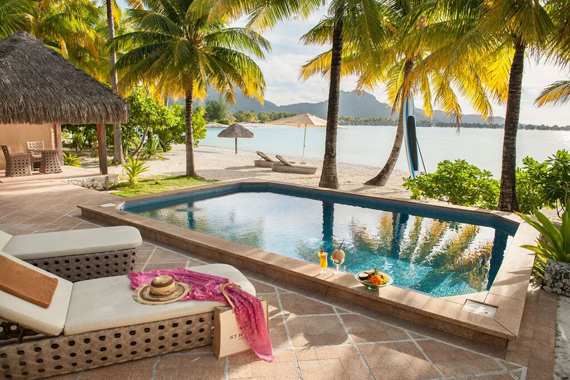 Photo: The St. Regis Bora Bora Resort
Located in the French Polynesia, Bora Bora is a romantic, intimate, relaxing, and beautiful destination.
From a 4x4 safari to a natural underwater park and shark feeding, there is plenty to see and do on the island.
Stay at The St. Regis Bora Bora Resort for $1,063 to enjoy their luxurious spas or indulge in scuba diving and other water sports.
8. Philippines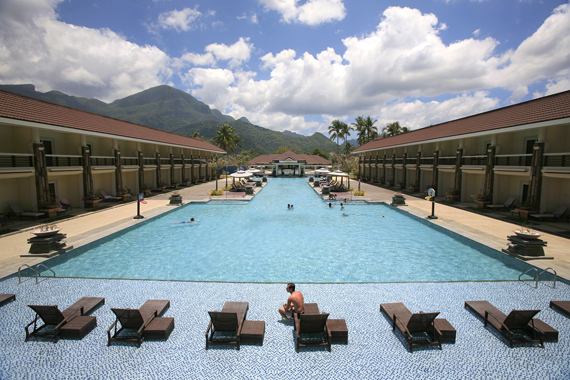 Photo: Sheridan Beach Resort
The Philippines boasts beautiful beaches and islands, great weather, and very diverse wildlife.
See the sights, the exotic wildlife, and take a dip in one of the best diving sites across the entire globe. A guided boat tour through the Puerto Princesa Underground river should also make it into your itinerary for a complete honeymoon experience.
The Sheridan Beach Resort in the island province of Palawan is nothing short of breathtaking, and offers a wide range of adventure activities, from the underground river tour to the ATV jungle track tour. The active and adventurous will find plenty to keep them busy in the Philippines.
9. Cappadocia, Turkey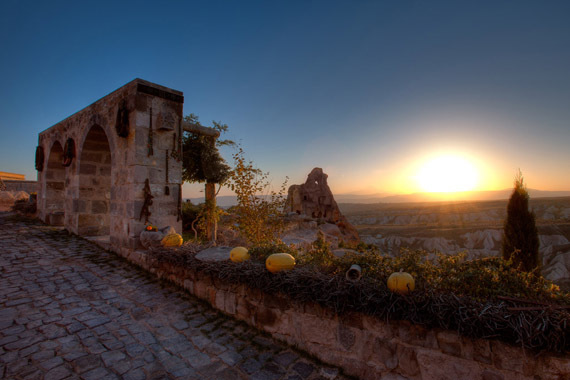 Photo: Argos in Cappadocia
You can explore diverse cities and landscapes, appreciate the rich history, and shop to your heart's content at the bazaars in Turkey.
In addition, hot air ballooning is highly recommended. Turkey's unique landscape is one to behold, as you drift across vineyards and valleys with your significant other.
The Argos in Cappadocia is a luxury accommodation with several different room types to choose from, including stone rooms and suites. With rooms starting at $289, it's an award-winning hotel with one of the world's largest wine cellars.
10. San Pellegrino Terme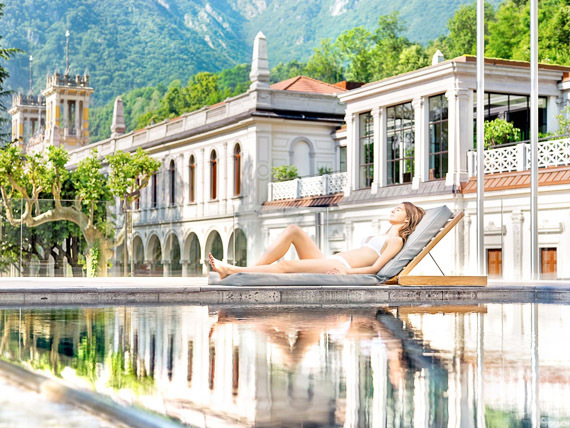 Photo: QC Term San Pellegrino
Italy is a favorite destination for many but places like Rome, Milan, Venice and Florence spring to mind first.
San Pellegrino Terme features amazing natural landscapes and architecture, relaxing walking and cycling paths, swimming and fishing.
The QC Term San Pellegrino is equipped with a thermal bath, saunas, an olfactory path, and more. For a relaxing and therapeutic honeymoon, San Pellegrino Terme will be hard to beat.
Your honeymoon is one of the most important vacations you'll ever take. Make it a memorable once-in-a-lifetime experience and celebrate in a unique destination with your new partner in life.
Related