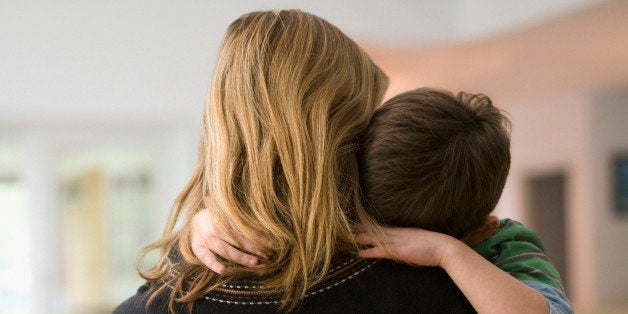 Just the thought of divorce, with all of its paperwork, custody battles and heartache, is enough to make most of us feel like we can never get through it. In the early days of my separation from my husband, I felt as if I was underwater, slowly sinking to the bottom. My lungs were full of the cold, salty sea and my arms and legs were anchors, eager to land in the seabed and stay there forever. I couldn't see, hear or feel anything past all of that weight and pressure bearing down on me from every angle.
In retrospect, I was also probably watching way too many nature documentaries.
The point is, I felt like I wasn't going to ever see the light. I don't like to say that I was depressed, because that's a serious word and shouldn't be taken lightly, but I was definitely pretty deep in the ocean of despair.
I'll stop that right now.
Slowly, I made my way out, just like everybody said I would. But each day brought a new challenge, a new hurt that I had to work out before letting it consume me. I think with divorce, most people can guess which things cut the deepest, like having a lawyer communicate between you and the man you thought you'd celebrate 50 years with, but here are 10 unusual things that devastated me about my divorce:

1. He watched season 9 of How I Met Your Mother without me.
I will never forget logging on to our Netflix account and feeling so excited when I saw season nine had finally been added. The two of us had watched the entire series right around the time it ended its run on CBS, so we had eagerly been waiting for this day. I thought about texting him to ask if he wanted to watch it with me one day, but as I clicked on the season, I saw that he had already watched the first five episodes. I think I cried for an hour.

2. He deleted a picture of me from his Instagram.
In those early days, I stalked his social media like a woman scorned (which I was), just waiting to see some huge, overwhelming piece of news. Instead, that heartache came in the form of a routine sweep of his Instagram where I noticed the one picture he had of me on there, a picture of me asleep on our couch, had been deleted. I felt like he was trying to erase me from existence.

3. He wouldn't go with me to take our daughter to see Santa.
I know, so stupid to think this would be a good idea, but at that point, I was still hoping things would work out for the best. I didn't want her first big holiday thing to be with just me. I was terrified that if we worked things out, she would see the pictures later and ask, "Where was Daddy?"
4. He went out on Valentine's Day.
Maybe this one's not so unusual, but y'all. This one drove me crazy. Not so much because I wanted to spend the day with him (my two-year-old nephew brought me flowers that day, I already had a Valentine), but because I was furious that he got to enjoy a "bar crawl" while I was at home, alone, with our baby. Again.
5. He reset all of my preset stations in the car.
When he wrecked his own car during our marriage, he drove mine back and forth to work. When we split, I let him keep it as he was still making the payments and I didn't have an out-of-the-home job. On the day of my two-month postpartum appointment, he came by to watch Alice and I drove the car to the doctor. Not only had he removed my "S" necklace from around the mirror, he had also reset all of the stations I had saved in the car. Tears the whole way to the doc.
6. He patched up the living room walls.
We had a rent-to-own agreement with his dad in the house we lived in, but it needed a lot of work. I always asked him if we could patch up the holes in the living room and paint, but it never seemed to be a priority... until we separated.
7. He was wearing new clothes.
One of the first times I saw him after our separation, he was in a new pair of jeans and a new shirt. I don't know why this bothered me, you guys. I can't even explain how irrationally upset I was by this. I remember thinking, "Did he buy this for a date? Did someone buy it FOR him? Also, must be nice to buy yourself new clothes." I was bitter. I can admit this.
8. He missed me for my "convenience".
I used to ask him if he missed me every time he saw me. He'd shake his head no and say, "Well, I miss the convenience of you. Like you cooking dinner and doing the laundry." Here's the really devastating part: I thought that was a good thing! Like, well if he finds it all too much, eventually he'll want me back. I was delusional and insecure. I can also admit this.
9. He called me a single mom.
When discussing with him my idea of going back to school, he said "Oh, they'll pay you to go back. The government will give you money." I shook my head. "Pretty sure you have to be a single mom for that." He stared at me and then said, "Well?" Heart, that was a dagger we felt. (Even though I was totally a single mom, I just didn't want to believe it.)
10. He argued with me over taking our kitchen items.
The day I went to the home we shared to pack up some of my things, I decided to get my favorite pots and pans, dishes, coffee mugs, etc. I will never forget how angry he looked as I packed the things up. "So you just get everything we got in our marriage?" He asked. "Who wants out of the marriage?" I shot back. I couldn't believe he was arguing with me over colanders and wooden spoons when I had done all of the cooking with and cleaning of those items for two years. Plus, why did he think he should have a say in it? He was allowed to destroy our family, break my heart and keep the appetizer trays? Nope.
Do you have any unusual things that broke your heart during your divorce?
We're looking for new bloggers on HuffPost Divorce! Have an inspiring story about moving on post-split? Email your blog pitch to divorcestories@huffingtonpost.com.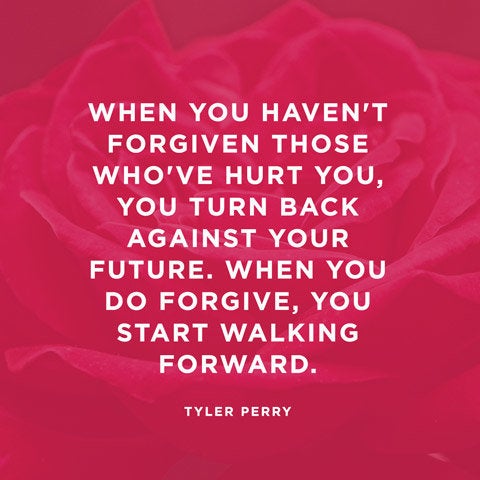 Quotes About Moving On
Support HuffPost
A No-B.S. Guide To Life
Related
Popular in the Community