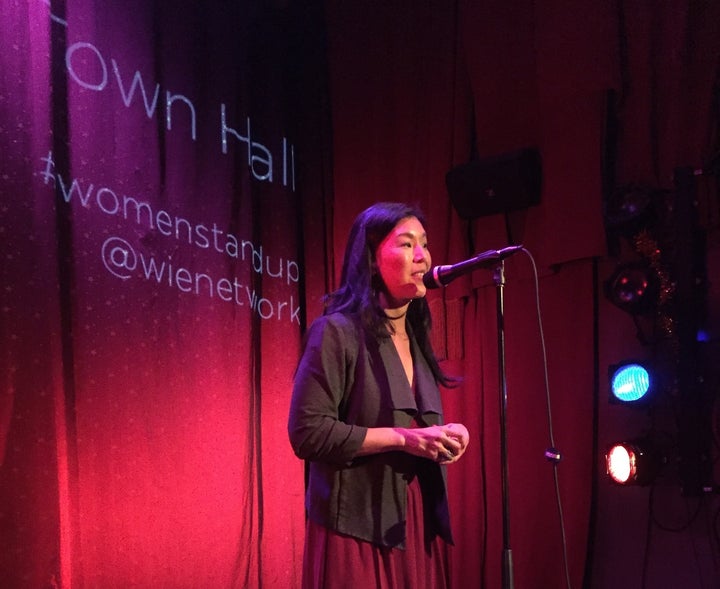 'What can I do' is the lament I've heard again and again since November 9th, that fateful day when we all woke up in a collective trance unable to comprehend the fact that the unimaginable had happened and Hillary Clinton had lost the election. The misogyny she was subjected to on that long, grueling, insulting campaign represented the everyday sexism we've become accustomed to, but magnified a thousand-fold on the world stage. Hillary personified every promotion we'd ever been passed over for, every time we were paid less than our male counterparts, the objectification, the mansplaining, the double standards, and it hurt. The spirit of activism had been awoken in all of us.
So a group of female community leaders, advocates and campaigners came together in New York for a Town Hall to discuss our primary concerns, including reproductive rights, immigration, political parity and workplace equality. We shared our stories, our ideas, our fears, our hopes and most importantly, a concrete way forward. It was a magical evening where the women present focused on bolstering one another, and where the hashtag #womenstandup went viral on Twitter. Each participant ended her speech with a call to action, summarized below. Everyone can do something. There are no wrong answers. The problems may seem insurmountable but it's the millions of individual micro-actions that add up to the whole. To quote Edmund Burke: "The only thing necessary for the triumph of evil is for good men (or women) to do nothing."
"We are at the beginning of the next great transformational movement and one day we'll look back and thank Hillary Clinton for exposing all the ugly in America so we could finally address it. Pick one concern that is essential for you and get behind it fully. Find an organization that advocates for that issue and become a member. We have learned the price of passivity!" Tanya Selvaratnam, Founder, Humanity For Hillary.
Speak Up On Behalf Of The Most Vulnerable
There's been a dramatic uptick in race hate attacks since the election, with numerous reported incidents of people being harassed on subways, in restaurants, at schools and on the streets, while those around them often turn a blind eye. Our role going forward is to fight for those who don't have adequate status or protection.
"This election was so painful for so many. We lost something as a nation. Never forget the punches and the fights that Hillary took on behalf of all of us. If you feel like you didn't do enough and you could have done more, now's your shot." Reshma Saujani, Founder, Girls Who Code.
Run For Office Or Encourage A Friend To Seek Elected Leadership
"The US is 99th in the world in terms of government representation of women and we made no notable gains in this election, from Town Council all the way to Congress. There are 500,000 elected offices in our country and women need to step up and run for these positions. The good news is that the number of enquiries we've received at She Should Run has increased dramatically post election, from 100 a month up to 4500! Join us as a potential candidate or as a supporter, as we work to change the face of government." Erin Loos Cutraro, Co-Founder and CEO, She Should Run.
"Hillary cultivated and nurtured so many women. Encourage the powerful women in your lives to push themselves forward and run for elected positions. Get a seat at the table, fix what's wrong and think about your plan of succession for the next woman." De'Ara Balenger, Former Director of Engagement, Hillary For America.
Speak More Broadly And Openly About Reproductive Rights And Help Destigmatize Abortion
"Having a baby is the most important financial decision a woman will ever make and over 50% of women who get abortions already have children. Let's talk more openly about abortion but also discuss reproductive rights in a broader context, in relation to motherhood, sex education, miscarriage, pregnancy, fertility, menopause, birth control and the choice not to have children." Sarah Sophie Flicker, Activist, Producer.
"Planned Parenthood serves 2.5m patients a year, many for basic healthcare. The majority of patients are on Medicaid and 70% fall below poverty line. 50% of patients are people of color and we serve a lot of young women. Talk to your friends and family and use your influence to encourage them to rethink the way they perceive the organization." Alencia Johnson, Director, Constituency Communications, Planned Parenthood.
Follow And Support The State Reproductive Rights Battles
"The Supreme Court has recognized for 40 years that we have the right to abortions. We should not and will not go back. There are big battles ahead. The states are emboldened and we're going to see an increase in restrictions. Follow the state battles as well as the big fights in Washington. Know what's happening and support where you can by donating, making your voice heard publicly and calling your legislator." Zoe Levine, Litigator, Center For Reproductive Rights.
Open Up Your Homes And Communities As Sanctuaries To Immigrants On The Front Line
"A large proportion of the US workforce is made up of women who go to work every day in our homes, looking after our kids or our aging parents. Care giving is the fastest growing occupation and some of the most undervalued work in our economy. Theirs is the work that makes all other work possible. The majority are immigrants and half are undocumented and face the imminent threat of deportation. Support the We Belong Together campaign and join our Jan 14 National Day Of Action." Ai-jen Poo, Director, National Domestic Workers Alliance.
Step Up Into Leadership Roles
"All around the world, there are groups of men sitting around tables making decisions that impact all our lives and these men are largely male, white, straight and wealthy. The biggest crisis we face today is a crisis of leadership. Please don't say I don't have the time or the bandwidth. Right now, we just don't have the luxury of not being leaders. Think about the highest level you can attain in your profession or by using your expertize, and go after it. You are America's potential." Tiffany Dufu, Chief Leadership Officer, Levo League.
Say What You Really Think And Ask For What You Really Want
"We need to be seen as women who want positions of power because when we're not up there, there's a received wisdom that says we don't want it. Your value to your business or employer is in your unique perspectives and insights. So start out by saying what you really think, in meetings, in offices and in public forums and see how dramatic the difference will be. Demand the highest salary you can and use that money to fund and support other women. And finally, talk about sex to help encourage good sexual values. Sexual harassment manages too many women out of the workplace." Cindy Gallop, Founder IfWeRanTheWorld, MakeLoveNotPorn.
Create Safe Spaces For People To Be Heard
The election results and particularly the fact that 53% of white women voted for Trump exposed the cracks in our supposed share values. Start having real and open conversations with those around you especially those who don't share your political views. Host gatherings and invite people all of races, cultures, socio economic classes and sexual orientations, and talk, listen more deeply, and really hear one another.
"Whenever women gather, affirm that what happens in the room is sacred and important. Show each other value and respect." Cleo Wade, Poet, Artist.
Use Your Brand Power As A Force For Good
"For those of us who primarily hire and target women, this is no longer business as usual. How do we speak through our brands with inclusion? How do we redefine beauty for our customers and think more mindfully about who we cast in our advertising campaigns? This is the beginning of a journey." Mara Hoffman, Entrepreneur, Designer.
Thank you to Rachel Sklar, Co-Founder of The List and musician Sophie Auster for inspiring us with humor and song, and to Norma Kamali for her wisdom.
Related
Popular in the Community