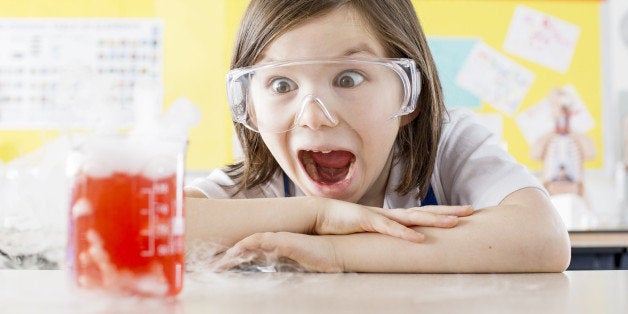 How do you help your children and teens think for themselves, stay true to their nature, and go at their own pace?
Schools have rules, grades, tests, competitions, and hopefully, learning. If kids want to enjoy school, be inspired, maintain their desires for discovery, and have fun, they need to find their own pace at learning and not be pressured into doing more or less.
It's up to us as parents to find the right balance to encourage our kids to stretch themselves without feeling overly stressed and avoidant of learning. Here are 10 ways to do just that:
Ten Ways To Help Kids Find Their Own Score Card
1.Ask your kids what interested them in their school day?
2.Encourage them to explore these interests beyond the scope of their assignments if they find it fun. Google the heck out of new ideas. Check Wikipedia for other points of view.
3.Use resources from the environment, the library, friends who enjoy the same topic.
4.Forget measuring how well you perform and concentrate on the joy of learning.
5. Make grades less important than the excitement of making a new discovery.
6.Draw pictures and write stories about interesting ideas and post them on facebook.
7. Measure your success by how many new ideas you come up with not by test scores.
8.Post YouTube videos of projects that you complete and get comments.
9. Inspire others to follow your ideas on social media and get an interaction going.
10. Learn for its own sake and grades improve naturally.
Once kids are in middle school and high school introduce them to Ted Talks for all kinds of new innovative ideas about science and math and the environment. Watch the shows with them to field questions and learn together. It's a great audio and visual experience to join millions of other listeners. The audience is filled with adults but most of the talks teens can follow and be really excited by.
It's a great plus for parents and kids to be learning together. Suddenly dinner conversations are inspiring and exciting. Learning is going at the teens' own pace and pace becomes exponential because they are following subjects that intrigue them. Discovery is the motivation, not tests and performance.

As an adult, you discover you are learning from your kids. This is a terrific experience that goes far beyond the walls of schools. You find yourself reading at your own pace on the topics that your child has drawn your attention to. If we want to keep up with our kids, we need to learn what they are learning. Turn on to their music, their art, their ezines and chat rooms (if they let you) and learn what they learn.

It's unbelievably energizing and everyone learns together.
Related
Popular in the Community