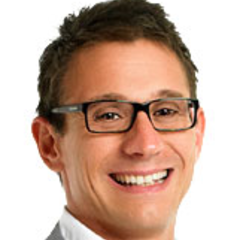 Simon leads Ceros, the interactive content marketing platform, with an innate curiosity about the world and how everything works. With Ceros, he has combined his passion for art and technology by building a platform that leverages technology to create digital works of art that fundamentally change how brands communicate and relate to their customers.
As CEO of an interactive content software company, I'm exposed to content on a daily basis from businesses that span a wide range of industries. This past year, I saw content marketers struggle with audience engagement as the volume of digital content from brands began to reach critical mass. My hunch is that marketing programs will continue to evolve this year toward more sophisticated content creation strategies, tactics and formats to combat audience fatigue.
As a design-minded entrepreneur, I have a fairly unique perspective on the current challenges marketers face, as well as the potential solutions to these challenges. Here are 10 trends you can expect to see in the content marketing industry as we jump into 2016:
1. Every Legitimate Content Marketing Team Will Have a Dedicated Designer.
As marketing programs become more visual and interactive, a dedicated design resource will become a must-have instead of a nice-to-have. If content marketing teams want to remain at the forefront of a now-maturing industry, they'll need a skilled designer as part of their team who can help to drive creative direction, strategy and execution.
At my company Ceros, we've seen everyone from B2B software companies like ZenDesk to huge retail brands like Red Bull, and sports franchises like the Dallas Cowboys to financial institutions like BNY Mellon, investing in expertly designed visual content such as infographics, microsites and interactive blog graphics. These types of assets require both a verbal storyteller and a visual storyteller to bring content to life.
2. The Marketing PDF Will Begin its March Toward the Grave.
In general, PDFs aren't an effective marketing format. For the data-obsessed marketers, they're a black hole; it's impossible to tell anything other than who downloads a PDF. In today's world, our content should be able to answer vital questions such as what ideas viewers find most engaging, and which sections they spent the most time on. This year, we'll begin to see smart marketers create more dynamic, web-based content that offers rich insights into their audience's preferences and behaviors.
3. Startup Content-Driven Brands will Emerge as Market Leaders.
There are some really cool startups like Casper that are innovating on the content marketing front with community-driven social media programs, dedicated editorial coverage and a creative approach to traditional advertising. We'll see them start to claim a place in the spotlight this year as they challenge more established brand marketing programs in terms of quality and creativity.
4. Creatives Will Take a Seat at the Decision-Making Table.
Data-driven marketing is great, but you can only optimize boring, lifeless content for so long. Creativity is what marketers need to tap into to drive engagement and results in the future. As such, creatives will have to be given a seat at the table to drive strategy and implementation.
Innovative brands have been adding design roles to their C-suites over the past few years. Some of the most notable examples include Jony Ive at Apple, Steve Kaneko at Microsoft, Bob Schwartz at GE, and Mauro Procini at PepsiCo.
5. Marketing Teams Will Start Hiring UX Specialists.
As digital content programs grow more complex and multifaceted, user experience (UX) will begin to take on additional importance within marketing programs. Teams will begin to hire dedicated UX designers in addition to graphic designers to manage usability, information architecture and workflows.
6. Big Brands Will Invest in Creating Real-Life Experiences.
Red Bull is the hallmark example of how in-person experiences can drive brand affinity and long-term loyalty. Other brands are going to jump on this bandwagon this year as it becomes harder to stand out and provide unique value strictly in the digital realm.
7. Size Won't Matter in Brand Storytelling.
Wielding powerful new technologies, smaller companies will be able to become brand storytellers and content creation powerhouses. This year, we'll not only see stellar content marketing from brands and agencies of all sizes, we'll also see this content delivered to market with speed and scale. Marketers will be empowered to be more nimble within their strategic plans thanks to cloud-based technologies for content creation, curation (think NewsCred, Contently, Kapost and TrapIt) and distribution (Outbrain, Taboola and Zemanta come to mind).
8. Marketers Will Crack the Live-Streaming Code.
Brands haven't quite figured out how to provide high-value experiences on live-streaming apps like Periscope, Meerkat and Blab, but marketers will figure it out in the year ahead. I'm curious to see what use cases are more successful; I suspect they won't be the ones everyone is talking about today.
9. Brands Will Dip Their Toes into the Augmented Reality Pool.
There are several examples of futile attempts at augmented or virtual reality experiences created by brands. There have also been some good ones, like Hyundai's augmented reality owner's manual at this year's LA Car Show. As the year goes on, we'll start to see more brands dabbling in the AR and VR realm across a myriad of business units.
10. Ad Blocking Plus Obfuscation Will Kill Push Marketing.
Between ad blocking and obfuscation software, consumers are doing everything they can to throw off tracking technologies and shut out intrusive marketing. Marketers will finally come to terms with the decline of push marketing and commit to creating valuable, educational content in order to get people to pursue them rather than the other way around.
In summary, this year will be the year that content marketing grows up. Marketers will continue to invest in developing higher value, more creative content that provides a better experience. They'll also begin to take advantage of newer technologies to deliver stories in more unique and engaging ways. Underlying everything, design will take on a pivotal role, both within marketing departments and within organizations as a whole.
Related
Popular in the Community