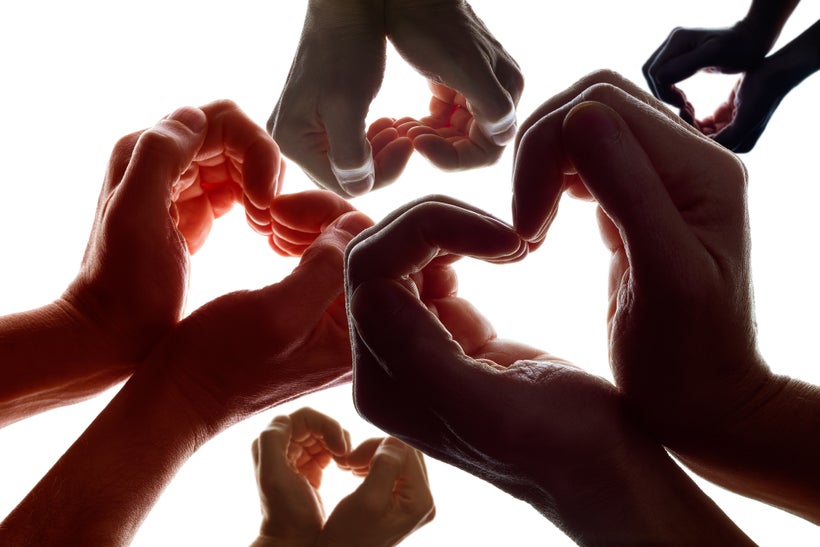 Charitable contributions improve our society and are an important part of how we live. In 2015, the average family gave $2,974 in donations of goods and services to charities and non-profit agencies, totally $373.25 million dollars in annual donations. Corporations and foundations added another $75.65 billion, bringing the total in charitable contributions to $448.9 billion dollars for 2015¹.
When you want to support valuable charities and issues you feel strong about with effective ways to help, but struggle with your own finances, it is hard to justify supporting these causes with the money you need for bills, debt reduction, or retirement. There's always some way you help and feel great about your mission. Not all donations and support require writing a check to your favorite non-profit. Here's ten ways to support charitable causes, without hurting your finances.
6 Ways: Feet, Money, Stuff, Miles & More
Give things instead of money. Clean out your closet, garage, or kitchen and donate the items you own but do not use. How many toasters, screwdrivers, and shirts do you have, compared to what you need. It is easy to accumulate multiples of items you use daily, only to have the extras gobble up space in a drawer or closet. You can donate clothes you have not worn, exercise equipment you never got around to using, and gear for sports you no longer play. Others will get the benefit of putting those items to use, and you clear your closets. All while helping your favorite charity and gaining a tax-deductible contribution if you itemize your taxes. Companies such as Goodwill and The Salvation Army accept most household goods. The World Computer Exchange accepts old computers and electronics. Some charities also accept non-cash items like vehicles.
Donate your change or add a dollar to purchases for a good cause. Stores make it easy to make small contributions by adding $1 to purchase for a specific charity they sponsor. You can also create a home version by saving change each day and then gifting the money to your favorite non-profit organization at the end of each month.
Donate credit card rewards. Most credit cards offer rewards, which you can use for cash, gift cards, miles, hotel rooms, or merchandise. Instead of using these rewards for your own benefit, you can donate the reward to the charity of your choice. Most organizations will accept credit card rewards donations: Companies like American Express allow you to select a set number of earned points, which they convert to dollars, for a donation in your name; Capital One has a website where you can select your charity and make a contribution online. Make-A-Wish Foundation encourages consumers to donate miles to grant wishes for sick children. Some credit cards have charitable partnerships and donate a percent of all purchases to the charity, in lieu of personal rewards.
Take advantage of corporate partnerships. It is common for local businesses to partner with charities. Companies may donate a percentage of proceeds on a specific day or during specific hours, to help a charity reach a fundraising goal. Other times, the company gives a percentage of sales made by a member of the group. When you shop, you only need to connect your account with the group or mention the group at checkout. For example, a local grocery store may partner with local schools. You connect your rewards card to the school, and the company donates a percentage of everything you spend each month to the school. You can shop as you normally would, knowing you are helping a place that matters to you.
Join in charity events. Fun runs, 10Ks, marathons and other athletic events often support charities. You pay an entrance fee to cover the costs of the event and then raise money for a charity. It benefits all parties because you can help a charity without a large outlay of cash and stay in shape while preparing for the event. The charity gets exposure through the media and money through donations from your family and friends.
Sponsor an event. Whether you want to fundraise for your local scout troop or school football team, these events help provide money and awareness to local charities. Holding a garage sale, bake sale, car wash, or other forms of fundraising will help non-profit organizations pay for events and needed supplies. You can hold an event yourself and donate the proceeds or work with the charity to gain a wider audience to support the event.
4 Ways: Time
Volunteer. In addition to money, nearly all charities also rely on the generosity of time to help those in need. From local scout leaders to volunteers who read to children once a week, there are opportunities to help others in your community all around. Every non-profit needs the help of more people. Find something you love and contact the company. You can donate time on a special occasion like an annual event or set up a time each week to help.
Remote volunteers help charities from home. You might be able to mail letters, make phone calls or work on the computer, without having to leave home. These opportunities are wonderful for everyone from the elderly, who may have mobility challenges, to busy families who can't set a specific time to volunteer for a required shift. Consider your current skills and what charities might be able to use your help. From web design to online writing, to social media posts, most charities actively use the internet to reach both donors and recipients, increasing the opportunity for remote volunteering.
Join a drive. Blood drives and book drives are common promotions that need volunteers. You can volunteer to help or donate the cause. It does not take long to donate blood or give a charity used books you no longer read. You can also donate plasma which often pays donors for your time.
Get everyone involved. Make charity work a family affair by involving your children. They learn to appreciate the life they have and to increase their compassion for others. Find something they enjoy and look for ways to contribute. If they love animals, volunteer at an animal shelter or habitat rescue. If they want to learn, home improvement skills volunteer for Habitat For Humanity. They can pick out Christmas gifts for less fortunate children or help in a local soup kitchen. Volunteering can benefit children and adults of all ages and skill levels.
Ryan Sasson is the CEO of Strategic Financial Solutions. He co-founded the company in 2007. A native New Yorker, Ryan has almost two decades of experience starting and growing businesses in the region. Before founding Strategic, Ryan was the president and founder of Timberline Capital, one of the largest Merchant Cash Advance companies in the country. Ryan is a member of YPO Metro and in involved with multiple charitable organizations. Ryan holds a Bachelor of Science in Business Marketing and Business Management from Tulane University and is currently enrolled in the Presidents Program at Harvard Business School. Greet Ryan via LinkedIn & say hello!
REAL LIFE. REAL NEWS. REAL VOICES.
Help us tell more of the stories that matter from voices that too often remain unheard.
This post was published on the now-closed HuffPost Contributor platform. Contributors control their own work and posted freely to our site. If you need to flag this entry as abusive,
send us an email
.