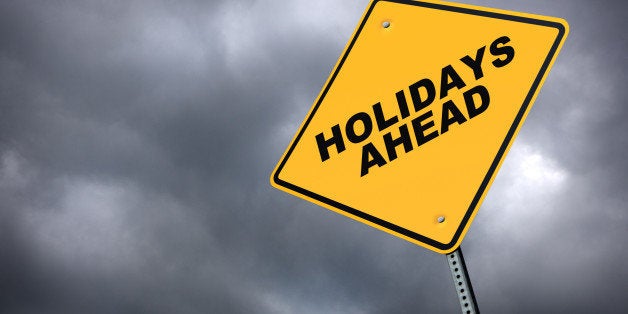 For some people, the holidays are not a time of joy and happiness. I'm one of those people. My father passed away on Christmas Eve when I was 16, then just four short years ago, my oldest son passed away in October, about the same time the holiday décor was hitting the store shelves.
Although I know I'm not the only Grinch this time of year, it often feels like it. Being surrounded by parties, cookie exchanges, decorations, Christmas music, and just general joyfulness of the holidays is exhausting when I'm just trying to hold my breath until January 2.
If you're reading this you must be one of my tribe. Welcome, and I'm sorry you're here.
The holidays are an overload of food and drink for the happiest of holiday hipsters, but for those of us struggling with grief, it can become an emotional buffet of eating our way through feelings of sadness and loss.
I have put together my favorite 10 tips for loving yourself this holiday season, without giving yourself an eggnog grief hangover.
1. Go for a walk outside. Being outside (even with the Christmas lights) is calming and often gives us a break in our surrounding we need to reset our mindset.
2. Drink lots of water. I'm not just talking about alternating every other cocktail at the office party. Staying hydrated is a great way to curb appetite and maintain your energy levels.
3. Avoid excessive caffeine. A cup of Joe in the morning is fine, but if you find yourself reaching for the caffeine in the afternoon take a step back and check in with yourself. You might be better off going to bed 30 minutes early rather than get stuck in a negative caffeine, lack-of-sleep cycle.
4. Drink green tea. Green tea has more anti-oxidants than blueberries and it also has metabolism-boosting benefits (to offset the additional calories you might eat). Additionally, it has less caffeine than coffee or black tea, so if you really need a little boost choose this and get some additional benefits.
5. Help someone else. Often we get so stuck in our own sadness we forget that, even when we're sad, we often have something to give that will make someone else's life more enjoyable. It could be as simple as donating an old coat, baking cookies for a nursing home or paying it forward in the Starbucks line.
6. Take a bath. A detox bath that includes Epsom salts and essential oils. More importantly is taking a few minutes to yourself to be with your thoughts and consciously relax your mind and body.
7. Exercise. Even moderate intensity exercise will release feel good endorphins and help you feel more at ease. Moving your body also helps focus your mind and help you process the feelings you are having around the holidays.
8. Share with your friends. Don't assume your friends know how you feel or what you need. Many time friends want to be supportive, but aren't sure what to do. Take the guess work out and let them know what would be helpful or how you are feeling.
9. Take a field trip (i.e., play hooky). Remember in school, how much a fun it was to take a field trip? It broke up the school routine and made the day feel special. Choose a place you've never been, maybe a museum or historic place and spend a day doing something out of the ordinary.
10. Find gratitude. Even though it seems like the entire universe is happy, focus on the things in your life, not related to the holidays, you are grateful for. We can practice gratitude 365 days a year, don't get stuck in negative thinking that you might carry with you into the new year.
Bonus! Find a blue Christmas event. Search in your community and see if any churches, synagogues or other spiritual communities offer a 'blue' event. Often these organizations will plan a special evening (often non-denominational) for people just like you and me! I go to one every year and it's my favorite holiday event.
Related