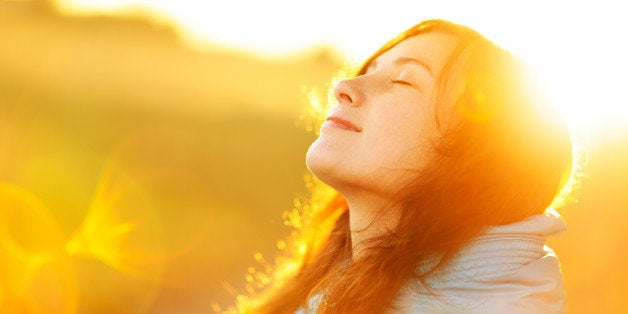 For many, a new year brings about a host of happy and hopeful thoughts and feelings. We set these lofty resolutions and feel so much more refreshed and ready to take over the world. Unfortunately, however, this time of year can also be pretty overwhelming for some as we carry over hang ups and disappointments from the previous year, or even the failed attempt at those lofty goals we set just a few weeks prior.

While I've tended to identify with the latter group most years, I was blessed this past holiday with the ultimate miracle that will forever change my outlook on life, love, faith, opportunity, and fulfilling my destiny. As the saying goes, there's no better time than the present to break this cycle and bring about a change in your life and outlook.
Here are 10 ways to find your happy place:

1. Share some laughs with old friends
Your old friends from the neighborhood, high school or college hold the most special treasure to help you find your happy place: great memories! These are the memories from the simplest and most uninhibited times of your life and sometimes just what the doctor ordered to fill that void in your cluttered, adult life. While you probably feel quite caught up with old pals through Facebook, I challenge you to take it a step further. Call an old friend or set up a lunch date if possible and let the fun times begin.
2. Surround yourself with beauty
Make it a habit to spend some time each week surrounded by a beautiful space, whether it's a single beautifully decorated room in your home or a day spent at your local botanical gardens. You'll find it to be a refreshing break from your usual backdrop of dirty dishes or scattered kids' toys. Make it a point to take a moment to bask in a space that brings you some peace and inspiration.
3. Travel to someplace new
While a luxurious trip to Tahiti would certainly help in finding your happy place, fortunately, you don't have to dole out that big of an expense. There are most likely multiple excursions within an hour or two of your home where you can find some relaxation, rejuvenation or just a new and refreshing experience.
4. Write a letter to your former self
Oh, the wisdom you've gained over the years! Take the time to share that wisdom with your former self, reminding her that there are several things that will turn out better than she thought.
5. Get active
The physical, mental and emotional benefits of exercise are endless -- from increased energy and reduced stress to helping you find your happy place. Physical activity releases endorphins, which are attributed to feelings of happiness and euphoria. Finally achieving a rockin' body never hurts either!
6. Check something off of your bucket list. Anything!
There may be some things on your bucket list that simply aren't going to be feasible this year. However, now is as good a time as any to learn a second language, take part in a stage production or those bucket list tasks you've been putting off for whatever reason.
7. Re-read your favorite book from childhood
Remember feeling completely engrossed in the lives of the Baby-Sitters Club members or Sweet Valley High twins? Or were you one who enjoyed the shock of uncovering the mystery in a Nancy Drew novel or Encyclopedia Brown story? Just for kicks and an extremely quick read, take a trip down memory lane and re-read one of your favorite childhood books. Give yourself extra points if you still remember the ending!
8. Freshen up your look
The new year is always the perfect time for a mini makeover! Don't be afraid to try something drastic like a fresh new haircut or some added highlights. If you're looking for something non-committal, try out a new nail color or buy an article of clothing in a complete opposite color than the rest of your wardrobe -- red shoes, white coat or whatever else you don't have in your closet! Just keep it fun and be bold. You'll be a happier person for just having the courage to step out of your comfort zone once in a while.
9. Do some volunteer work
Finding purpose and making a difference in someone's life is possibly one of the best ways to find your happy place. Do some research to find volunteer opportunities in your community or perhaps, find a global initiative you are passionate about. No matter how large or small your contribution, take pride in the fact that you are being a blessing to another person in the universe.
10. Set a big goal or plan for the year -- or years -- ahead
Let this be the year you dream and plan big. Even if finances and time constraints seem to be an issue today, go ahead and put plans in motion for something big to happen in the upcoming years. Thinking about a career change in the next five years? Go ahead and start a training or certification program this year to prepare yourself for it. Thinking about taking a big family cruise in the following summer? Make this a year of saving for it. The most important thing here is that you set realistic timelines for these big goals and diligently take steps toward that goal.
Related