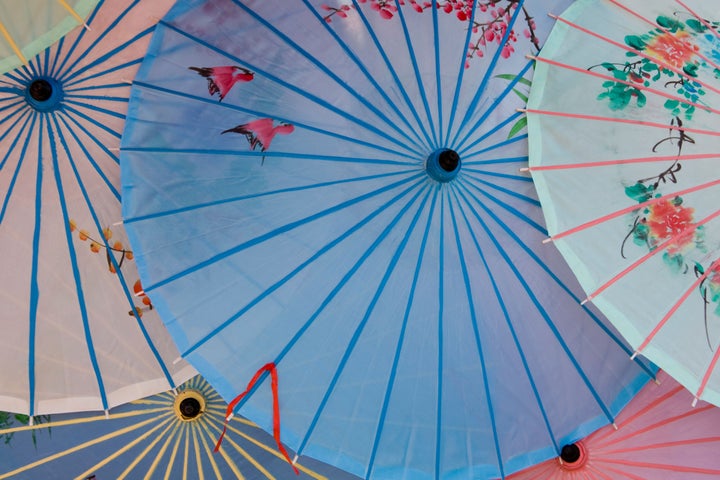 I was thumbing through the pages of a magazine featuring Kim Kardashian's wedding recently (like a traffic accident, I just had to look), thinking to myself, "I wonder what went wrong that day?" You might be under the impression that the 10 million it reportedly cost to throw her nuptials meant Kim got to bypass the snafus that befall most weddings. But I'd venture to guess, party planners-to-the-stars and all, that something went awry. It always does.
Twenty-three years ago, when I got married, the words "wedding planner" referred to a spiral notebook in which I tallied response cards and tux sizes. While I got the spouse part right, plenty of other things went wrong: Our best man--eager to be helpful and efficient--loaded the trunk of our limo with all the gifts that had been brought to the reception. (There's nothing like showing up at the Four Seasons at 1 a.m. in gown and tux, and asking the bell-hop to help you schlep 100 gifts up to your honeymoon suite.) Our photo person dubbed herself "the unstuffy wedding photographer," which turned out to be code for "I capture great candids, but have no idea how to pose people for a portrait." To relax us, she would yell out "wiggle! wiggle! wiggle!" before every shot. You can only imagine what 20 squirming people do to a formal photo.
Almost every married person--I'm betting even Kim Kardashian-Humphries--can rattle off the blunders and oversights that occurred on their wedding day. And the problem is, you don't know what they are until after they happen. Here, some wisdom from wedding veterans so you can jump the land mines before they go off....
Visit your flowers: You can meet with the florist, type up copious notes, provide them with fabric swatches, but unless you actually spring a visit to the florist the day before your wedding (read: when they're actually working on your flowers), you risk a bad bouquet on the wedding day...with absolutely no time left for a do-over.
Register for affordable gifts: Makes no sense, right? After all, why should you be worried about money when those registry items are being purchased by others? Here's why: When the wedding is over, you may find yourself with five out 12 crystal goblets, four full place-settings of Versace china, and pillow cases that match a $300 set of Frette sheets that you've yet to receive. If you can't afford to fill in the holes any time soon, then those gifts become useless objects in your new home.
Count postage in your budget: Allotting $500 for square, contemporary invitations is all good, but when you add on the additional USPS "odd-shape" fee, plus response-card postage, you may find yourself paying close to double that amount.
Ditch the parasols: One of the hottest trends in outdoor weddings is providing guests with cute umbrellas so they can see the ceremony under the glare of a blazing sun. What they may be staring at, unfortunately, is not the bride and groom, but the parasol of the guest sitting directly in front of them. A better bet is a basket of inexpensive sunglasses that guests can grab as they enter the ceremony site.
Choose a universally-flattering bridesmaids dress: The drop-waist number that works on your hipless college roommate might be a fashion disaster on your pear-shaped sister...and if she lives out of town, you won't realize the gaff until it's too late. It's critical to keep all body types in mind.
Tell the DJ what NOT to play: You've worked so hard to come up with a play list, but it probably didn't occur to you to write down what you absolutely don't want to listen to at your reception. Troubleshooting the music from the get-go avoids those "My Humps" moments in front of your religious grandparents.
Create a reception timeline: You spend 12 months planning a fastidious countdown to the wedding day, but if you neglect to orchestrate the timing of each and every event at your reception itself, you risk a half-empty room when you go to throw the bouquet. Trust me; some guests will leave after cake is served, so if you want an audience for your reception rituals, space out the treats.
Avoid last-minute spray tans: They're a brilliant alternative to dangerous tanning beds, but you might be inviting aesthetic disaster if you choose to get hosed the day before your wedding. Obvious streaks and embarrassing lines of demarcation between fingers are not unheard of...so be sure to give yourself a good 48 hours for any necessary scrubbing, fading, or blending.
Cover your photo ops: Your photographer is taking posed bridal-party shots during the cocktail hour, but who's taking pictures of your guests as they mingle, nibble, and greet old friends? No one--unless you specifically plan for a second photographer or worthy assistant who can shoot during that festive segment of the evening.
Hire your cook, not just your caterer: You go to the tasting and are thrilled with everything; but come reception time, the chicken is deep-fried rather than sautéed, and the salad has dried blueberries in lieu of fresh. There's a good chance that the head chef who worked so diligently on your tasting is not the same person who actually produced the food for your guests--but rather, a "kitchen lead" who was assigned the event from a set of notes. Best to ask, very specifically, who will be cooking on your big day. Then remind them to pack you a midnight snack, since you won't have time to eat the meal, no matter how perfect it comes out.
Popular in the Community