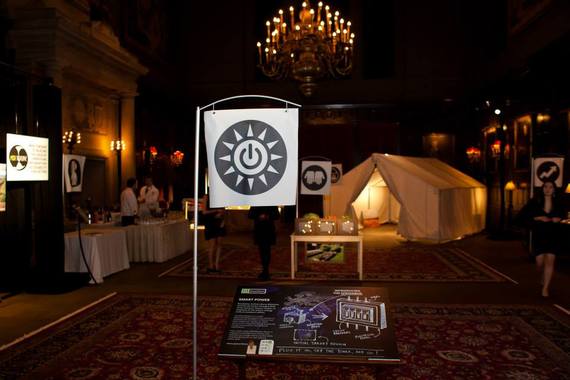 What makes a non-profit event a success? Aside from the key metrics like funds and awareness raised, number of donors attracted and retained, sponsor and attendee satisfaction, and cost of fundraising ratio - the true marker of success is much more difficult to measure. When the event is over and the guests are gone, how will people remember your nonprofit's story and be moved to action? Having planned over 20 nonprofit fundraisers and attended countless others, I've realized that one facet that simply doesn't get enough attention is brand-building and, specifically, the importance of storytelling.
Six years ago, I walked up the steps of a historic New York building for a prominent international nonprofit's fundraiser. As an attendee, I looked forward to the benefits outlined on the event invitation: the open bar, the passed hors d'oeuvres, and what promised to be an interesting crowd peppered with influencers. As a social impact advocate, I was also looking forward to hearing about the hosting organization. I already knew a bit about their work and was interested in hearing more, including where funds raised during the evening were going and what other opportunities there were to support their work.
From a production standpoint, the event was well-executed. The design was superb, the staff was upbeat and helpful, and the attendees seemed to be having a great time. What it lacked was a meaningful touch point. I left knowing no more about the organization than I did when I walked in--what a missed opportunity!
Telling your story is as essential to a nonprofit as it is to any other company or brand. With a captive audience in a room, you have the opportunity to tell the story of why your organization must exist, share your impact, explain how more money or deeper engagement will move the needle for your cause, and convert supporters to become ambassadors and promoters of your organization.
With limited resources, it can be difficult for nonprofits to invest time and money in storytelling. At The Resolution Project, we enlist passionate volunteers to take on this creative project, from conception to production. At our Resolve Gala in New York City, we select specific Resolution Fellows every year and build out artistic installations that showcase their (and our) on-the-ground impact. This has taken many forms: One year we built gardening beds to show the work of Resolution Fellows Christian Brown and Lindsay Bushong of Backyard Beds, a social venture installing raised gardening beds in a food desert of West Philadelphia to enable them to grow fresh produce. Another year, we hung a massive canvas print to feature the work of Resolution Fellows Bonnie Chiu and Michael Ng of Lensational, a social enterprise which empowers women in developing countries economically and emotionally by equipping them with digital cameras and photography training to share their literal perspectives. By showcasing our impact in a creative manner throughout the physical space of the event, each installation becomes a conversation topic, an opportunity for an attendee to better understand one of the issue areas we address, and an opportunity for social sharing. The result is that our attendees are much more likely to recall and retain information about Resolution and our Fellows, and to be moved to action through a monetary or in-kind donation, a sponsorship, contribution of time (though skills-based volunteering), or by joining our community of supporters.
There are a number of ways nonprofits can introduce storytelling into events. Here are ten:
Invite a beneficiary to share the impact of your organization on his or her life.
Feature imagery of your work in the forefront of your event design.
Use video to evoke emotion.
Post meaningful quotes in prominent places around the room.
Encourage team members to explain why and how they got involved to other attendees.
Feature snapshots of your work or beneficiaries in the event program.
Include the story of your organization as a takeaway.
Share links to your organization's story in digital form through social media, QR codes, or follow-up emails.
Encourage attendees to participate in an action that will immerse them in your cause or impact.
Build interactive, artistic installations, like we have at The Resolution Project.
While combatting the most critical issues that our world faces, nonprofits still need to compete for attention in a world of endless distractions. And just as much as other brands or companies, they need to cut through the clutter to make their stories heard.
Kelsey Overby serves as the Co-Chair of the Resolution Leadership Council, Volunteer Director of Events, and a Resolution Guide with The Resolution Project. Professionally, she specializes in digital and social media, partnerships, and events.
Related
Popular in the Community