Last week, over 1,800 New York City public schools shut their doors for summer break. While most students relish the free time that comes with summer, research shows that kids' health habits take a hit during the break. According to a study by Columbia University's Mailman School of Public Health, children on break "consume more sugar, watch more television, and eat fewer vegetables than the rest of the year."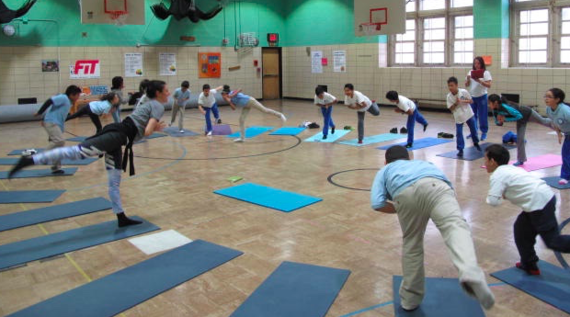 Students at an East Harlem school participate in the Bubble Foundation's MOVES program during the school year.
The good news? Families can turn to community programs for help. In New York City, with nearly 2,000 parks, playgrounds, and beaches in our backyard, we have many affordable--and often free--ways to keep our families active during the summer months. Here are ten of them!
1. Strike a yoga pose in the park.
Manhattan, Brooklyn, Queens
Enjoy free yoga for all ages in parks across the city, including Prospect Park (Thursday evening), Bryant Park (Tuesday morning, Thursday evening), and Socrates Sculpture Park (Saturday and Sunday mornings).
Free, bring your own mat
2. Cool off at a public pool.
All boroughs
Take advantage of the free, outdoor public pools available throughout the five boroughs (open from 11:00am to 7:00pm). Free swim programs are also offered for both kids and adults.
Free
3. Pick up a new sport.
All boroughs
Children and teens can participate in free recreational programs at schools across the city through Big Apple Games. Big Apple Games, a program of the Public Schools Athletic League, teaches sports, arts and crafts, and other activities.
Free
4. Kayak on the Hudson River.
Manhattan
Enjoy free kayaking on the Hudson River, thanks to Manhattan Community Boathouse. Kayaks can be rented for free at Pier 96 on all days except Thursday and Friday.
Free
5. Explore plant life at Brooklyn Botanic Garden.
Brooklyn
Examine and explore plant habitats at Brooklyn Botanic Garden's Discovery Garden, offering hands-on learning about plants and botany. Free family activities are available throughout the summer.
Free with garden entrance fee
6. Get your hands dirty at a farm.
Brooklyn, Queens
Move from gardening to full-on farming with a visit to one of NYC's local urban farms. Brooklyn Grange (Queens location only) is open to the public every Saturday, while the Youth Farm (Brooklyn) hosts volunteer days every first and third Saturday of the month.
Free
7. Join a community tennis program.
All boroughs
Pick up a racket and register for the New York Junior Tennis League's community tennis program. Registration is available continuously throughout the summer for kids and teens between 5 and 18.
Free, equipment provided
8. Take the subway to a local beach.
Brooklyn, Queens, Bronx, Staten Island
Sand and ocean are just a subway ride away. From swimming to surfing, NYC's beaches are a great way to take advantage of the city's proximity to water.
Free
9. Skate alongside the East River.
Brooklyn
Skate to some tunes at the Pier 2 Roller Rink at Brooklyn Bridge Park. The outdoor roller rink is open daily and often schedules free public skate events during special hours posted on their website.
$5 admission; $6 skate rental; free admission during special hours
10. Enjoy family fitness in the park.
All boroughs
The City Parks Foundation's Get Up & Go! program provides free, fun-filled fitness in local parks across the city. The program includes activities for kids, as well as parent-child races. Visit the website for locations and schedule.
Free
See you at the park! I'll be the one on the purple yoga mat towards the back.
Popular in the Community