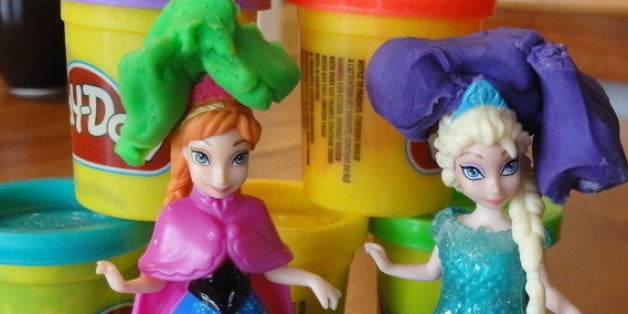 Hey Guys! If your toddler is like mine, she loves unboxing even more than Sofia the First. Specifically, she loves Disney Collector, that Play-Doh mushing, Kinder Egg-unwrapping Magic Clip doll-worshiping enigma wrapped in an immaculate Hello Kitty manicure that is taking YouTube by storm. The whole DC phenomenon raises important questions, like What did she do with all that chocolate? and also How can I bear watching even one more Disney Collector video?
Don't despair. Disney Collector isn't your nemesis. The next time your daughter says, "I want to watch Disney Collector," try some of these ideas. As Humphrey Bogart said before he mushed black Play-Doh into the shape of a falcon, "This could be the beginning of a beautiful friendship." *
1. The Play-Doh Lunchtime Creations video
Use this one as a way to get your toddler to eat. Be sure to explain that when you say the word "eat," you're not referring to actual Play-Doh. Or dirt. Or sand.
2. The Peppa Pig Mega Blocks Hospital Playset with Ambulance video
See if you can use this one to impress upon your toddler the importance of never sticking their wet finger into the electrical socket, lest they end up injured in an overcrowded ward like George Pig.
3. The Princess Ariel Water Palace Bath Playset video
Use this video as a way to demonstrate how objects -- such as the homemade flotation device Disney Collector made for Elsa and Anna -- float when they are less dense than the fluid in which they are sitting. Then say, "It's Science!"
4. Use Disney Collector's voice as a model for your next audition
Because it's your dream to play the role of a tender-hearted Brazilian woman who stands by her Bossa Nova-singing boyfriend.
5. Use Disney Collector as a reminder to moisturize your hands
Because hers are fabulous, especially when she uses that crazy fast-forward function and her fingers look like they're on speed.
6. And get your nails done while you're at it
Even though you will never get your Hello Kitty manicure as perfect as Disney Collector's.
7. The Play-Doh McDonald's Restaurant Playset With Cookie Monster video
Use this one as evidence that fast food -- including the star-shaped chicken nuggets your kid demands every day -- should only be eaten sparingly. You might want to point out how unappetizing that brown Play Doh burger looks, even to a toddler who likes to eat sandbox sand.
8. The Play-Doh Mega Fun Factory Playset video
This one is a good illustration of why factory workers must unionize. Wait. What?
9. The Cookie Monster Pool Party with Elsa and Anna dressed as Mermaids video
Use this one the next time you trip on acid.
10. Any one of the Surprise Egg videos which have been viewed more than 10 million times
Finally, use this one as a way to worry about WTF will happen to the human race. Because Despair.
*(Or was that just a weird Disney Collector-induced dream?)