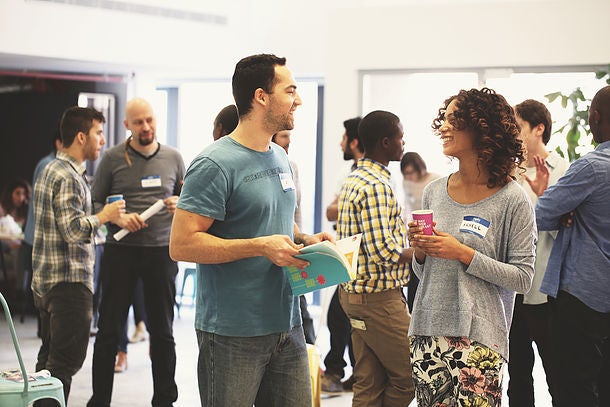 I recently moved to another state and am in the process of making new connections. I'm blessed with a vibrant community, wonderful neighbors and great coworkers. In an effort to continue building my network I've branched out to different areas to mix things up. Here are ten ways to meet new people.
Meetup - Brilliant! A social network gone human. Retro yet hip. Now, to be honest, I've signed up for a few Meetup groups but I'm a single parent and it's a great deal of work to make arrangements to get out of the house for just about anything. At this point I'm in love with the idea of Meetup but in practice I'm not doing very well.
Online dating - I know, it sucks. Rejection is hard. But when you approach it with an open mind and accurately depict yourself in your profile, you can meet a lot of interesting people! After all, they were attracted to you for something!
Professional groups - Business Network International (BNI,) Rotary, Kiwanis, Chamber of Commerce, Toastmasters, local business groups. Can you ever network enough? But don't just mingle and swap cards, get a lunch date with someone. One-on-one business networking can open new doors instantly.
Interviews - Whether you're looking for a job or not, the time to plan is before you become desperate. Setting up an informational interview is a great way to network and meet people in your field. And when you're not trying to sell yourself and genuinely want to know more about the other person, you're going to make a connection.
Church/Meditation Group - At this stage of my life I'd like my peers for to be a little more like-minded. I don't have the energy for the great debate like I did in my twenties. It's nice to just relax in spirit with a group you can trust.
The PTA/PTO/Boosters - Got kids? I don't know where I've found the time to join but sometimes you just have to do it. Want to meet parents? This is the place. And it's a chance to contribute. You can learn a lot about the community, your children and their peers from spending time with parents.
Volunteer - For anything. When you're in an organized group with a purpose it's easier to start a conversation. Volunteering has been shown to build empathy, increase social bonds and make you happy.
The Gym/Yoga Studio - Get a work out and be social all in one. It can be a little awkward to make your best impression when you're breathing hard and dripping in sweat but better to exercise than not. And when you're in the zone who cares.
Social Media - Join a group. Facebook, LinkedIn, and Google+ all have group access. Facebook is great for the Community Yard Sale, to name one. For networking and business collaborations use LinkedIn groups, and Google+ offers a wide range of communities to join or create.
Blog - No greater way to connect with all those other people you didn't know would be interested in what you have to say. Once they become part of your tribe (thank you Seth Godin for repurposing the word) you have countless opportunities to reach new people.
REAL LIFE. REAL NEWS. REAL VOICES.
Help us tell more of the stories that matter from voices that too often remain unheard.
This post was published on the now-closed HuffPost Contributor platform. Contributors control their own work and posted freely to our site. If you need to flag this entry as abusive,
send us an email
.