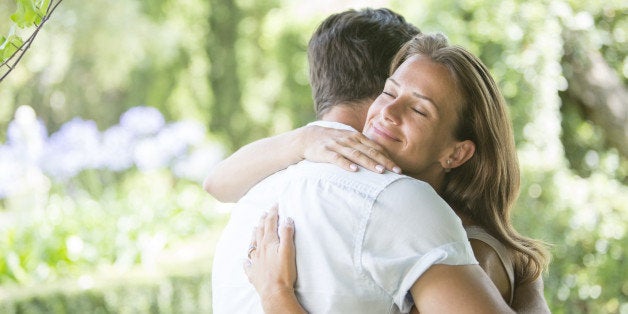 I recently had the pleasure of being one of the first inductees into the Happiness Hall of Fame, an organization that honors people who are advancing happiness in the world. I was thrilled to be among other inductees from all walks of life such as athletes (Bubba Paris), film producers (Roko Belic) and Stanford professors (Dr. Fred Luskin). While people congratulated, praised and thanked me for my talk ("Get High to be Happy"), I realized how important is for every one of us to feel like we matter -- that we're valued for what we do or say. We spend oodles of time worshiping people in the media whom we've never met, but often go about our daily lives without acknowledging the people we see every day.
Not everyone gets to be praised in a public ceremony, but you can easily show people they matter in many different ways. Here are ten ways of them:
1. Say "Thank You"
Think about a time when you did something nice for someone and he or she never even acknowledged it with thanks. How did that make you feel? Whether it's the waiter handing you your dinner check or your partner folding your laundry, remember your manners, say "thank you" and mean it. Don't overlook the power of those two words and how they recognize a person.
2. Focus on the Positive
It's often easiest to point out what your loved ones or employees do wrong rather than what they do right. Next time you're about to criticize someone in your life, stop and think of something good you can say about that person instead. Tough love should always be balanced with positive feedback. Both kids and adults need reassurance that they're doing something right in their life.
3. Give Gifts
Think of a reason to give someone a gift outside of a birthday, anniversary or holiday. Or perhaps, have no reason at all! A gift could be a poem, a present, a meal, a compliment, an outing or anything special you do for another. You don't have to spend a lot of money to give someone a gift. It could simply be the gift of time or listening.
4. Speak Your Appreciation
Get into the habit of telling people what you love or appreciate about them. Don't wait until you're at their funeral or after they've left you to say good things about the people in your life. Say it when it counts the most--in the moment, not when it's too late.
5. Be a Hugger
A hug or a shoulder rub can be all a person needs to feel like they're appreciated. Touch creates a physical, emotional and spiritual connection that is critical at all stages of life from infanthood to adulthood.
6. Make Eye Contact
Nothing feels worse than someone who can't look you in the eyes when they're talking to you. It makes you feel uncomfortable, unwanted and unimportant. Eye contact shows people that their presence, thoughts and words are valuable to you.
7. Brag in Public
Famous or not, everyone makes a contribution in this world. If there's someone in your life whom you feel should be recognized, do something public about it. It could simply be a toast during a small dinner gathering or a speech at a big party. What's important is the intent to recognize someone in front of others.
8. Be Present
Nothing says "you don't matter" more than picking up a call or texting while you're with someone else. It's like being on a date while your date checks out all the other candidates walking by! Be present with the people. Turn off your cell phone and put it away. If you absolutely have to take a call, apologize, explain why and make it quick. It's just good manners.
9. Keep Your Promises
We've all got undependable friends. They're the ones who frequently cancel plans or can't commit until the last minute forcing you to hold your schedule hostage. If that's your m.o., the message you're sending to your friends is that you, your life and your plans are more important than theirs.
10. Treat People Equally
We are all part of the human race and deserve to be recognized equally. Famous or not, black or white, male or female, kid or adult, everyone should be equally valued as a human being.
I guess I could've skipped all of the above 10 points and just stated The Golden Rule -- to treat others as you want to be treated. I hope the examples, however, drove home a point: You Matter!
Related