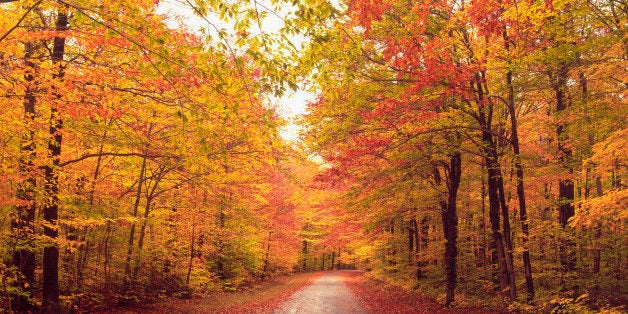 When you're busy balancing work, family, a social life, and any number of other things, it's easy to let the seasons slip away. But, taking time to stop and smell the roses (or in this case the pumpkin spice) is important for both your mental and physical health. That's why we've come up with a few simple things you can do to really appreciate the fall season -- even if it's just for a moment.
Read on for 10 easy ways to slow down and revel in the autumn season.
1. Take a walk in the woods.
Or in the park. Or down your street. Chances are, wherever you walk you'll have an opportunity to admire fall's beauty -- from the fiery colors of the fall foliage to the frost on the ground. If simply walking through the park doesn't do it for you, channel your artistic side -- grab your camera and snap some artsy photos of the changing leaves or misty morning air.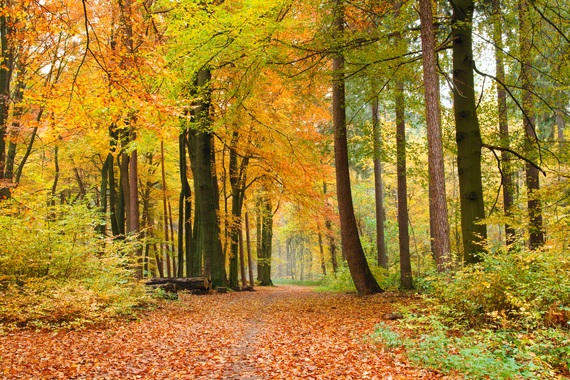 2. Fill your home with the smells of fall.
There is something decidedly fall-ish about the smells of cinnamon, apples, and pumpkin spice wafting through your home. The easiest and cheapest way to give your house that fall smell is to fill a pot with water, throw in some cinnamon sticks, cloves, apple halves, and orange peels and let it all simmer on the stove. Sweet smells will be filling your place up in no time.
3. Indulge in your autumn-inspired desire to hibernate.
As the days get shorter and the temperatures drop, you might find yourself wanting to curl up with a good book and cozy wool throw. We say, bring on the hibernation! Set aside some time each week (or day) and get your cuddle on in front of a fire or solo snuggle on your bed with a favorite book or movie and a cup of tea.
4. Fall-ify your wardrobe.
This doesn't necessarily mean you should go out and buy up every burnt orange item you can find. Simply take a moment to assess your wardrobe and do a bit of organization that will make throwing together a cold weather outfit easier. Put away the things you won't need until spring (seriously, unless you live in Hawaii or California, it's time to put away those shorts). Of course, you could also go shopping and fill your wardrobe with the latest fall trends -- just don't forget to call us first.
5. Visit your local farmer's market to pick up some autumn harvest items.
Keep your eyes peeled for seasonal goodies like sunchokes, quince, and rutabagas. Adding local, seasonal fruits and vegetables to your everyday meals is an environmentally friendly way to add a little bit of autumn to your life.
Think pumpkin spice espresso martinis, fall-themed finger foods (apple and stilton Welsh rarebit bites anyone?), and some festive table decorations. Nothing says fall quite like catching up with friends over cocktails while surrounded by decorative gourds and the scent of warm spices. Check out this post for more ideas.
7. Take advantage of that extra morning hour when the clocks turn back.
When the time change rolls around in the fall, everyone complains about losing an hour of daylight -- but you could also think of it as gaining an hour in the morning that you can make the most of before your body adjusts to the time change. Whether you use the hour to head to that early morning yoga class, or to simply enjoy the morning on your patio (with festive decor, of course) over a relaxing cup of tea -- the choice is yours.
8. Plant some cold weather greens to enjoy all season long.
People often think that spring and summer are the only times you can plant produce, but some veggies actually flourish as the weather gets colder. Swiss chard, bok choi, and that mightiest of greens -- kale -- actually grow well when you plant them later in the season. Plant some of these veggies in a pot, stick it on your porch, and reap what you sow (literally) come winter.
9. Pull out your crock pot and storm full-force into soup season.
From butternut squash bisques to hearty potato and sausage stews, the time for soups is upon us. Dust off that slow-cooker and leaf through your grandma's recipes, or try a new soup recipe each week. After all, you can never have too much soup on hand when the temperature drops.
10. Sign up for a quintessential fall activity.
Of course, the activity itself might depend on the climate you live in. West coasters could check out winery harvest festivals, while those in colder states could overall-up for some good old-fashioned pumpkin picking. Tired of picking apples? There are plenty of other fruits and veggies to pick in the fall -- including sweet peppers that are delicious when blistered.
How do YOU make the most of the autumn season? Leave your tips in the comments below.
Related