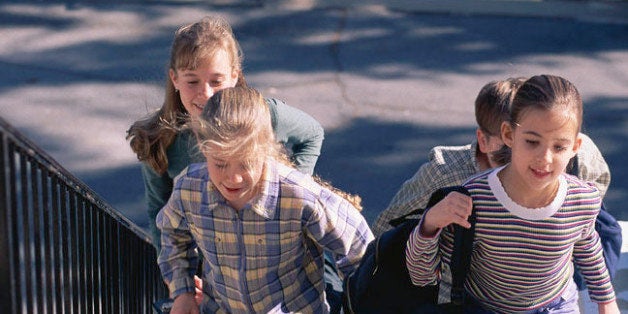 The last few weeks at my house have been pretty hectic with all of the end-of-school-year demands placed on my two teenagers before the academic year ends. I'm sure you know what I'm talking about -- extra after-school group study sessions for upcoming AP tests and final exams; longer homework sessions due to class projects; preparation for the big orchestra recital and homework craft projects that include glue, colored paper and glitter.
In order to help my kids complete all of their year-end responsibilities, I have made extra trips to and from each child's school, craft store, grocery store and cash machine. I have adjusted my work schedule to accommodate recitals, field trip drop-offs and pick-ups, special minimum days due to school testing and class parties. It's not just the kids that are busy during this time of year -- it can be pretty exhausting for parents too.
As a child psychologist, I have seen too many families get so overwhelmed during this stressful time of year that they succumb to handling this stress by doing things that they regret later, like yelling at each other or hurting each others' feelings. Do not let that happen to your family!
Here are some tips to help your family handle end-of-year school stress:
1. Accept that your household will be a little chaotic for the next few weeks, but know that this chaos is only temporary.
2. Stress management is key. If your child starts to get overwhelmed with stress due to completing projects or preparing for exams, help your child relate how all of her hard work now translates to the future that she wants later.
3. Give each other a break. Your child might say something a little disrespectful to you because they are feeling like things are very much out of their control. Show them how families pull together in times of stress by letting the "little" things go. Address this disrespect later when emotions have decreased if you need to.
4. Plan ahead. Buy supplies for projects, parties and bake sales now -- don't wait until the last minute.
5. Don't expect your child to remember to tell you about important tasks. Touch base every day with your child to see if there are any permission slips that need to be signed, cookies that might need to be baked or if you need to make a run to the cash machine for the $20 that's due for the class party.
6. Use this year's stress to teach your child the valuable life lesson of planning ahead so that next year will (hopefully) run a lot more smoothly. Talk through with your child how you plan on helping the family handle all of the academic demands so that your child learns how to handle these types of problems on their own as they mature.
7. Don't expect your child to automatically know how to break down a large project into little steps. This skill does not come naturally to a lot of kids (even teenagers), and you might need to assist your child with project planning. Just don't complete their project for them.
8. Balance responsibilities with downtime. Encourage your child to take breaks from studying if you think they are working too hard. This teaches the life skill of family/life balance.
9. Tell your child about a time in your life (either during high school or college) when you felt overwhelmed with responsibilities and how you handled it. Maybe you hadn't handled those responsibilities very well and you now regret it -- share that with your child too. These kinds of stories help our kids relate to us as people, not just as authority figures in their life.
10. Celebrate with your child when they have completed their tasks. Don't just complement the "A" they got on the test or the award that they won for being the best, but also celebrate with them that the test that they studied so hard for is now behind them or how great it must have felt great when they finally turned in their 12-page English Lit paper.
This hectic time of year will be over sooner than you realize, and then you and your family can enjoy some time off from academic stress during the summer. Always remember that you are teaching your child how to behave through your actions as well as your words; therefore, try to be very mindful of staying calm and positive during this time of year so that your child learns to tackle future stress in the same manner.
Popular in the Community