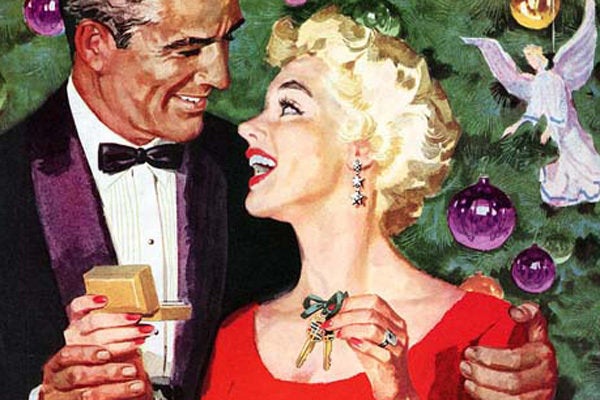 If there's a silver lining to this recession, it may be that Americans are less willing to buy tons of expensive crap for each other during the holidays.
As we all know, consumers are massively scaling back on holiday shopping this year. This is bad news for retailers, but presents an opportunity for us to evaluate what we give and spend each year, and why.
One recent survey showed that, in 2008, people are not only setting price limits and gifting to fewer people, but even opting for homemade crafts, such as photo collages, over purchased presents.
I applaud this trend; I've long advocated in this column for the return of fanciful, meaningful gift-giving (for example, see my recent post on traditional anniversary gifts).
A recent high-end jewelry ad mused that: "We have so many possessions, but so little treasure." Of course, the idea there was to sell more diamonds, but what follows here is a suggested gift list of another kind of treasure: emotional, recession-proof, and heirloom-minded treasure that will mean something for generations to come.
I look forward to your further suggestions in the comments section, and happy holidays each of you.
1. Favorite childhood books. Find out what your husband's/wife's/sister's/etc favorite bedtime tales were ... then go on Bibliofind.com and scout out the edition that he or she might have read as a kid. I have found wonderful old copies of everything from Ferdinand to Harriet the Spy for as little as 1 cent - no joke.
Or, for your children, give them your favorite childhood stories; no fiction ages as well as children's literature. I have a set of my father's Winnie-the-Pooh books from when he was four, with his penciled name scrawled in each, and I adore them.
2. Take your spouse/family/boyfriend on a winter picnic someplace meaningful to you, or just somewhere damn lovely. Bundle up, take a thermos of hot chocolate - with marshmallows; if you live in New York City, head to Central Park's ice skating pond or Strawberry fields. Wear bright colors and take your camera. The photos and memories that come from this outing will mean more than any pilly sweater from the Gap.
3. Speaking of photos, have old family photos restored and treated. Dig up evocative pictures of your dad in uniform; of your grandparents at their wedding; of your mother in her baby carriage, wearing a bonnet. Frame them beautifully or put them in an old-fashioned black-paged album (with black photo corners), and hand them over.
4. If a gift is supposed to tell someone that you care about them, why not write them a letter and tell them yourself? Buy some beautiful stationery and recount your most hilarious, dreadfully-behaved moments with your best friend; remember on paper your saucy courtship or first Christmas with your wife. Everyone should have a treasured letter to hide away and re-read over the years.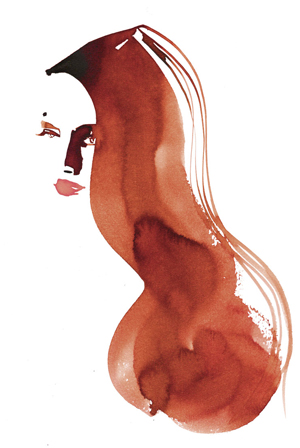 5. Have a portrait painted of your wife, children, or girlfriend. Nothing elaborate, just a lovely likeness. I recently met a divine painter named William Donovan (dukedonovan@earthlink.net), who paints quick, lovely watercolor portraits, such as the one above, for attendees of Vogue events in New York ... many local artists or caricaturists will also do this very inexpensively for you. Framed nicely, they make stunning, chic heirlooms.
6. So many clothing trends these days are seriously recycled from previous eras. Take, for example, the recent trend of colored suede or leather elbow gloves (which I LOVE). In department stores, they will set you back $300. Why not go on EBay, where I recently found a mint-condition pair of emerald green kid-suede vintage evening gloves for $20? I'll be damned if you can tell the old ones from the new. Also, Exquisite Costume in NYC has a, well, exquisite collection from which to chose:
www.exquisitecostume.com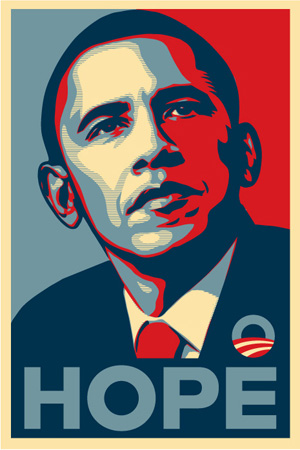 7. If you're giving a gift to an Obama junkie, why not frame one of those ubiquitous, famous Obama "Hope" posters? Like all political memorabilia from seminal elections, it will be quite valuable someday. Think about how cool it would be to own a Kennedy one - or one from either of the Roosevelts! Again: a great eventual-heirloom.
8. For little girls, I like the idea of a Laura Ingalls-style Christmas stocking. I used to absolutely covet Laura's stocking contents, when she opens it on Chirstmas morning in Little House in the Big Woods. If I remember right, it was filled with a rag doll, peppermint candy, tangerines, and a shiny penny in the toe. I'm not sure that all girls would appreciate the quaintness of this suggestion ... but any Little House fans certainly will!
9. This is terribly nerdy of me, but sign them up for a daily email from Dictionary.com. I am addicted to words, and the ones that arrive each day in my inbox are like visits from different, fascinating characters. The editors there have humor and style ... after all, they introduced me to bonton:
bon ton (bn tn) n.
1.
a. A sophisticated manner or style.
b. The proper thing to do.
2. High society.
10. Make an agreement about how much you would have spent this year on gifts, and then give that money instead to a mutually agreed-upon charity. No matter how much we're hurting, there's always someone else in worse shape. Not to sound like Charlie Brown, but that's the real spirit of the holidays.
Related