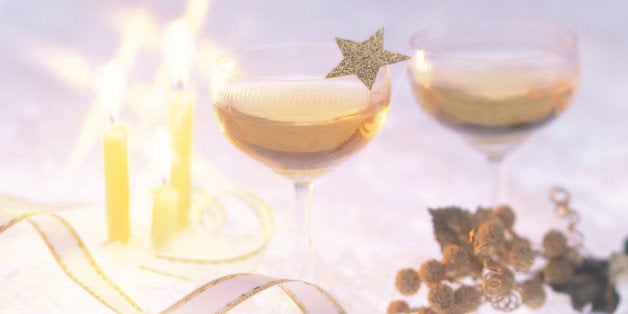 Winter blues? Just because you're freezing cold, over holiday entertaining, want to stay in and watch movies this weekend, doesn't mean you should.
Invite some friends over for winter cocktails that are fun, easy to mix up and will chase any chill away.
Put some old funky favorites on your Sonic Boom, light some candles, serve some lite bites for nibbles, and watch the temperature rise. Let's get our winter groove on, shall we?
The Showstopper
This champagne cocktail is perfect for pouring during awards season, it has a variety of sensational flavors, just like the variety in this year's Oscar nominees. #Hollywoodwhatsyourdream
8 oz. St. Germain liqueur
8 oz. Pomegranate juice
4 oz. peach puree or peach nectar
Juice of 1 lime, freshly squeezed
1 bottle (750ml) Moet & Chandon champagne, chilled
In a small pitcher filled with ice, mix together St. Germain, pomegranate juice, peach nectar, and lime juice. Mix well. Strain into champagne flutes to fill bottom third of each glass. Top with chilled champagne and serve.
Chocolate Martini
Decadent and sexy, this martini is sure to keep you warm and satisfied. Perfect for a ski weekend or winter weekend with friends.
#poursomesugaronme
Serves 4
8 oz. Absolut Vanilla vodka
4 oz. Kahlua
Chocolate shavings for garnish
Pour vodka and Kahlua into a cocktail shaker, fill with ice, and mix well. Strain mixture into glasses. Garnish with chocolate shavings and serve.
Sake Martini
Boss got you down? The perfect remedy for an utterly long work week. Invite some friends over, mix up a batch, put some retro tunes on, and let the party start. #fridayoptional
Serves 4
8 oz. vodka
12 oz. lychee syrup
4 oz. Sake
2 oz. agave nectar
In a shaker filled with ice mix together all ingredients. Shake well, pour into glasses. Garnish with a lychee fruit if desired.
Passion Fruit Mojitos
This pastel hued cocktail will transport you to a calming sun drenched sea of aqua blue. #tropicstransported
Serves 4
20 oz. light rum
2 oz. mint infused simple syrup
12 oz. passion fruit nectar
1 lime, cut into slices, plus more for garnish
12 mint leaves
4 cups crushed ice
Seltzer to top
Muddle the mint, lime slices, and simple syrup in a cocktail shaker. Pour in the passion fruit nectar and rum, and shake well. Divide mixture evenly between four glasses. Top each glass with crushed ice, a splash of seltzer, and a lime twist for garnish. Serve.
Singapore Sling
This pink lady, affectionately known as the sing-sling is a consummate party pleaser, so be sure to mix up a double batch and put the back-up in the fridge to chill. #slingemback
Serves 4
8 oz. Tanqueray Gin
4 oz. Maraschino liqueur
4 oz. Cointreau
2 oz. Grenadine
2 oz. Lime juice
8 oz. Pineapple juice
Dash of bitters
Pineapple slices for garnish
Pour all ingredients into a pitcher filled with ice. Mix well. Pour into ice-filled glasses, garnish with pineapple wedge, and serve.
Basil Peach Martini
Deliciously fresh, these decidedly summer flavors are guaranteed to give you a warm weather buzz in the gray depths of winter.
#wintersgarden
Serves 4
8 oz. Svedka PeachVodka
4 oz. Pear liqueur
4 oz. Peach nectar
4 oz. White cranberry juice
Pour all ingredients in a cocktail shaker filled with ice and mix well. Strain into glasses and serve.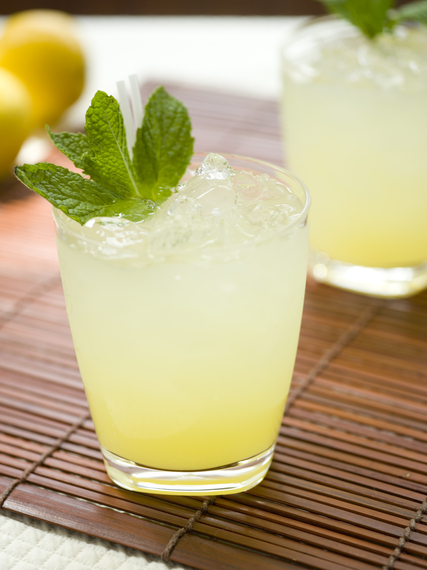 Photo by Jack Deutsch
Bourbon Smash
Serve up some warm Southern hospitality with a batch or two of my version of the Nashville classic, the Whiskey Smash.
#whiskeytango
8 oz. Makers Mark Bourbon whiskey
8 mint leaves
2 oz. agave nectar
2 lemons quartered
Seltzer
Combine all ingredients except bourbon in a large glass or cocktail shaker. Using a muddler or wooden spoon, smash together the ingredients, add the bourbon and shake well. Strain into glasses filled with crushed ice, top with seltzer, garnish with mint and /or lemon wedge, and serve.
Lemon Lush
Bright and cheerful, this yellow colored cocktail is sure to lift your spirits, think of it as your liquid therapy session.
#sunshinecocktail
Serves 4
1 bottle (750ml) Skinnygirl Prosecco, chilled
4 oz. Limoncello
2 oz. Mint-infused simple syrup
Mint sprigs for garnish
In a small pitcher with one cup of ice, mix the limoncello and mint simple syrup. Pour mixture into bottom third of each champagne glass. Garnish with mint sprig and serve.
Pink Grapefruit Margaritas
Although George Clooney and Rande Gerber prefer to drink it neat or on the rocks, their tequila mixed with a bit of citrus and a touch of sweet vitamin C never tasted so good. Make a batch, put on some island tunes and float away.
#alwaysdrinkwithfriends
Serves 4
12 oz. Casamigos Tequila Blanco
4 oz. Grand Marnier
4 oz. Pink grapefruit juice, freshly squeezed
2 oz. lime juice, freshly squeezed
Pour all ingredients into a cocktail shaker filled with ice and shake it like you mean it. Strain into ice filled glasses, garnish with lime wheel if desired, and serve.
Coffee Talk
Ideal for curling up by the fire, or as a respite between dinner and rolling up the rug for dancing, this sultry cocktail will keep you warm through anything. #fireinthehole
Serves 4
8 oz. Patron XO Café Incendio
8 oz. espresso
Heavy cream for garnish
Pour espresso into coffee cups, add Patron XO Café Incendio, top with a dollop of fresh cream and serve.
Recipes and photos adapted from It's 5 o'Clock Somewhere, The Stylish Girls Guide to Fabulous Cocktails, and Sparkle & Splash, all by Colleen Mullaney and available on Amazon.